printer friendly version
Axis celebrates 25 years in the network business
November 2009 IT infrastructure, Videos
In 1984, two young Swedish students were talking about the future of computers in a student dorm. At that time, Martin Gren was halfway through his studies for an engineering degree at the Lund Institute of Technology, while Mikael Karlsson, only 22, had just received a business degree from the Stockholm School of Economics.
The entire computer world was on the verge of a huge paradigm shift: IBM had recently introduced its PC, and the Internet was going to fly, and fly high in the coming years and decades. The two friends sensed that a solid business opportunity was just around the corner.
They quickly discovered that the printer sector would be the fastest to commercialise. They would simply have to develop a product, produce it, sell it, get paid for it, and thus make a living. With this basic business concept, the pioneering entrepreneurs gave birth to Axis Communications – which was to become the world leader in network video.
Right from the start, the business was oriented towards network connectivity, but originally had a niche focus on protocol converters/printer interfaces for the connection of PC printers in IBM mainframe and mini-computer environments. With Axis, users could access and share printer resources within a building or complex.
By the end of the 1980s, Axis had become one of the three world leaders in this market.
The next step was to broaden the company's technical competence and experience with regard to protocol converters/printer interfaces and network connectivity. At the same time, Axis built up a sales and distribution organisation in Europe, and established offices in the USA and Asia. With its technology base and distribution channels in place, Axis next moved into print servers and TCP/IP-protocol in local area network (LAN) environments.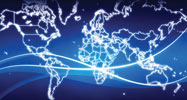 Network access to everything
The third development phase was to make the network smarter, broadening the IP-based technology platform of the print servers to include products that offered a simple, affordable connection, access and utilisation of other types of office equipment in networks, eg, CD-ROMs, hard disks, scanners and, of course, digital network cameras.
During this phase, Axis' operations and presence in the USA grew and additional offices were opened in Europe and Asia. Sales increased, innovative products were launched and Axis gained a role in industry technology forums with leading IT companies, such as Microsoft and Sun Microsystems. A number of strategic customer partnerships were forged and the concept of 'network access to everything' accelerated.
Also during this period, in 1996, Axis launched the world's first network camera. The challenge had been to develop a high-quality camera that could easily be connected to the network. The answer was the AXIS 200.
Equipped with a built-in Web server, the new network camera enabled access to its images from any Web browser, from anywhere in the world. The camera was initially designed for the purpose of monitoring, but as system integrators began to realise its great potential for many other applications, the stage was set for a revolution.
Fulfilling the connectivity vision
Axis now began its fourth development phase in the drive to fulfil its fundamental vision: IP-based connectivity for all types of equipment. This phase coincided with developments in wireless data and voice communication, as well as the convergence between fixed and wireless networks, between protocols and applications, and between analogue and digital technologies.
With the emergence of these new technologies and the growing importance of network accessibility, Axis broadened its connectivity scope to include embedded Linux, and both wired and wireless solutions. Products such as wireless access points for mobile connection were developed. And in response to the convergence towards IP-based systems, Axis focused increasingly on solutions for applications such as video surveillance, remote monitoring, Web attraction, network printing and document management.
On 27 June, 2000, the company was listed on the Stockholm Stock Exchange. The influx of capital significantly increased Axis' capacity to develop the company's core technology, new product offerings, geographical expansion and the establishment of Axis as one of the world's leading suppliers of IP connectivity products.
The network video revolution
Although Axis launched the world's first network camera in 1996, it was not until 2002 that network video first took centre stage. The AXIS 200 had revolutionised the world of video surveillance and transformed Axis from a 'connectivity company' into the worldwide leader in network video. The camera was based on open standards, which enables seamless integration into applications. The goal of Axis has always been to make everything open and compatible with many standards.
Following this business model, Axis changed the security market, driving forward the shift from analogue to digital. Its leading position, exclusive expertise in developing core technologies and products for network connectivity, its strong sales channels and key partnerships, quickly positioned Axis as the leader and reference in the market.
Today, Axis is driving the development and sales of network video, making IP convergence seamless for customers across many different industry segments – such as retail, transportation, education, government, industrial, and banking and finance.
The company has expanded its business all over the world, establishing offices on all continents – sharing the same beliefs of customer dedication, openness, and market leadership through innovation, quality and professionalism.
Axis in South Africa
Axis Communications has been represented in South Africa since the start of the network camera phenomenon. First SCS Distribution represented the company until it launched a dedicated office in May 2006. Roy Alves from SCS was retained as the country manger and Axis has grown by leaps and bounds over the years.
Today, nine people work for the local office, taking care of the technical, marketing and training needs of Axis and its partners in sub-Saharan Africa. The local office hosts the Axis Communications Academy, where students from Africa are taught the ins and outs of network video and IP technology.

Evolution in motion
To see a video depicting the evolution of Axis and the networking industry, please browse over to http://securitysa.com/news.aspx?pklNewsid=32578&pklCategoryID=22
For more information contact Roy Alves, Axis Communications, +27 (0)11 548 6780, roy.alves@axis.com
Credit(s)
Further reading:
A smart start for South African cities
Integrated Solutions IT infrastructure
Cameras and sensors can kick off smart city strategies in cities around South Africa, leading to not only improved security and safety, but also better service delivery in areas like electricity and water provisioning.
Read more...
---
The smart foundation of the digital business
IT infrastructure
Autonomous networks take an advanced step beyond merely automating components: they use artificial intelligence (AI), machine learning to self-configure, self-manage, and self-heal, ideally becoming better all the time.
Read more...
---
Converged infrastructure: Beyond the hype
IT infrastructure Products
Technical teams no longer have to sit and try to work through a magnum opus of manuals for every layer of computing, networking, and storage, largely thanks to the growing popularity and increasing success of converged infrastructure.
Read more...
---
Blurring the lines between data management and cybersecurity
Cyber Security IT infrastructure
In the past, data management and cybersecurity would fall under separate domains, but with more organisations making the shift to the cloud, data management and data protection have merged, essentially blurring the lines between the two.
Read more...
---
Top skills young people need to get ahead in the tech industry in 2023
IT infrastructure
The rise of remote working, e-commerce, artificial intelligence and cloud computing means that software developers are, and will continue to be, at the coalface of the fourth industrial revolution.
Read more...
---
Storage trends for 2023
IT infrastructure
As a leader in the enterprise storage market, Infinidat sees five storage trends unfolding in 2023. Looking ahead, 2023 is shaping up to be an exciting year in the storage market.
Read more...
---
Remote cloud management support for access points
TRENDnet IT infrastructure Products
TRENDnet Hive is an advanced network cloud management solution, designed to save users time and cost by simplifying and centralizing the management and monitoring of a network(s) and networked devices.
Read more...
---
How to avoid a wipeout
Arcserve Southern Africa IT infrastructure Security Services & Risk Management
Wiper malware aims to delete your data permanently and cause as much destruction as possible. Byron Horn-Botha, Business Unit Head at Arcserve Southern Africa offers readers three steps to protect the organisation from these malicious applications.
Read more...
---
Hardening physical security against cyberattacks
Genetec Editor's Choice Cyber Security IT infrastructure
As the world becomes increasingly interconnected through the move to cloud computing and Internet of Things (IoT) devices, cybercrime has risen steadily, along with tools to combat it. Geopolitical tensions have the potential to rapidly unleash devastating cyberattacks worldwide.
Read more...
---
Fast, reliable and secure cloud services
Technews Publishing Editor's Choice Cyber Security IT infrastructure
Security and speed are critical components of today's cloud-based services infrastructure. Cloudflare offers a range of services supporting these goals beyond what most people think it does.
Read more...
---