printer friendly version
Network video in retail
May 2009
CCTV, Surveillance & Remote Monitoring
Roy Alves, country manager, Axis ­Communications, explains why all retailers should have network
video on their technology wish list.
Businesses nowadays, from the small corner shop to the hypermarket, are embracing the fundamental technology of network video surveillance. Traditionally, retailers have implemented surveillance systems, mainly analogue-based, to deter and catch shoplifters and violent criminals. However, today there are network video surveillance systems that have so much more to offer retailers both in terms of loss prevention and improving the customer experience and with a far lower cost of ownership. New technologies such as network cameras provide a new weapon against shrinkage and open the door to a wide range of intelligent applications.
Network cameras differ from conventional analogue CCTV cameras as they connect and feed images via a store's existing IT network, rather than through a separate, closed circuit TV network. If, as a retailer, you are looking to update or review your video surveillance system, we have compiled a list of reasons why you should investigate network video.
Cost-effective ownership
There are many reasons why network cameras offer lower costs of ownership over the lifecycle of the system. Network video offers lower installation costs by using standard IT-based cabling and by incorporating Power over Ethernet it can also supply power using the same cable. Maintenance is simpler, as network video uses a standard Ethernet network which is widely used and understood by IT specialists and adheres to IT network standards.
A network video system is accessed through standard PC-based equipment and software browsers making it easy to use. Adding additional cameras to an existing network is as easy as adding another desktop to the local IT network. Swift, intermediate installations are also simple using standard wireless network connections. Also, today's network equipment takes full advantage of the rigorous safety measures that apply in the network world. No extra equipment or software is needed to maintain a very high level of security.
View your images anywhere, any time
Retail managers can have remote access to any of their stores' video, live and recorded material, from any desired location. Once authorised, staff can access individual devices across the globe via an Internet-enabled PC, laptop or PDA, providing a valuable management tool to monitor store trading at any time.
A wealth of applications
Many new applications that are much easier to integrate with existing retail systems, are available to retailers thanks to network video, and because network video solutions are based on accepted IT standards and equipment, retailers can take advantage of today's IT standards and equipment and use these applications, not only to prevent fraud and loss, but also to improve sales.
* People counting: A network-based people counting solution, either built-in to the camera or using server software, provides real-time information allowing for conversion rate monitoring where people entering a store are counted and compared with people actually buying something in the store. Other advantages include straightforward system integration with standard databases enabling more advanced customer analysis such as buyer-to-browser ratio and more intelligent evaluation of promotions. In addition, such a solution can easily be used to optimise store layout through analysing customer 'flow' around the store, through to customer interest in in-store displays and promotions.
* Enhanced POS exception investigations with high quality video: Network video cameras allow for tight integration with POS (point of sales). Till transactions can be recorded together with video footage for total reassurance for your customers, business and staff. Exceptions, such as returns, manually entered values and line corrections can easily be discovered and investigated together with high quality video clips. The image detail sets network video apart – such as seeing value of a note handed over to the cashier through to the kind of item handed over by the customer to the cashier.
Superior image quality
Are the images recorded by your surveillance system of high enough quality to be admissible in court or to reveal important details? A combination of megapixel and HDTV network cameras offer resolutions far greater than analogue cameras; while progressive scan technology reduces the 'jaggedness' normally associated with analogue-based video recordings. There is also no loss of quality when storing a digital image.
Network video offers simple set-up
Simply connect your network camera to your network and go – using network cameras and video management software, you can immediately view, record and administer your images from any PC with access to the Internet.
More and more devices for controlling, securing and monitoring the retail environment are using network infrastructure, such as heating and ventilation systems, access control, even through to lighting and energy management. Network cameras offer future-proof surveillance for the years ahead, as traditional analogue systems become increasingly costly to maintain, harder to integrate into wider store control systems and fall behind in terms of functionality.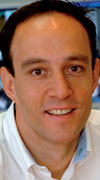 Roy Alves, country manager, Axis Communications
For more information contact Roy Alves, country manager, Axis Communications, +27 (0)11 548 6780, roy.alves@axis.com
Credit(s)
Further reading:
Premium forensic video analytics
Milestone Systems CCTV, Surveillance & Remote Monitoring
With the new XProtect Rapid REVIEW, Milestone and BriefCam bring premium forensic video analytics to XProtect customers around the world.
Read more...
---
Cybersecurity as the foundation for smart cities
Axis Communications SA Cyber Security
It's time to move to a proactive stance in protecting assets, before cities implement billions of hackable, un-patched and non-upgradable devices to the world's digital grid.
Read more...
---
New intelligent video wall station
CCTV, Surveillance & Remote Monitoring
IDIS Intelligent Video Wall Station allows affordable and effective centralised monitoring by extending dynamic video wall benefits to smaller and mid-size users.
Read more...
---
Offshore cloud video surveillance system
Eagle Eye Networks CCTV, Surveillance & Remote Monitoring News Transport (Industry)
Eagle Eye Networks and TechBinder collaborate on offshore cloud video surveillance system for maritime sector, bringing real-time remote viewing and notifications to enhance vessel performance data and reporting
Read more...
---
Suprema integrates biometric access control with Genetec
Suprema News CCTV, Surveillance & Remote Monitoring Access Control & Identity Management
Suprema has announced the successful integration of its biometric access control products with Genetec Security Center, a unified security platform that connects security systems, sensors and data in a single intuitive interface.
Read more...
---
Cybersecurity as the foundation
Axis Communications SA Government and Parastatal (Industry)
It's time to move to a proactive stance in protecting assets, before cities implement billions of hackable, un-patched and non-upgradable devices to the world's digital grid.
Read more...
---
Premium forensic analytics
Milestone Systems News CCTV, Surveillance & Remote Monitoring Government and Parastatal (Industry)
With the introduction of XProtect Rapid REVIEW, powered by BriefCam, Milestone's customers will be able to accelerate investigations and find what they are looking for with speed and accuracy.
Read more...
---
City surveillance in South Africa
IDEMIA Government and Parastatal (Industry) CCTV, Surveillance & Remote Monitoring Integrated Solutions
Smart cities and their smarter, more responsible eye in the sky; a look at the video surveillance landscape in South Africa.
Read more...
---
Surveillance in distribution centre
Dahua Technology South Africa CCTV, Surveillance & Remote Monitoring
A large warehouse and distribution centre is benefiting from a 64-camera video surveillance system from Dahua Technology.
Read more...
---
Managing vehicle entry with ANPR
Hikvision South Africa CCTV, Surveillance & Remote Monitoring
The use of automatic number plate recognition (ANPR) for vehicle entry is not new, but it's being used in more innovative ways to streamline processes and help business planning.
Read more...
---