printer friendly version
Physical security still works
March 2009
Perimeter Security, Alarms & Intruder Detection

Technology has not relieved us of the burden of
implementing and maintaining physical security measures, Hi-Tech Security Solutions found that physical security is as important today, if not more important than ever before.
It is often easy to think that technology removes the need for traditional physical security such as old fashioned guns and guards, as well as locks, grids and bars. The reality is that these barriers are more necessary than ever as they have proved their effectiveness over time. Of course their effectiveness is supported and enhanced by newer technologies, but we cannot get away from tradition.
Hi-Tech Security Solutions asked three companies in the physical security space to tell us about their work in the physical security space.
Razor-Spike International
Perimeter protection is the first line of defence and physical protection is the basic requirement. Razor-Spike International is a pioneer in anti-climb wall spikes and manufactures the only wall spike approved by the British Police under their Secured-By-Design programme.
A perimeter barrier must be of adequate height and be protected on the top by a product such as Razor-Spike. In order to stop an intruder from getting over a perimeter you need to prevent them from getting on to the structure, this can only be done by denying them access to the top of the structure with a physical barrier such as Razor-Spike. Electric fences and beams are important secondary lines of defence but without a good physical barrier are easily breached.
Another product manufactured by Razor-Spike International is its carstop bollard for protecting parked motor vehicles. It has proved very popular in motor dealerships, businesses and private properties. The carstop is mounted directly behind the vehicle into the surface and when needed it is locked forming an A-frame. If the vehicle is reversed against the unit the wheels lift off the ground immobilising the vehicle.

Roll-Up Serranda
"The first rule of security is to keep criminals out and the best way of doing that is still through a physical barrier that effectively shuts them out of the premises," says Kevin Bonner, Roll-Up Serranda's marketing and sales executive. "A physical barricade such as a roller shutter is the simplest and most dependable method of preventing criminals from gaining access to a building. And yet they are often overlooked in favour of high-tech methods that rely on human response, which may or may not come, and if it does, it is probably too late to stop the theft.

"The police arrive after the computers have been stolen, or the armed response gets there too late to stop expensive vehicles being driven off. It is all very well capturing the scene on surveillance cameras, but criminals wearing balaclavas are never going to be identified. Better to stop them getting inside in the first place, by using a physical barrier."
How have physical solutions changed over the years?
The basic concept has remained the same. Roll-Up Serranda produces a roller shutter door that acts as a physical obstruction to would-be thieves. What has changed is:
* The material – companies now have access to a better grade of steel with a higher tensile strength.
* The company's methods of manufacture have been modernised. For example, it uses a multiroll forming process that does not stress the steel and also gives it a softer, more aesthetically pleasing profile.
* Aesthetics have become more important, so it powder coats products to suit clients' requests and also offer aluminium designs, which have a softer look.
* There is a bigger range of more attractive style options, such as a variety of perforated designs.
* Methods of opening and closing roller shutters have evolved from manual push-ups to semi-intelligent, automated options that can be linked, for example, into biometric identification systems.
* The roller shutter can be upgraded to suit enhanced security requirements such as fire proofing.
Roll-Up Serranda, manufacturer of roller shutters for domestic, commercial and industrial applications, has introduced a new powder coating process that replaces the need to hot dip galvanise coastal products. Called PZ770, this coating method has superb anti-corrosive properties and is cheaper and quicker than conventional hot dip galvanising, allowing for shorter lead times. This epoxy-based powder coating process is underwritten by the supplier, allowing Roll-Up Serranda to offer their customers a one year guarantee against corrosion.
Trellidor
Trellidor manufactures and installs physical security barriers for both doors and windows in both fixed and sliding designs. Says Trellidor brand and public relations manager, Charlene Erasmus, "Many office parks and commercial buildings are equipped with alarms and other electronic devices that are turned off when staff arrive for work, leaving them vulnerable during office hours. Physical security barriers may seem an old fashioned form of protection, but are still the most dependable and user-friendly defence against unwelcome intrusion as long as they are kept closed and locked."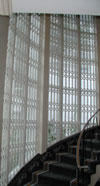 Physical security barriers can be customised to comply with health and safety regulations as well as to accommodate specialised needs. Trellidor has developed the following options:
* Hinge-away units – the bottom track lifts up and the entire security door is swung to the side, safely out of the way during opening hours and opening up emergency exits.
* Hinge-up units – the bottom track lifts up to allow safe passage of wheelchairs, trolleys carrying goods and cleaning equipment.
* Cut-in tracks that are permanently sunk into the floor surface to avoid tripping and other accidents.
* Curved and angled units that follow the shape of the window, doorway or passageway to ensure complete protection.
* Locks that can be positioned at a level to suit the client, such as low down on the lock stile for the wheelchair-bound.
Slam-locks have been very popular over the years, but security gates can be accidentally locked through this mechanism, leaving occupants stranded outside the house or trapped inside a room. Trellidor therefore offers three locking options instead of just the usual slam-lock only option. These are:
* A patented dead-lock system. Dead-locks provide maximum security and strength because they lock in two places using draw bolts, which tighten, rather than loosen, with each attempt to pry the lock open.
* A slam-lock option with three modes of operation: open mode, slam-lock mode or dead-lock mode. It is the only one on the market that has this choice of operation and can avoid accidental locking. Slam-lock mode is also not the strongest mode as it is an emergency lock that is spring-loaded. Given enough time the latches can be lifted out of the lock. This is why one needs the alternative dead-lock mode when locking up for the night or leaving the premises unoccupied.
* Electric claw locks to control access to the building from a touch pad.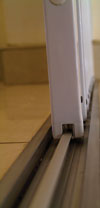 New technologies and ideas
High security physical barriers:
* Have become lighter and easier to operate but increasingly able to resist attack. Trellidor's Trojan design is an example of this, and is certified by the internationally acclaimed Loss Prevention Certification Board (London) as being the strongest sliding security barrier on the market.
* Can be used to create a safe area in a commercial environment, providing a haven for besieged staff to wait out an invasion. If this area is on the ground floor or bordering a fire escape, sliding security barriers on the windows can provide an escape route.
Cottage Guard by Trellidor is a fully framed burglar guard that is bolted into the substrate on all four sides of the window with coach screws, making them far stronger than conventional burglar guards. They can be used to either match existing cottage pane windows or to create an attractive cottage pane effect. The spaces between the bars are never allowed to exceed 280 mm by 230 mm as this is the maximum allowed by insurance companies. Cottage Guard is manufactured from rectangular extruded aluminium with a reinforced steel bar through the centre, making them well able to resist a concerted attack. Combine them with Trellidor's internationally certified Trojan sliding security barriers on external doorways for complete protection against intruders in both offices and homes.
Further reading:
Wireless outdoor motion detector with camera
Elvey Security Technologies Perimeter Security, Alarms & Intruder Detection
The Ajax MotionCam Outdoor recognises intrusion and confirms it with a series of animated photos, saving users from concerns and security companies from unnecessary patrol dispatches.
Read more...
---
DSC 16-Zone NEO panel
Elvey Security Technologies Perimeter Security, Alarms & Intruder Detection
Part of the DSC (from Tyco Security Products) PowerSeries NEO range, the DSC 16-Zone NEO panel is modular and scalable in design.
Read more...
---
The new Black Max
Radio Data Communications Perimeter Security, Alarms & Intruder Detection
The newly designed Black Max antenna has a slick new appearance with improved performance and is designed for VHF radio installations.
Read more...
---
How do you buy time?
Perimeter Security, Alarms & Intruder Detection
D-Pepper spray systems are non-lethal defence options that will detect and deter criminals while waiting for armed response.
Read more...
---
Wireless outdoor bidirectional curtain motion detector
Elvey Security Technologies Perimeter Security, Alarms & Intruder Detection
The Ajax DualCurtain Outdoor has two independent optical systems with narrow viewing sectors and flexible settings.
Read more...
---
Upgraded WatchManager alarm monitoring system
WatchManager Perimeter Security, Alarms & Intruder Detection
WatchManager has released its latest version update, V7.60 Build 381, for general distribution and download by its authorised international user base.
Read more...
---
New-generation wireless alarm system
Dahua Technology South Africa Perimeter Security, Alarms & Intruder Detection
Dahua Technology has released a series of wireless alarm products, including alarm hub, PIR detector, door detector, keyfob, repeater, input expander, indoor and outdoor siren and more.
Read more...
---
Eliminate risk with data erasure
Perimeter Security, Alarms & Intruder Detection
CIOs need to be aware of hard disk drives (HDDs) and solid-state drives (SSDs) lying around data centres and storage rooms, they likely contain sensitive data.
Read more...
---
Gallagher achieves CPNI standards
Gallagher Perimeter Security, Alarms & Intruder Detection
Gallagher's Electronic Perimeter Intrusion Detection System (E-PIDS) has an extra seal of approval by achieving the latest Centre for the Protection of National Infrastructure (CPNI) standards.
Read more...
---
AX PRO wireless alarm solutions
Hikvision South Africa Perimeter Security, Alarms & Intruder Detection Products
Hikvision announced its new generation of wireless alarm systems – the AX PRO – delivering comprehensive alarm solutions for both residential and commercial applications.
Read more...
---