printer friendly version
Creating trust across borders
January 2009
Access Control & Identity Management
Personal identity security is one of the great
concerns of the modern age and must be treated with the utmost seriousness. Stephan D. Hofstetter, head of product management at Trüb AG Switzerland, explains how they keep the forgers in check.
Security demands in the modern world continue to grow ever more complex. While on the one hand borders are opening up (for example, under the EU-Schengen agreement) that allow free passage for people without showing their ID cards, on the other, security measures are being tightened – both on borders and within individual countries themselves. Measures such as the Schengen agreement pose particular challenges for those in the security industry.
It is often said in the document security business that despite the great speed at which technology advances, simple forgeries may follow within a few hours of the original development. Rather than seeing this situation as a reason to throw in the towel and accept that we cannot beat the forgers, Trüb AG view it as being a constant challenge which motivates them to apply a variety of different scientific disciplines – electronics, cryptography and biometrics – to their documents so as to put even more barriers in their way, while facilitating the growing numbers of travellers.
Procedures and processes have been established for the integration of these technologies, both within the EU and internationally under the guidance of the ICAO. How they are applied in practice is largely left to the authorities in the countries which issue and receive the documents.
Making travel documents machine-readable
Come April 2010 travel documents must have a specified machine readable zone, referred to as the MRZ, if they are to be recognised as ICAO-compliant. The MRZ is a standard format code combining information about the document and the bearer which is used by automated border controls for registration and verification. Electronic passports, and the up-coming ID cards equipped with the same infrastructure as these passports, take the MRZ a stage further, in that a hash code generated from the MRZ is used to unlock the chip and secure the communication.
ICAO recommend border-control processes and provide guidance as to how machine readable and biometric upgraded documents can be fully exploited. The most robust biometric system remains the expert comparison of the photograph on the document with the person presenting it. The signature, on the other hand, has become less important in terms of border security and is now more relevant in the commercial environment, ie, banks/post offices, where this data is then evaluated by the police identification service.
The use of electronic biometrics (ranging from the manual comparison of the electronic photograph with the person to automated verification, or indeed identification) is regulated by governments. It is not expected that these systems will be used to check everyone across the board, but rather as a security feature in spot checks.
The 2010 deadline means that many countries need to review their current document systems. For several it will mean taking a first step into digital data processing. This provides a great opportunity for national authorities to employ a new generation of documents with new physical and process security.
In fact, to meet this deadline for machine readable passports, the SA Government Printing Works (GPW) has already invested in a multimillion Rand initiative that will see all SA passports being upgraded with enhanced security, making them virtually impossible to copy.
Physical documents – secure and enduring
It is increasingly the case that ID documents are being upgraded with logical security, ie, smartcard chips. However, this does not mean a corresponding downgrading of physical security. Instead, the trend is towards supplementing physical security with logical security.
In the secure document field there are some widely supported and recognised basic principles which have become established as good practice. The choice of a high performance, pure polymer material such as polycarbonate, with a well engineered structure of layers fused without adhesives, is crucial to ensuring long-term durability. Laser engraving is the perfect process for producing clear cut images on these kinds of documents, documents which are necessary for reliable identification and verification.
There are a multitude of security features available in the field. But what is important is that a good mix which addresses the various different levels of verification is established to secure, with an emphasis on the first level, verification without any special equipment. Examples of this include the embedded OVD, Dynaprint and Photolock. A further dimension – not to be neglected in the design of the protection concept – is the threat profile, because the measures chosen need to counter the different methods of data substitution and document counterfeiting.
Personalisation, the process by which individual bio-data, document data and perhaps chip-application code are generated and written to the virgin document, is another area crucial to data integrity and remains an ongoing challenge to improving document security.
ID documents are widely seen as being a particularly important aspect of national security, and are therefore designed with great care. That is why personalisation outside a country's borders is very much the exception rather than the rule.
DynaPrint
This feature supplements the optically-variable laser images with coloured envelopes in a pre-defined design. With its resistance to copying and imitation, DynaPrint represents an extremely efficient security element. (See pic a.)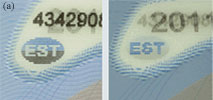 PhotoLock
Personalised data are exposed elements of the document, and must therefore be specially protected. PhotoLock achieves this through a unique combination of laser engraving and specific document treatment with an On/Off effect. (See pic b.)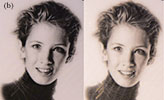 Further reading:
Revamping Liberty Life's reception area
Turnstar Systems Access Control & Identity Management Commercial (Industry)
Turnstar supplied and installed four Speedgate Express lanes, each 550 mm wide, as well as two Pulse Special Needs Gates for wheelchair access to Liberty Life.
Read more...
---
Hybrid licence plate recognition
ZKTeco Products Access Control & Identity Management Transport (Industry) Logistics (Industry)
The ZKTeco LPRS2000 is a hybrid-recognition vehicle management terminal that combines the latest high-performance UHF reader.
Read more...
---
Suprema joins FiRa Consortium
Suprema News Access Control & Identity Management
Suprema recently became a member of the FiRa Consortium, a consultative body that establishes standards for ultra-wideband (UWB) technology, the next generation of wireless communication.
Read more...
---
Physical security at distribution centre
Turnstar Systems Transport (Industry) Access Control & Identity Management Products Logistics (Industry)
Turnstar's Velocity Raptors create a high-security physical barrier at Massmart's new 75 000 m2 distribution centre in Riversands, Johannesburg .
Read more...
---
Integrated smart parking management
ZKTeco Access Control & Identity Management Transport (Industry) Products Logistics (Industry)
ZKTeco smart parking management provides a solution for both small parking lots and busy multi-story car parks, providing maximum efficiency, transparency and security.
Read more...
---
UHF RFID standalone terminal
ZKTeco Products Access Control & Identity Management Transport (Industry) Logistics (Industry)
The U2000 increases access control functions and supports TCP/IP communication, Wiegand in/out, two relays, third-party electric locks, door sensors and exit buttons.
Read more...
---
PALMKI palm vein recognition technology
Access Control & Identity Management Products
Tactile Technologies has announced the launch of Palmki, a palm vein recognition solution developed and marketed by PerfectID, a Belgian company.
Read more...
---
ATG Digital launches solution for emergencies
Access Control & Identity Management Asset Management, EAS, RFID
ATG Digital has launched a Roll Call feature on its app to assist SHEQ managers and safety officers who cite attendance records in an emergency as one of their biggest challenges.
Read more...
---
UHF and Bluetooth multi-technology reader
Evolving Management Solutions Products Access Control & Identity Management
The SPECTRE nano offers hands-free identification of the vehicle and/or the driver, as well as interoperable and multi-protocol secure identification.
Read more...
---
Identity proofing allows easy virtual ID checks
Access Control & Identity Management Security Services & Risk Management
The identity verification market is expected to grow from $8 billion in 2021 to reach $17,7 billion in 2026 with a CAGR of 17,1%, and identity proofing in particular is gaining popularity.
Read more...
---