printer friendly version
Setting up a control room
November 2008
CCTV, Surveillance & Remote Monitoring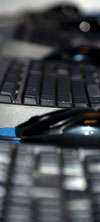 Be sure what you quote on before starting a control room.
After a very successful installation your client turns around and asks, "...so who is going to do the monitoring?" Immediately your world-class business plan jumps into gear and as you say "Sure no problem" ROM would like you to consider a few key elements. After all, ROM is South Africa's largest remote off-site video monitoring facility.
The very first thing to consider is the base of your monitoring facility. The type of transmission or recording unit, software, cameras, audio and network you will be using, all needs to be interlinked. Mixing and matching different software will result in computer conflicts while your cameras and audio might not be supported.
?Transmission and or recording unit
How will you send the images from your client's site to your monitoring station? When you install a transmission or recording unit, make sure that all products are supported on a local level. If your supplier has to send the unit overseas for repairs your clients site could be down for months and the costs involved can be enormous. Transmission units should be capable of resetting from the monitoring station. You should ensure that the unit has the ability of remote configuration and diagnostics. If your transmission unit makes use of an audio card, it is preferable that both are manufactured by the same supplier.
Software
Ensure you meet the IT engineer that supports your supplier. Some suppliers sub-contract this service which may result in your supplier playing the middle man. This will result in not only conflict of software but also conflict between client and monitoring facility. You cannot lock your client out while you are unable to open the gate or give him access through a turnstile. Ensure a reliable application that is compatible with your operating system, firmware that can be upgraded without changing your complete monitoring infrastructure. The correct program should not over use the resources of your workstation when you need to log events. Time and date delayed on the DVR must be the same as the time and date displayed at your monitoring facility to eliminate confusion.
Communications system
Although it seems that the services provided by telecommunication companies are improving, you can never rely on only one service provider. What is your secondary option – 3G, HSDPA or iBurst? Or was that your first option? When a site fails due to the communication infrastructure failing, a secondary option is vital. In the event of a failure your system needs to automatically switch between your first and secondary options resulting in a no embarrassment situation when questions arise. Wireless connectivity is a good idea but requires more technical attention than hardwired installations. When you go wireless take the time to read the documentation containing relevant information, thereafter you need to speak to an agent to ensure the solution is ICASA approved.
Cameras
A wide variety of different cameras are available in models produced from all over the world. Cameras are installed to assist the controllers viewing the site, why then install a camera which the focus and aperture cannot be set? You as the monitoring company will have to deal with the explanations when there is an incident. No client wants to hear that when you did the installation you only thought of cost and not image quality. The main purpose of off-site monitoring is to detect, view and respond to a situation before it results in damage or loss to your client.
Cameras should carry a manufacturer's guarantee and must have the ability to be repaired instead of thrown away. A good housing and bracket will ensure the stability of the camera during windy times and shield the camera from rain and fog. Going cheap for remote monitoring purpose is not always the best idea, knowing that your technical installation team will have to visit your site every week to replace cameras, while theft is a ongoing problem for your client.
The control room
Now that you installed the right equipment for remote monitoring, what is the infrastructure of your business? Are you based in a high-risk area where your own security risk is greater than your clients. Can your shift working staff get to work after hours and during strikes? Do you have the correct surveillance operators for off-site monitoring?
Your console design is highly important for the purpose of your service provision. A console will make the workflow for the controller easy to view and respond to a situation to ensure him/her with the necessary tools to complete the job with ease. Availability of a phone, stationary and workbooks within reach while an eye is kept on the monitors. A well-organised control room will always consist of shift supervisors and a good reliable control room manager. All control room managers must know the site instructions of each site by heart, ensuring that the controllers will follow procedures to the book.
When you go recruiting for new controllers do not pick them up at the local service station, rather ensure that your controllers are computer literate and have the ability to speak to your clients. Having his/her security background and certificates in order will set standards for your off-site monitoring facility. To look at a monitor for eight hours non-stop is tiring and will result in a controller that cannot respond to critical situations. Ensure that even breaks are taken and your sites are still monitored by a relieve controller. Invest in a good back-up generator and online UPS to run your facility to full capacity. What is the use if you have limited functionality after spending large amounts on your control room?
We live in the 21st century where the availability of technology is wide-spread. Security technology is now setting new standards to ensure criminal activity can be reduced. In the event of off-site monitoring, ensure that you can provide your client with the best technology available on the market rather than failing to ensure the greatness of off-site monitoring. Ask for professional help from a reputable supplier and they will ensure that you receive the best possible help for all your off-site monitoring requirements.
For more information contact Laurence Strydom, RAW Fire & Security, +27 (0)11 425 0146, laurence@rawfiresecurity.com
Further reading:
Drones and cybersecurity?
October 2019 , CCTV, Surveillance & Remote Monitoring
Hacker drones can eavesdrop electronically on conversations, can perform network attacks, or can create fake wireless access points.
Read more...
---
Body-worn cameras transforming security
October 2019 , CCTV, Surveillance & Remote Monitoring, Security Services & Risk Management
Police Service Northern Ireland now has over 7 000 officers using 2 500 cameras covering approximately 173 000 incidents each year.
Read more...
---
Camera Selection Guide 2019
CCTV Handbook 2019 , CCTV, Surveillance & Remote Monitoring
The Camera Selection Guide 2019 includes a range of IP, analogue, thermal and speciality cameras aimed at a broad range of surveillance functions.
Read more...
---
Intelligent analytics and the brains to match
September 2019, Bosch Building Technologies , CCTV, Surveillance & Remote Monitoring, Integrated Solutions
What if the brains behind our security cameras could be trained to improve their cognitive ability to pay attention, learn, and problem-solve according to specific rules and situations?
Read more...
---
AI-powered autonomous Drone-in-a-Box
September 2019 , CCTV, Surveillance & Remote Monitoring, Integrated Solutions
Organisations in the mining, energy and industrial, oil and gas, ports and terminals sectors can optimise security and business operations, whilst reducing risks and operational costs
Read more...
---
Cybersecurity for video surveillance systems
September 2019, Mobotix , Cyber Security, CCTV, Surveillance & Remote Monitoring
Video surveillance systems are increasingly accessible over any IP network, which has led to the rise of potential cyberattack.
Read more...
---
What are the cybersecurity issues in video surveillance?
November 2019, Axis Communications SA , Editor's Choice, CCTV, Surveillance & Remote Monitoring, Cyber Security
he importance of the data captured by surveillance cameras – and what can be done with it – has led to a new breed of cybercriminals, looking for insights to steal and sell.
Read more...
---
The safe city and its need for interoperability
November 2019 , Integrated Solutions, CCTV, Surveillance & Remote Monitoring
Interoperability continues to present one of the greatest challenges, particularly with video management systems, video recording devices and cameras.
Read more...
---
A platform approach to safer and smarter cities
November 2019, Milestone Systems , CCTV, Surveillance & Remote Monitoring
Selecting the right platform to manage the vast data collected from smart and safe cities is critical to the ultimate success of the project.
Read more...
---
Creating safe cities with smart technology
November 2019, Secutel Technologies , CCTV, Surveillance & Remote Monitoring
In a digital age, where resilience and responsiveness are paramount to fighting crime and creating a safer world, CCTV systems are becoming part of every city's infrastructure.
Read more...
---