printer friendly version
Add a listening post
November 2008
CCTV, Surveillance & Remote Monitoring
The lack of an audio component can seriously impact the ability of security personnel to effectively protect property and people.
The movie industry introduced its first 'talkie' back in 1927. Yet video surveillance, for the most part, has remained oddly silent. Given that what we hear adds as much to our understanding of events as the images we see, the lack of an audio component can seriously affect the ability of security personnel to effectively protect property and people.
Consider a video surveillance system without audio. A cry for help, the sound of breaking glass, a gunshot, or an explosion in the vicinity of a camera – but outside the field of view – would escape notice. Even in a parking lot under visual surveillance, without audio support security staff might never know that a vehicle's alarm had gone off.
Audio covers a 360° area, enabling a video surveillance system to extend its coverage beyond a camera's field of view. Intelligent audio can instruct a pan/tilt/zoom (PTZ) or dome camera or an operator of the camera to visually verify an audio alarm, giving remote security personnel additional information about the environment on which to base their response.
In addition to being a listening post, security personnel can use audio to communicate with visitors or intruders. If a person in a camera's field of view exhibits suspicious behaviour – such as loitering near an ATM or entering a restricted area – a remote security guard can send a verbal warning to the individual. In cases where the camera reveals a person who is injured, the guard can remotely assure the victim that help is on the way. Audio naturally dovetails with a variety of security applications. In access control, intercom technology is a strong fit. A doorman can remotely greet visitors before buzzing them into a building. In an unmanned garage, patrons can request assistance from a remote security attendant.
Deployment obstacles
The industry expects audio adoption to increase as network video systems become more commonplace. This is primarily due to audio being easier to implement in network video systems than analogue CCTV systems.
Analogue systems require users to install separate audio and video cables from the camera and microphone location to the recording and viewing station. If the distance is too long, you need to add balanced audio equipment, which increases installation difficulty and cost. A simpler way would be to tie the analogue cameras into a network video system, using video encoders with built-in audio support.
Network video systems equipped with audio support process the audio and send both the audio and video over the same network cable used for monitoring and/or recording. This eliminates the need for extra cabling and makes synchronising the audio and video much easier.
Selecting audio equipment
Network cameras or encoders that support audio generally include a built-in microphone, but very rarely a built-in speaker. While a built-in microphone may be adequate for some applications, others may require a more sensitive external microphone. External microphones fall into four main categories: condenser, electret condenser, dynamic and directional.
* Condenser microphones offer the highest audio sensitivity and quality. These are the same microphones used in professional sound studios.
* Electret condenser microphones offer a high level of sensitivity and are less expensive than condenser microphones.
* Dynamic microphones are rarely used in security or video surveillance because they typically do not possess sufficient audio sensitivity.
* Directional microphones pick up sound based on a particular pattern. An omni-directional microphone picks up audio equally well in all directions. Unidirectional microphones have audio sensitivity in one specific direction.
Adding audio detection alarms
Audio can be analysed by a network camera in much the same way as video. Audio detection nicely complements video motion detection since it can react to events in areas outside the camera's view or too dark for video motion detection to function properly. When intelligent audio detects a suspicious sound – such as a pane of glass breaking or voices in a room that should be unoccupied – it can trigger a response in much the same way intelligent motion detection or door contact systems can. The system can instruct the network camera to record and send audio and video, send e-mail or other alert, or activate alarms or other external devices. In systems with PTZ or network dome cameras, audio alarm detection can direct a camera to automatically turn to a preset location, such as a specific window or doorway.
If you use directional microphones, the audio system can even ascertain which direction the sound is coming from and point a PTZ camera in that direction. This feature is particularly useful in city centre surveillance projects, where operators often monitor a large array of fixed and PTZ cameras.
Audio detection offers a number of deployment options. You can enable audio detection all the time, during specific times or disable it during certain events, such as closed-door meetings. You can set it to trigger a sequence of responses if the incoming sound level rises above, falls below or passes a certain level of sound intensity.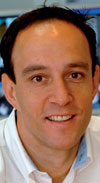 Roy Alves, country manager, Axis Communications
For more information contact Roy Alves, country manager, contact Axis Communications, +27 (0)11 548 6780, [email protected]
Credit(s)
Further reading:
Two all-in-one pendant speakers
Axis Communications SA Products
Axis Communications has announced the AXIS C1510 and AXIS C1511 network pendant all-in-one speakers, which make audio announcements smart and easy.
Read more...
---
Antarctic surveillance
Dahua Technology South Africa CCTV, Surveillance & Remote Monitoring
Dahua Technology donated 15 security cameras to different scientific bases in the Argentine region of Antarctica; the cameras were especially developed to handle the harsh climate and extreme weather conditions in the area.
Read more...
---
Deep learning engine set to supercharge end-to-end solutions
CCTV, Surveillance & Remote Monitoring
IDIS, manufacturer of South Korean-made video technology, will be displaying an exciting line-up of end-to-end video solutions that include the latest advances in AI-powered video analytics for businesses of any size, at this year's Intersec.
Read more...
---
Realistic image quality even in dark environments
Dahua Technology South Africa CCTV, Surveillance & Remote Monitoring
The 4K video surveillance market size is expected to grow at 9 percent CAGR (compound annual growth rate), which is primarily driven by the increasing demand for public safety and security services.
Read more...
---
Cloud-based forensic video searching
CCTV, Surveillance & Remote Monitoring
Arcules introduces Forensic Video Search to empower rapid event identification within its video cloud service, providing a critical tool to help businesses identify specific objects or events in seconds.
Read more...
---
Best practices for cybersecurity and network health in 2023
Axis Communications SA IT infrastructure
Securing a network from outside threats while making it easily accessible to employees can be challenging. What are the tell-tale signs of poor network security, and what should organisations do to secure their networks?
Read more...
---
Minimising fire risks in automotive logistics
Hikvision South Africa CCTV, Surveillance & Remote Monitoring Products Logistics (Industry)
Automotive logistics company uses thermal imaging solution from Hikvision to ensure its stores of lithium batteries for electric vehicles never overheat and cause a fire.
Read more...
---
Axis launches P3265-LVE dome camera
Axis Communications SA Products CCTV, Surveillance & Remote Monitoring
Based on ARTPEC-8 — the latest Axis system-on-chip (SoC) — Axis' latest dome high-performance camera includes a deep learning processing unit (DLPU), and cybersecurity features.
Read more...
---
Smart car parking solution eases traffic flow
Dahua Technology South Africa CCTV, Surveillance & Remote Monitoring Integrated Solutions Products
Ethiopia's first smart parking lot, designed to improve traffic flow and management efficiency, has been built and installed using Dahua Technology's smart parking solutions.
Read more...
---
VMS 7.2 supports the investigation process and adds cloud capabilities
CCTV, Surveillance & Remote Monitoring Integrated Solutions Products
Qognify has launched the second release of its VMS, including extended support for body-worn video, additional functionalities to support investigations, and a new web client architecture. VMS 7.2 addresses the increasing use of body-worn video (BWV) across many sectors.
Read more...
---