printer friendly version
Add a listening post
November 2008
CCTV, Surveillance & Remote Monitoring
The lack of an audio component can seriously impact the ability of security personnel to effectively protect property and people.
The movie industry introduced its first 'talkie' back in 1927. Yet video surveillance, for the most part, has remained oddly silent. Given that what we hear adds as much to our understanding of events as the images we see, the lack of an audio component can seriously affect the ability of security personnel to effectively protect property and people.
Consider a video surveillance system without audio. A cry for help, the sound of breaking glass, a gunshot, or an explosion in the vicinity of a camera – but outside the field of view – would escape notice. Even in a parking lot under visual surveillance, without audio support security staff might never know that a vehicle's alarm had gone off.
Audio covers a 360° area, enabling a video surveillance system to extend its coverage beyond a camera's field of view. Intelligent audio can instruct a pan/tilt/zoom (PTZ) or dome camera or an operator of the camera to visually verify an audio alarm, giving remote security personnel additional information about the environment on which to base their response.
In addition to being a listening post, security personnel can use audio to communicate with visitors or intruders. If a person in a camera's field of view exhibits suspicious behaviour – such as loitering near an ATM or entering a restricted area – a remote security guard can send a verbal warning to the individual. In cases where the camera reveals a person who is injured, the guard can remotely assure the victim that help is on the way. Audio naturally dovetails with a variety of security applications. In access control, intercom technology is a strong fit. A doorman can remotely greet visitors before buzzing them into a building. In an unmanned garage, patrons can request assistance from a remote security attendant.
Deployment obstacles
The industry expects audio adoption to increase as network video systems become more commonplace. This is primarily due to audio being easier to implement in network video systems than analogue CCTV systems.
Analogue systems require users to install separate audio and video cables from the camera and microphone location to the recording and viewing station. If the distance is too long, you need to add balanced audio equipment, which increases installation difficulty and cost. A simpler way would be to tie the analogue cameras into a network video system, using video encoders with built-in audio support.
Network video systems equipped with audio support process the audio and send both the audio and video over the same network cable used for monitoring and/or recording. This eliminates the need for extra cabling and makes synchronising the audio and video much easier.
Selecting audio equipment
Network cameras or encoders that support audio generally include a built-in microphone, but very rarely a built-in speaker. While a built-in microphone may be adequate for some applications, others may require a more sensitive external microphone. External microphones fall into four main categories: condenser, electret condenser, dynamic and directional.
* Condenser microphones offer the highest audio sensitivity and quality. These are the same microphones used in professional sound studios.
* Electret condenser microphones offer a high level of sensitivity and are less expensive than condenser microphones.
* Dynamic microphones are rarely used in security or video surveillance because they typically do not possess sufficient audio sensitivity.
* Directional microphones pick up sound based on a particular pattern. An omni-directional microphone picks up audio equally well in all directions. Unidirectional microphones have audio sensitivity in one specific direction.
Adding audio detection alarms
Audio can be analysed by a network camera in much the same way as video. Audio detection nicely complements video motion detection since it can react to events in areas outside the camera's view or too dark for video motion detection to function properly. When intelligent audio detects a suspicious sound – such as a pane of glass breaking or voices in a room that should be unoccupied – it can trigger a response in much the same way intelligent motion detection or door contact systems can. The system can instruct the network camera to record and send audio and video, send e-mail or other alert, or activate alarms or other external devices. In systems with PTZ or network dome cameras, audio alarm detection can direct a camera to automatically turn to a preset location, such as a specific window or doorway.
If you use directional microphones, the audio system can even ascertain which direction the sound is coming from and point a PTZ camera in that direction. This feature is particularly useful in city centre surveillance projects, where operators often monitor a large array of fixed and PTZ cameras.
Audio detection offers a number of deployment options. You can enable audio detection all the time, during specific times or disable it during certain events, such as closed-door meetings. You can set it to trigger a sequence of responses if the incoming sound level rises above, falls below or passes a certain level of sound intensity.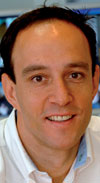 Roy Alves, country manager, Axis Communications
For more information contact Roy Alves, country manager, contact Axis Communications, +27 (0)11 548 6780, [email protected]
Credit(s)
Further reading:
Turkish university installs IDIS surveillance
CCTV, Surveillance & Remote Monitoring Products
IDIS video streamlines complex surveillance systems for learning institution, upgrading a 350-camera system with 24/7 control room monitoring to transform security for Social Sciences University of Ankara (ASBU).
Read more...
---
Brighter, greener, and smarter
Dahua Technology South Africa Products CCTV, Surveillance & Remote Monitoring
Dahua Technology released its new Dahua CH II Series Indoor Fine Pixel Pitch LED display, providing visual clarity and promoting energy efficiency and sustainability.
Read more...
---
Smart water management
Axis Communications SA CCTV, Surveillance & Remote Monitoring Integrated Solutions
South Africa is currently facing a water crisis, with scarcity and inefficient water management posing significant challenges to sustainable, consistent access to water. Smart technology and powerful partnerships may offer a proactive solution to SA's water crisis.
Read more...
---
Helping retailers optimise monitoring and security
Guardian Eye Retail (Industry) CCTV, Surveillance & Remote Monitoring
From a smart retail perspective, it is crucial to understand that monitoring stock and other assets through camera surveillance and a variety of Internet of Things (IoT) sensors stretches further than the stores themselves.
Read more...
---
Empowering Istanbul's public transportation
Dahua Technology South Africa CCTV, Surveillance & Remote Monitoring Integrated Solutions
Dahua's intelligent transportation solution, using technologies like DSM and AI-based passenger flow counting, has facilitated an intelligent system upgrade for nearly 6 400 minibuses and electric buses in Istanbul.
Read more...
---
Smart manufacturing redefined
Hikvision South Africa CCTV, Surveillance & Remote Monitoring Industrial (Industry)
AI and intuitive visualisation technology allows managers to monitor manufacturing sites, production, and operational processes, and to respond in real time in the event of an issue – helping to drive efficiency and productivity.
Read more...
---
AI is getting smarter, and critical infrastructure is set to benefit
Axis Communications SA CCTV, Surveillance & Remote Monitoring
With technology advancing at an astonishing pace, AI has emerged as a defining trend in today's business arena. Enterprises across all sectors are prioritising this technology, embracing its transformative potential to drive change and growth.
Read more...
---
Collaboration delivers integrated and holistic security
Guardian Eye CCTV, Surveillance & Remote Monitoring News Integrated Solutions
Guardian Eye and Lytehouse have partnered to integrate their speciality solutions and provide a holistic security offering that overcomes the fragmentation of security systems and services.
Read more...
---
Manage security systems remotely
Hikvision South Africa CCTV, Surveillance & Remote Monitoring IT infrastructure Products
Hikvision launched a new generation of smart managed switches that, in conjunction with the Hik-Partner Pro mobile app, enable installers to remotely deploy and configure security systems with comprehensive operation and maintenance capabilities.
Read more...
---
Synology enhances functions for advanced surveillance integration
Technews Publishing CCTV, Surveillance & Remote Monitoring IT infrastructure Products
With the capability to function as both an API client and server, Surveillance Station offers a versatile platform for integration, whether it's embedding video streams into other platforms or overlaying external data onto recorded video.
Read more...
---