printer friendly version
Protecting Science Museum's treasures
February 2008
Surveillance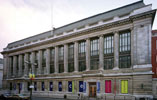 Over the years, London's Science Museum has been uniquely placed, acquiring a vast collection of historically important artefacts that record the development of science through the ages.
The Science Museum has over 300 000 objects in its care, covering the entire history of western science, technology and medicine.
Medical artefacts from all periods and cultures also form an important part of its holdings. From Charles Babbage's Analytical Engine, to the latest generation Playstation 3, the museum houses scientific products to both intrigue and delight.
Many of these exhibits are of great financial as well as historical value, and the museum's first priority is to preserve and protect these items for future generations. In addition to the daily care of its displays, tight security to prevent damage or loss of these objects and visitor safety are the museum's principal concerns.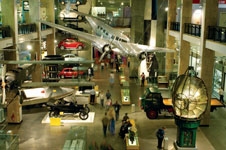 Keeping a close watch
To fulfil these criteria the museum initiated a basic CCTV surveillance system in the late 1990s. This was mainly due to the heightened threat of terrorist activity in London at that time. Over the years, an expanding museum and developing surveillance technology resulted in a programme of staged growth, and a system which today boasts over 115 cameras.
Turning to long-term installation and maintenance partners Evolution (Electronic Security Systems), Science Museum management required additional cameras and DVRs to record and review activity throughout the museum's new galleries and exhibition halls.
Transmitting images from such an extensive camera network to the on-site control room presented unique challenges to Evolution's engineers. Russell Fitzregan, Evolution's technical sales manager, takes up the story, "Running a traditional coax cable network would have proved very labour intensive and would have impacted greatly on the project's installation time, meaning large amounts of downtime for each of the museum's galleries. Coax transmission also requires large capacity ducting to be installed, this is a massive issue at the Science Museum as we were installing the cable network in a building dating back to 1863 and needed to disturb as little of its sensitive structure as possible.
"We provided the solution by using NVT (Network Video Technologies) UTP (unshielded twisted pair) video transmission technology. As UTP uses significantly less containment than traditional coax transmission, we were able to run a relatively tiny 150 pair backbone throughout the museum's ducting, quickly and easily, without the significant civil works associated with a bulky coax solution. This reduced installation time and allowed us to pass the associated cost savings on to our customer."
Also contained within the museum's ducting system are the museum's other electrical services, such as fire alarm, access control, mains electricity for the galleries and high-voltage lift power. This would have posed massive interference issues to traditional video transmission methods but is eliminated with the use of NVT technology, which offers unsurpassed interference rejection, allowing crystal clear UTP video picture transmission through the electrically hostile museum environment.
Russell continues, "Only using NVT technology were we able to successfully pass UTP video through this environment. Using coax cable, or other basic UTP baluns would have resulted in an unacceptable level of image interference, an issue that was instantly resolved the moment we installed the NVT technology."
Use of a 150-pair backbone serving the system's cameras also provides Evolution engineers with 'future proofing' via multiple 'spare' pairs with which any additional cameras may be quickly and easily connected, if and when required - again, with minimal cost and disruption to the facility's day-to-day business. Russell concludes, "This built-in future expandability is very important to Science Museum management, as the addition of new exhibits can mean camera scenes become obscured, necessitating repositioning of a camera or additional cameras being added to the system. Utilising NVT UTP technology, our experienced engineers can facilitate these changes quickly and efficiently."
NVT products are available locally through ADI International.
For details contact Network Video Technologies, +44 208 977 6614, steveproctor@nvt.com, www.evolutionsecurity.com
Further reading:
Pentagon appointed as Milestone distributor
Elvey Security Technologies News & Events Surveillance
Milestone Systems appointed Pentagon Distribution (an Elvey Group company within the Hudaco Group of Companies) as a distributor. XProtect's open architecture means no lock-in and the ability to customise the connected video solution that will accomplish the job.
Read more...
---
Hik-Connect for Teams released
Hikvision South Africa Products & Solutions Surveillance
Hikvision has released an update for its security management platform; Hik-Connect for Teams not only meets the specific needs of individual users, but also caters to various medium-sized businesses (SMBs) and multi-site management scenarios.
Read more...
---
The human factor side of video management systems
Leaderware Editor's Choice Surveillance Risk Management & Resilience
A video management system (VMS) is central to, and the most vital element to any control room operation using CCTV as part of its service delivery, however, all too often, it is seen as a technical solution rather than an operational solution.
Read more...
---
A simple system for complex protection
Surveillance AI & Data Analytics IoT & Automation
Reconeyez is a company that provides autonomous wireless visual verification systems with built-in artificial intelligence. Running on batteries, each device includes communication capabilities, creating a mesh network between the various devices, linking them to the control room.
Read more...
---
Revolutionise your security with integrated solutions
Secutel Technologies Products & Solutions Surveillance
By merging the capabilities of SecuVue and Secutraq, Secutel has forged a robust system empowering users to fine-tune analytics and harness facial recognition, pose detection, and XFS, among other features.
Read more...
---
Safer roads to a sustainable future
Dahua Technology South Africa Surveillance
With the ever-increasing number of vehicles on the road, it is imperative to constantly improve the quality of transportation monitoring and traffic management in urban and rural areas.
Read more...
---
From damage management to false alarm prevention
Dallmeier Electronic Southern Africa Transport (Industry) Surveillance Logistics (Industry)
Video surveillance is undergoing an exciting evolution; today's IP-based solutions can be fully integrated into digital systems. With the increasing integration of artificial intelligence (AI); logistics, in particular, can make processes more transparent and exploit previously untapped potential.
Read more...
---
Marshall Security partners with Blacklight to introduce Reconeyez to KZN
News & Events Surveillance Power Management
Marshal Security has joined forces with Blacklight Group to launch Reconeyez, a cutting-edge battery-powered surveillance platform with mesh network capability, in the KwaZulu-Natal market.
Read more...
---
Professional mobile video management in your pocket
Dallmeier Electronic Southern Africa Surveillance
With the SeMSy Mobile Client for its Domera and Panomera cameras, Dallmeier is now launching a solution that combines the functional and security requirements of professional organisations with the user-friendliness and simplicity of consumer apps.
Read more...
---
Leveraging AI to boost security in SA
AI & Data Analytics Surveillance
By shifting data analysis and processing to the edge of a company's network, decision-makers can ensure their remote offices can access real-time computing across multiple locations, supporting informed business decisions.
Read more...
---