printer friendly version
Wireless and IP surveillance: what is next in monitoring and surveillance
February 2008
Surveillance
More than ever, 9/11 and its aftermath have made security for organisations and enterprises worldwide a major priority.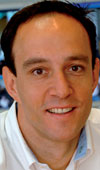 World events and organisational demands have hastened our search for better, more cost-effective security applications. In many instances, rapid deployment of security systems has become essential.
As critical as improved security has become, budgets to accomplish this goal are by no means unlimited. In fact, while many organisations have placed greater emphasis on security management, budgets have not always kept apace. When installing security and surveillance systems, equipment represents only one of the cost components. System installation represents a whole additional cost consideration. For installations that cover expansive territory and/or require that all data be transferred to a distant, central monitoring station, the feasibility of running wire is often limited. Fibre-optics is always an alternative, but for many enterprises it can be cost prohibitive. What then?
Against this backdrop, we are experiencing many fast-moving developments in security and related technology areas. For example, security applications are increasingly migrating from analogue to digital technology; meanwhile, the IT and security markets are rapidly converging. These two developments have led to increased interest and viability for IP network-based solutions and use of the Internet. All told, these developments have fundamentally shaken up the security and IT markets in the last year or two, creating new markets, expanding markets, and unveiling tremendous opportunities for innovating, selling, and installing new solutions.
Whether it is establishing video monitoring for a highly visible bridge or creating an affordable surveillance system for your company's far-flung parking lots, a fast-emerging solution is the integration of the established IP-surveillance technology with wireless networking technology. Some readers are probably asking, 'IP and networks?' 'Wireless?' "How do they fit together, and how reliable and effective are such solutions?"
In this white paper, we will explore these and several other questions to clearly define what Wireless IP-Surveillance is, how it functions, where it is being used, and why it is a powerful monitoring and surveillance solution whose time has come. We will also introduce and debunk several myths, which have given end users pause in implementing such technology.
Wireless IP-surveillance is a surprisingly easy technology to understand. It is highly affordable and easily deployed. For any enterprise or organisation that has been challenged by outdoor conditions, distance, lack of network connectivity, or simple fear of 'new' technology when implementing a monitoring and surveillance system - wireless IP surveillance is in your future.
What is wireless IP surveillance?
Wireless IP surveillance takes two proven technologies - outdoor wireless transmission and networked video surveillance - and combines them to create a powerful solution that overcomes many of the challenges that up to now prevented end users from installing surveillance and monitoring systems: distance, lack of network infrastructure, inclement conditions, price, and others. Wireless IP surveillance represents an innovative breakthrough, but what is it exactly?
IP is an abbreviation for Internet Protocol, the most common protocol for communication over computer networks and the Internet. An IP surveillance application creates digitised video streams that are transferred via a computer network, enabling remote monitoring as far away as the network reaches as well as viewing and monitoring from any remote location over the Internet.
Because of its scalability, among other advantages, IP surveillance is an established, attractive technology not only for enhancing or revitalising existing surveillance and remote monitoring applications, but for a vast number of new applications as well. And when we add the power of wireless transmission to IP surveillance, we create an even more robust, flexible solution: an Ethernet cable (network connection) that can easily connect network cameras to a wireless point-to-multipoint connectivity solution, instantly creating a wireless WAN capable of transmitting high-resolution video back to a base station in realtime. The combination of IP surveillance with wireless technology creates a security application that goes beyond anything currently available and offers these highly compelling features:
* Easy to deploy.
* High degree of functionality.
* Cost-effective in installation and operation.
* Completely scalable.
For most, this may seem a bit too good to be true. Below, we will examine these features and the advantages of wireless IP surveillance more closely.
Wireless IP surveillance advantages
When it comes to providing security protection outdoors, organisations are often faced with major cost and installation nightmares. For a growing number of the most security-sensitive organisations, fixed wireless networks offer reliable, affordable surveillance networks that can secure the toughest outdoor environments. There are a number of reasons why more organisations are choosing wireless for their security networks:
Fast, easy to deploy
Depending on the outdoor location, fibre is not always available. Wireless, on the other hand, can be deployed virtually anywhere, including bodies of water, rugged terrain, and remote locations. Wireless networks install in hours, eliminating long waiting periods and right-of-way issues associated with trenching for fibre.
Affordable
Fibre often costs significantly more to deploy than a wireless system. Just a few kilometres of trenching can cost hundreds of thousands of rands.
Flexible
Wireless solutions provide unparalleled flexibility. Because the security network is wireless, cameras are not permanently fixed in one location. If necessary, cameras and subscriber units can be moved to a new location with minimal hassle and can usually be reconnected within minutes.
High capacity
Wireless networks are available in a wide range of bandwidth capacities from 11 to 860 Mbps. The systems ensure the transmission of high-resolution video in realtime that is required of surveillance systems.
Reliable
High-end wireless systems ensure up to 99,999% carrier-class reliability enabling virtually non-stop security.
Outdoor design
Outdoor wireless networks are sometimes confused with wireless LAN technology that is not appropriate for outdoor use. Based on a special protocol (Proxim calls it WORP) that enables system scalability and the management required for outdoor deployments, outdoor wireless networks (or 'wireless WANs') are versatile and powerful when used in security and surveillance applications. It is important end users distinguish between indoor technology and those technologies designed for outdoor system demands.
Previously, outdoor wireless security and surveillance deployments were considered to be an option only for customers where budget was no object. In fact, there are premium wireless solutions that represent a significant investment - but the true beauty of wireless IP surveillance is a flexibility and scalability that allows end users to create a system to fit most any budget requirement. With wireless technology and a network-ready camera, it is quick and easy to set up a simple security network.
Whether you are concerned with providing security to students on a university campus or safeguarding a national waterway, the challenge is the same: how to connect surveillance cameras in locations where running wire is either cost-prohibitive or impossible.
Credit(s)
Further reading:
Pentagon appointed as Milestone distributor
Elvey Security Technologies News & Events Surveillance
Milestone Systems appointed Pentagon Distribution (an Elvey Group company within the Hudaco Group of Companies) as a distributor. XProtect's open architecture means no lock-in and the ability to customise the connected video solution that will accomplish the job.
Read more...
---
Hik-Connect for Teams released
Hikvision South Africa Products & Solutions Surveillance
Hikvision has released an update for its security management platform; Hik-Connect for Teams not only meets the specific needs of individual users, but also caters to various medium-sized businesses (SMBs) and multi-site management scenarios.
Read more...
---
The human factor side of video management systems
Leaderware Editor's Choice Surveillance Risk Management & Resilience
A video management system (VMS) is central to, and the most vital element to any control room operation using CCTV as part of its service delivery, however, all too often, it is seen as a technical solution rather than an operational solution.
Read more...
---
A simple system for complex protection
Surveillance AI & Data Analytics IoT & Automation
Reconeyez is a company that provides autonomous wireless visual verification systems with built-in artificial intelligence. Running on batteries, each device includes communication capabilities, creating a mesh network between the various devices, linking them to the control room.
Read more...
---
Revolutionise your security with integrated solutions
Secutel Technologies Products & Solutions Surveillance
By merging the capabilities of SecuVue and Secutraq, Secutel has forged a robust system empowering users to fine-tune analytics and harness facial recognition, pose detection, and XFS, among other features.
Read more...
---
Edge could help transform South Africa's healthcare
Axis Communications SA Infrastructure
Edge computing has emerged as a game-changing technology for many industries, and the healthcare sector is no exception. In particular, South Africa's healthcare industry could significantly benefit from the potential of this technology.
Read more...
---
Safer roads to a sustainable future
Dahua Technology South Africa Surveillance
With the ever-increasing number of vehicles on the road, it is imperative to constantly improve the quality of transportation monitoring and traffic management in urban and rural areas.
Read more...
---
From damage management to false alarm prevention
Dallmeier Electronic Southern Africa Transport (Industry) Surveillance Logistics (Industry)
Video surveillance is undergoing an exciting evolution; today's IP-based solutions can be fully integrated into digital systems. With the increasing integration of artificial intelligence (AI); logistics, in particular, can make processes more transparent and exploit previously untapped potential.
Read more...
---
Marshall Security partners with Blacklight to introduce Reconeyez to KZN
News & Events Surveillance Power Management
Marshal Security has joined forces with Blacklight Group to launch Reconeyez, a cutting-edge battery-powered surveillance platform with mesh network capability, in the KwaZulu-Natal market.
Read more...
---
Professional mobile video management in your pocket
Dallmeier Electronic Southern Africa Surveillance
With the SeMSy Mobile Client for its Domera and Panomera cameras, Dallmeier is now launching a solution that combines the functional and security requirements of professional organisations with the user-friendliness and simplicity of consumer apps.
Read more...
---