printer friendly version
Centralised, integrated security optimal for residential estates
May 2007
Residential Estate (Industry)

Security is a non-negotiable in South Africa's residential estates. Whether it's access control at the gate, electric fencing with cameras or guards patrolling 24x7, families living in these complexes feel secure in the knowledge they are protected against almost any calamity.
But how secure are these estates really? i to i technologies' Ian Downing warns that the security many people rely on to protect their homes and families may in fact not be as good as they would wish.
"It is not that the products used are of poor quality, or even that the companies retained to handle various security functions cannot do the job," explains Downing. "The problem is that estates hire different companies to handle different aspects of their security. And while each company may be an expert in its field, there is no real integration between the various disciplines."
This lack of integration is a serious weakness that determined criminals can exploit. Downing recommends estates take an holistic view of their security needs with the aim of implementing an integrated solution that is centrally controlled. "In fact, having a remote control room keeping an eye over an estate is the optimal solution as the operators can react to any emergency free of influence."
An integrated solution will unfortunately not work when multiple companies are involved as there will always be the problem of defining where one company's responsibility ends and another's begins - and passing the buck when it comes to security is not acceptable. The answer is to find one company that will take on the responsibility of designing an integrated solution, implementing it and maintaining it over the long term.
"It is imperative from the standpoint of the estate's security that there is one number to call when something goes wrong," adds Downing. "One company will have to resolve the situation and meet the service levels stipulated in the contract."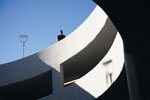 Of course, companies offering an integrated service have a greater responsibility to clients and will therefore have to have the facilities to train their own staff in the various security functions and monitor them. Outsourcing parts of the operation to others is an option, but only if the managing company is sure of its partners' capabilities.
i to i technologies has gained tremendous experience in providing integrated estate security over the past few years. The company prides itself on the fact that it offers leading global security technologies matched with the expertise needed to provide a complete, reliable solution.
"In addition, we do not simply hire anyone and train them to be a guard or a control centre operator," says Downing. "We find people with the right aptitude for the various security jobs and provide them with a career instead of simply with a job.
"The result is staff that are dedicated to doing work they enjoy and are serious about. This, in turn, leads to a better security service to clients."
Apart from the services on site, i to i technologies also operates remote control centres in which operators manage security breaches for multiple sites. These operations work by exception, meaning monitors are not expected to sit and watch endless screens of nothing happening - which is a good inducement to fall asleep. The systems raise the alarm whenever something that should not happen occurs - such as an electric fence being cut or a resident pressing a panic button, etc.
The operators can then take whatever action is necessary, alerting on-site staff and any local authorities. Even if there is a power failure at the estate, the monitoring site is supported by back-up power generators to ensure the security function the estates pay for is never offline.
"The number of residential estates opting for an integrated solution from a single service provider is constantly increasing as more people realise that buying multiple solutions from multiple suppliers is not the optimal way to go," concludes Downing. "Retaining a single company responsible for everything means there is no way to pass the buck or divert blame if something goes wrong, which means the service provider will go the extra mile to make sure its implementation and operational staff are well trained and that its systems are of the highest quality. And in the end this means a safer estate."
For more information contact i to i technologies, +27 (0)31 562 9535.
Further reading:
Visitor management for estates
Access & Identity Management Handbook 2020, Powell Tronics , Residential Estate (Industry), Access Control & Identity Management
Residential estates and business parks around South Africa have installed access control systems that aim to streamline access for both pedestrians and vehicular traffic.
Read more...
---
Residential Estate Security Conference 2019
October 2019, Technews Publishing , Editor's Choice, Residential Estate (Industry), Conferences & Events
Hi-Tech Security Solutions hosted the Residential Estate Security Conference in August, focusing on the people, technology and processes involved in an effective security solution for estates.
Read more...
---
Frictionless access with a wave
October 2019, IDEMIA , Access Control & Identity Management, Residential Estate (Industry)
IDEMIA was the Platinum Sponsor for the Residential Estate Security Conference 2019 and set up its MorphoWave Compact frictionless fingerprint biometric scanner at the entrance to the conference.
Read more...
---
Streamlined access and reporting
October 2019, Comb Communications , Access Control & Identity Management, Residential Estate (Industry)
The main focus of the Comb stand was its practical demonstration of the MK II Lite intercom system with third-party integrated products.
Read more...
---
A committed service provider
October 2019, Elf Rentals - Electronic Security Solutions , Perimeter Security, Alarms & Intruder Detection, Residential Estate (Industry)
The theme Elf promoted through its sponsorship was that it offers clients its own financial commitment and willingness to accept the risk of equipment failure.
Read more...
---
Thermal cameras with artificial intelligence
October 2019, Dahua Technology South Africa , Perimeter Security, Alarms & Intruder Detection, CCTV, Surveillance & Remote Monitoring, Residential Estate (Industry)
Dahua Technology showcased solutions that are important to residential estates, namely perimeter protection.
Read more...
---
Customised and integrated solutions
October 2019, Suprema , Access Control & Identity Management, Residential Estate (Industry)
iVisit offers both high-end and low-end residential complexes a cost-effective visitor management solution that is fully integrated into Suprema's offerings.
Read more...
---
Securing estate perimeters
October 2019, Nemtek Electric Fencing Products , Perimeter Security, Alarms & Intruder Detection, Residential Estate (Industry)
Nemtek has a range of products designed to secure the perimeters of estates, however its display at the conference focused on its Network Energizer and its Dual-Action Tension Sensor.
Read more...
---
Access solutions for every estate
October 2019, Impro Technologies , Access Control & Identity Management, Residential Estate (Industry)
Impro's flagship Access Portal solution comprises one of the most user-friendly software solutions on the market.
Read more...
---
A balanced, fair industry
October 2019, PSIRA (Private Security Ind. Regulatory Authority) , Residential Estate (Industry), Security Services & Risk Management, Associations
PSiRA is focused on supporting the effective promotion and regulation of the private security industry.
Read more...
---