printer friendly version
Understanding and meeting the needs
March 2007
Security Services & Risk Management
The Fidelity name has become a household brand in South Africa for security services.
From small beginnings, the group has grown into the largest security service provider in South Africa, focused on building strong relationships with customers, staff and the broader industry.
Part of the reason for the company's success over the years, has been its ability to provide the markets with what was needed. Continuing this process, Fidelity Security Group recently completed an unbundling exercise in which the group split into three entities, each specialising in its core businesses, namely cash-in-transit, cleaning and security services.
CEO, Wahl Bartmann, heads the newly forged security solutions management company, Fidelity Security Services. Having 'grown up' in Springbok Patrols, a security concern the Bartmann family owned and eventually sold to Fidelity in 2000, Bartmann has a wealth of expertise of the industry and is also a well-known spokesperson often called upon to assume responsibilities outside of his Fidelity duties - as in the recent security guard strike, for example.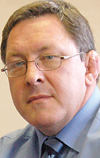 Wahl Bartmann
Fidelity Security Services now focuses its energies on guarding, armed response and alarm monitoring in amongst the other domestic, industrial, mining and banking sectors. Given its history, customers can expect the high level of service and support they have come to expect from Fidelity to continue, as well as improved service levels due to the new areas the company is focusing on - all conforming to its ISO 9000-2000 accreditation.
"More than simply providing feet on the ground, Fidelity Security Services is committed to offering an integrated service that offers the optimal combination of systems and security to our clients," says Bartmann. "Instead of simply offering a guarding service, for example, Fidelity Security Services is geared to also provide remote monitoring systems which are under observation 24x7 from our high-tech control centres.
"Combining technology and traditional security services is a must if one is to deliver effective security services. We have therefore built control rooms equipped with the latest technology to assist in meeting our clients' needs, whether they are located on a mine or in a housing estate."
The control rooms do not have banks of screens showing footage from various cameras scattered all over the country. Making use of the best technology available, the screens are blank until something triggers an alarm and only the video images in the affected areas are shown. Highly skilled and trained staff in the control room are therefore only alerted to anomalies instead of having to watch endless footage of nothing happening.
Fidelity Security Services also boasts its own training centres where it ensures its 24 000 employees are efficiently screened before being employed and properly trained to offer the optimal service to clients. This centre is so renowned for the calibre of security personnel it delivers that other security companies make use of it to train their own staff. All training provided complies with the Skills Development Act and it is accredited with SAQA and SETA.
As a wholly owned South African company, Fidelity Security Services is a 100% subsidiary of Fidelity Security Group and boasts an 'AAA' EmpowerDex rating. Over 53% of the company is owned by BEE organisations. Khulani Holdings, a 100% BEE-owned company that has been in business with Fidelity since 1997 owns 25,54%, while New Seasons, also a BEE-owned enterprise owns 25,5% of Fidelity Security Services.
"As a South African company that understands the realities of the country we live in, the integrated services we offer will allow us to continue providing the highest service levels in the industry," explains Bartmann. "Moreover, our reputation and solid financial base means clients can trust us with their security needs, sure of the fact that we will not vanish into thin air or fail to deliver as promised as the many fly-by-night operations do. The unbundling of the Fidelity Security Group has focused us on our core business and on providing an optimal service to all our clients."
Credit(s)
Further reading:
Obscure Technologies adds OneTrust to portfolio
Security Services & Risk Management
Cybersecurity specialist Obscure Technologies has announced the formation of a strategic alliance with OneTrust, a provider of Trust Intelligence.
Read more...
---
Three ways to prevent non-delivery
Security Services & Risk Management
By using an escrow platform, you can pay for the item, but the funds are held in a trust account until you receive the item and are happy it's what you ordered.
Read more...
---
Look before you leap into a back-up power solution
Editor's Choice Security Services & Risk Management
Before you rush into purchasing a back-up power solution, you need to take a considered and long-term view of how to get yourself as close to grid independence as possible.
Read more...
---
All-mobile people management solution with facial recognition
Editor's Choice Integrated Solutions Security Services & Risk Management Products
The new mobile Incident Desk People Management platform with facial recognition combines identification data on suppliers, staff, sub-contractors and even people on watch lists, for less than the cost of traditional service management tools.
Read more...
---
Passion, drive and hard work
Technews Publishing Editor's Choice CCTV, Surveillance & Remote Monitoring Security Services & Risk Management
Colleen Glaeser is a leader in the security market, having made her mark in the male-dominated security industry through determination and hard work, along with a vision of making the world a safer place.
Read more...
---
Are you your insider threat?
Technews Publishing Editor's Choice Security Services & Risk Management Commercial (Industry)
Insider threats are a critical aspect of risk management today, but what happens when it is the owner of the company acting fraudulently and making sure none of his staff can catch him?
Read more...
---
Trackforce Valiant acquires TrackTik Software
News Integrated Solutions Security Services & Risk Management
Trackforce Valiant, a provider of security workforce management solutions, announced the acquisition of TrackTik Software, a cloud-based security workforce management provider.
Read more...
---
Minimise the cost and impact of protest activity
Thorburn Security Solutions Security Services & Risk Management Industrial (Industry)
Strikes and protest actions are common in South Africa and businesses need to prepare for the worst while working for the best outcome that benefits all parties.
Read more...
---
SA Security becomes a part of Fidelity ADT
Fidelity Services Group Security Services & Risk Management
Fidelity ADT has announced that it has concluded an agreement with SA Security Alarms & CCTV and has taken over the monitoring and armed response contract from 1 July 2022.
Read more...
---
Risk reduction and cybersecurity
Security Services & Risk Management Cyber Security
How should risk managers think about cyber risk? What are the main considerations and red herrings? How do you know you're mitigating cyber risk?
Read more...
---