printer friendly version
Making the transition from DVRs to video-over-IP
February 2007
CCTV, Surveillance & Remote Monitoring
For many years VCRs were the only option for storage of video surveillance information. Although cost effective, these devices were also prone to mechanical failure and the tape storage medium was a logistical nightmare.
Enter the digital video recorder (DVR) that revolutionised the surveillance industry, eliminating the magnetic tape problem and integrating image-processing intelligence such as motion detection.
Several vendors elected to go the single-channel recorder route, thereby offering a unit swop-out route for the client wishing to make the analog to digital transition while other often new market entries introduced multichannel PC-based units. Large installations still required analog matrices for video switching and storage capacities were small. Furthermore, the multichannel systems were only capable of recording at frame rates somewhat less than 'realtime'. This era was hailed as the hybrid solution period between analog systems and completely digital systems.
The next evolutionary step in surveillance technology has been termed video-over-IP. Although strictly speaking this refers to video over the Internet, it is also used to refer to surveillance systems deploying network video recorders (NVRs), encoders and IP cameras. These systems entail the broadcasting of encoded video onto a network by IP cameras or analog cameras connected to an encoder. This enables the digital video to be stored on NVRs or bulk storage systems anywhere on the network as well as being decoded and viewed from stations anywhere on the network. Analog switching units are no longer required and the encoding algorithms provide good quality video at full frame rates. The question is whether and how to make the transition from the second generation DVR technology to the third generation video-over-IP technology.
The diagram of Figure 1 compares the two architectures.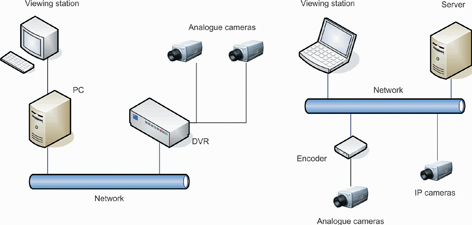 Figure 1. DVR architecture and video-over-IP architecture
Video-over-IP architectures have several primary advantages:
* Most of the connectivity is via a CAT-5 network rather than analog coax cabling with the associated advantages of noise immunity and the fact that such networks already exist in many buildings.
* High density network storage technologies can be used rather than singular drives.
* It is easier to add cameras by connecting to the nearest available point on the network.
* Viewing stations can be easily added at any point in the network (which could be anywhere in the world).
From a cost perspective, a surveillance system with high performance DVRs and analog cameras will cost much the same as a video-over-IP system with encoders and analog cameras.
The cost savings start to emerge when IP cameras, that effectively integrate the encoder with the camera, are deployed. Figures released by IMS Research for the EMEA market in 2004 forecast a 29% increase in the market growth for IP cameras compared to an 8% growth in the general surveillance market. In February 2006 the same organisation increased this figure to 53% (Network Camera Market Exceeds Expectations - 07 February 2006, IMS Research, www.imsresearch.com). Some manufacturers are predicting that by 2010 the camera market will have become entirely IP-based and are gearing themselves for this trend. The range of IP cameras currently being offered by manufacturers comes nowhere near the range of analog cameras available and IP cameras are a lot more expensive. But this is changing rapidly as the range from simple fixed IP cameras to advanced PTZ IP cameras increases and costs come down.
Fortunately for the end-user we are in another hybrid market state, where a full range of digital surveillance equipment is available, making it possible to assemble systems that are DVR architectures, video-over-IP architectures or a combination of the two. Several DVR systems have advanced tremendously and are now offering site management software that provides similar capabilities to the system software provided by video-over-IP system vendors including 'virtual matrix' capabilities that eliminate the need for analog switching, site map resource management and alarm management. Integration with encoders and IP cameras to form a hybrid system becomes possible as depicted in Figure 2.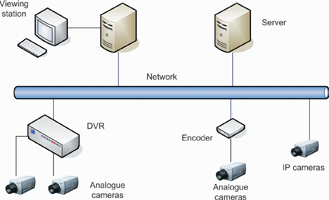 Figure 2. Hybrid architecture
The site management software that runs on the viewing station may be supplied by the vendor of the DVR and IP components or it may be supplied by an independent software house that has developed drivers for the DVR and IP components, of which there are several on the market today. This then provides the upgrade path for the end-user with DVR-based systems, whereby the contingent system can be expanded by adding IP-based components.
Video analytics
One very important issue that must be understood and considered in this transition process is that of video analytics. Most advanced DVRs have integrated video analytics providing motion detection, object counting, placed article detection and other algorithms. Processing these algorithms requires access to raw video data, albeit in less resolution than the original captured video data. In DVRs this data is made available by the internal hardware. In an IP-based system such processing must take place within the encoder or IP camera as the raw data information required is no longer available after the encoding process. If this is not the case, an IP-based architecture will be limited in functionality compared to the DVR architecture. Modern manufacturers of video-over-IP components are integrating highly advanced video analytic software into their products.
As far as timing is concerned it is difficult to recommend when to make the transition from DVR systems to video-over-IP systems, but there is no doubt that it will not be a sudden market transition and that multiple options will remain for several years to come, satisfying the supporters of either architecture.
For more information contact Dr Clive Putman, i-to-i Technologies, +27 (0)21 880 5000, clive.putman@itoitechnologies.com
Further reading:
Efficient storage for security
Issue 7 2020, Dell EMC , CCTV, Surveillance & Remote Monitoring
There is a dramatic increase in the amount of storage and computing power required to support today's safety and security systems.
Read more...
---
Safe restaurant reopening technology
Issue 7 2020, Dahua Technology South Africa , CCTV, Surveillance & Remote Monitoring
Denmark's Arkaden Food Hall makes use of Dahua People Counting and Flow Control solution for safe reopening.
Read more...
---
Forbatt SA invests in South Africa's security industry
Issue 7 2020, Forbatt SA , CCTV, Surveillance & Remote Monitoring
Forbatt SA is set to offer an improved service to the industry by making sure it has the products and solutions the industry needs, as well as a new showroom.
Read more...
---
Analytics with your existing cameras
Issue 7 2020, Secutel Technologies , CCTV, Surveillance & Remote Monitoring
With SecuVue from Secutel Technologies, it is possible for any business to monitor their offices, warehouses or stores remotely, from any part of the world.
Read more...
---
Consolidating control rooms and service delivery within a COVID-19 environment
Issue 6 2020, Leaderware , CCTV, Surveillance & Remote Monitoring
It is essential to have informed, coordinated and professional responses within control rooms at this time of increasing turmoil.
Read more...
---
Technology driving the healthcare industry
Issue 6 2020, Duxbury Networking , CCTV, Surveillance & Remote Monitoring
Seeing cameras as sensors opens up new possibilities, and each one of them responds to typical demands inside a hospital, clinic or nursing home.
Read more...
---
Turn cameras into traffic sensors
Issue 6 2020, Duxbury Networking , CCTV, Surveillance & Remote Monitoring
Safer communities and cities are achieved through a mixture of technology and human resources, working together in a holistic manner.
Read more...
---
Mobotix thermal technology increases security
Issue 6 2020, Duxbury Networking , CCTV, Surveillance & Remote Monitoring
Installations, machinery, equipment and material available on company premises require effective and cost-efficient protection. In addition, operational safety, optimisation of workflows and protection ...
Read more...
---
Getting a visual on Covid-19 screening
Issue 6 2020, Graphic Image Technologies , CCTV, Surveillance & Remote Monitoring
Should organisations be investing in thermal camera technology to simply contain and limit the spread of the virus?
Read more...
---
Flexible temperature screening options for challenging times
Issue 6 2020, Hikvision South Africa , CCTV, Surveillance & Remote Monitoring
A thermal imaging camera is an effective screening device for detecting individuals with elevated skin temperature. This type of monitoring can provide a rapid screening approach in high-traffic areas.
Read more...
---