printer friendly version
Video management with IP video: a guide to IP video - Part 12
October 2006
Surveillance
Video management of a network video system includes video monitoring, which can be conducted from a web browser or specific video management software, and video recording, which can be conducted from video management software installed on a PC or using a network video recorder (NVR), which is a hardware box with the video management software pre-installed.
Monitoring using the web interface
In a network video system, video can be viewed from any point on the network provided there is access to a web browser. Each camera has a built-in web server with an IP address, so to view the images on a PC one simply opens a web browser and types in the camera's IP address in the Address/Location field: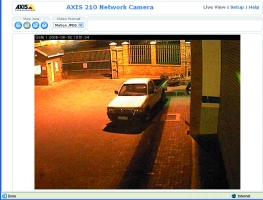 Once the computer has established the connection, the network camera's 'start page' is automatically displayed in the web browser. This start page will display live video feeds from the camera along with hyperlinks for changing the camera set-up, such as image resolution, network and e-mail settings - unless the system is set up with security/password limitations.
Monitoring using video management software
Even though video can be viewed directly from a standard web browser, video management software can be installed for more flexible viewing options as well as the ability to store and manage video. A wide variety of software solutions exist on the market, which range from independent solutions for a single PC, to advanced client/server-based software providing support for multiple simultaneous users.
Common functionality includes video monitoring, event management functions and alerts to alarm events via siren or e-mail for instance.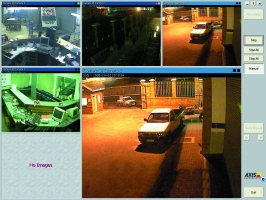 Recording network video
There are several ways to record network video: for simple recordings, the network camera's built-in functionality can be used to record images or video, based on scheduled or triggered events. These images are then uploaded to an FTP server or to the hard drive of a computer. A dedicated networked video recorder (NVR) can be used to gather data streams from the remote network cameras and video servers and store them on a hard disk. An NVR can be a standard networked PC or a dedicated video-recording hard disk server with a software application. For advanced recording and event management, video management software serves as the core of professional video surveillance systems. The software is installed on a PC and can be an independent solution or a client/server-based application for multiple simultaneous users. From the software interface, operators can, for example, record video continuously, on schedule, on alarm and/or on motion detection or search for recorded events.
Storage considerations
Different hard disk solutions
There are two ways to approach hard disk storage: one is to have the storage attached to the actual server running the application. The other is a detached storage solution where the storage is separate from the server running the application.
Direct attached storage
This is probably the most common solution for hard disk storage in small to medium-sized installations. The hard disk is located in the same PC that runs the video management software (application server). Space availability is determined by the PC and the number of hard disks it can hold. Most PCs can hold two disks, some up to four disks. Each disk can be up to approximately 500 GB. This gives a total hard disk capacity of approximately 2 Terabytes (TB).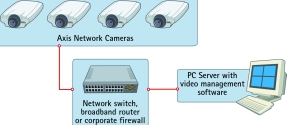 NAS and SAN
In applications where the amount of stored data and management requirements exceed the limitations of direct attached storage, a separate storage system is implemented. These systems are network attached storage (NAS) and storage area network (SAN).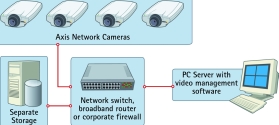 Network attached storage provides a single storage device that is directly attached to a LAN and offers shared storage to all clients on the network. A NAS device is simple to install and easy to administer, providing a low-cost solution for storage requirements, but limited throughput for incoming data.
A storage area network is a high-speed special-purpose network for storage, connected to one or more servers via optical fibre. Users can access any of the storage devices on the SAN through the servers, and the storage is scalable to over hundreds of TB. Centralised data storage reduces the administration required and provides a high performance flexible storage pool for use by multiserver environments.
There are solutions of both types available for video management software.
RAID
RAID (redundant array of independent disks) is a method of arranging standard, off-the-shelf hard drives in such a way that the operating system sees them as one large logical hard disk. There are different levels of RAID offering different levels of redundancy; from none (but with speed advantages) to a full 'hot swappable' solution where there is no disruption to the operation of the system and no lost data in the event of hard disk failure. The most common RAID levels are listed in the table.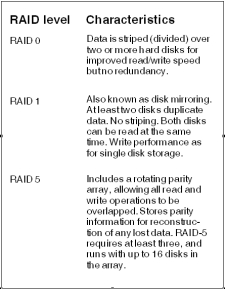 Integrated systems
In a network video system, all devices are connected to an IP network - enabling the use of a cost-efficient infrastructure to transport video for recording or monitoring. It also enables integration with other systems for increased functionality and easier operation.
Examples of systems that can be integrated include:
Access control: using a video surveillance system with integrated access control systems means for example that video can be captured at all doors when someone enters or exits a facility. Additionally all pictures in the badging system can be accessible to the operator of the video surveillance system for quick identification of employees or visitors.
* Building management systems (BMS): video can be integrated into building management systems, like heating, ventilation, and airconditioning systems (HVAC). The I/O ports of the network cameras can be used to provide input to the system, or the cameras used to detect motion in meeting rooms for instance, and control heating or lights to save energy.
* Industrial control systems: a visual verification is often required in complex industrial automation systems. Instead of the operator having to leave the control panel to visually check a part of the process, he or she can view network video using the same interface. Also in some sensitive clean room processes, or in facilities with dangerous chemicals, video surveillance is the only way to have visual access to the process. The same goes for electrical grid systems with a substation in a very remote location.
For more information contact Roy Alves, Axis Communications, +27 (0) 11 548 6780, roy@axisafrica.com
Further reading:
Pentagon appointed as Milestone distributor
Elvey Security Technologies News & Events Surveillance
Milestone Systems appointed Pentagon Distribution (an Elvey Group company within the Hudaco Group of Companies) as a distributor. XProtect's open architecture means no lock-in and the ability to customise the connected video solution that will accomplish the job.
Read more...
---
Hik-Connect for Teams released
Hikvision South Africa Products & Solutions Surveillance
Hikvision has released an update for its security management platform; Hik-Connect for Teams not only meets the specific needs of individual users, but also caters to various medium-sized businesses (SMBs) and multi-site management scenarios.
Read more...
---
The human factor side of video management systems
Leaderware Editor's Choice Surveillance Risk Management & Resilience
A video management system (VMS) is central to, and the most vital element to any control room operation using CCTV as part of its service delivery, however, all too often, it is seen as a technical solution rather than an operational solution.
Read more...
---
A simple system for complex protection
Surveillance AI & Data Analytics IoT & Automation
Reconeyez is a company that provides autonomous wireless visual verification systems with built-in artificial intelligence. Running on batteries, each device includes communication capabilities, creating a mesh network between the various devices, linking them to the control room.
Read more...
---
Revolutionise your security with integrated solutions
Secutel Technologies Products & Solutions Surveillance
By merging the capabilities of SecuVue and Secutraq, Secutel has forged a robust system empowering users to fine-tune analytics and harness facial recognition, pose detection, and XFS, among other features.
Read more...
---
Safer roads to a sustainable future
Dahua Technology South Africa Surveillance
With the ever-increasing number of vehicles on the road, it is imperative to constantly improve the quality of transportation monitoring and traffic management in urban and rural areas.
Read more...
---
From damage management to false alarm prevention
Dallmeier Electronic Southern Africa Transport (Industry) Surveillance Logistics (Industry)
Video surveillance is undergoing an exciting evolution; today's IP-based solutions can be fully integrated into digital systems. With the increasing integration of artificial intelligence (AI); logistics, in particular, can make processes more transparent and exploit previously untapped potential.
Read more...
---
Marshall Security partners with Blacklight to introduce Reconeyez to KZN
News & Events Surveillance Power Management
Marshal Security has joined forces with Blacklight Group to launch Reconeyez, a cutting-edge battery-powered surveillance platform with mesh network capability, in the KwaZulu-Natal market.
Read more...
---
Professional mobile video management in your pocket
Dallmeier Electronic Southern Africa Surveillance
With the SeMSy Mobile Client for its Domera and Panomera cameras, Dallmeier is now launching a solution that combines the functional and security requirements of professional organisations with the user-friendliness and simplicity of consumer apps.
Read more...
---
Leveraging AI to boost security in SA
AI & Data Analytics Surveillance
By shifting data analysis and processing to the edge of a company's network, decision-makers can ensure their remote offices can access real-time computing across multiple locations, supporting informed business decisions.
Read more...
---