printer friendly version
Safety for students
July 2006
Access Control & Identity Management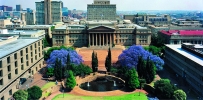 Project scope
Ensuring the safety and security of 65 000 people occupying 110 buildings under the auspices of the University of the Witwatersrand.
The history
Wits University needed to upgrade the access control at its campuses and the institutions that fall under it - including the Wits Business School, Medical School and the medical students at the Chris Hani Baragwanath Hospital. Originally the university had an entirely open campus as it was a public area, but because of crime in the area that had to change. In 1996 the applications for a 'seal-off' went through to Government, pilots were run at the Wits Business School in 1997 and at the beginning of 1998 all access to Wits property was shut and controlled.
The goal
The security and access control measures put in place were intended to create a more secure environment for learners and staff without being too restrictive or intrusive and to only let authorised people into the specific areas they are allowed to enter.
The benefits
The cards that grant access are not used just for that. In the case of a student it is linked to various facilities within the grounds and/or buildings of the university. The outermost security measures include pedestrian turnstiles and booms for motor vehicles - this card opens both of these. Once inside the perimeter fencing, the card allows access to the buildings via turnstiles monitored by CCTV. Once inside the buildings, the cards allow access to more secure and restricted parts of the buildings, cardholders are identified and allowed access to predetermined areas. The cards also serve as debit cards against which food can be bought, photocopies made as well as laser printing. The cards are also used for Wits' Meal Booking system for catered residence students among others.
The Wits Meal Booking system allows students to book a meal at any one of the dining halls across campus or a retail outlet. The student then swipes to gain access to the serving area of the dining hall and is prevented from re-entering during the same meal.
Obstacles en route to a final solution
The main hiccup in the system comes when students finish an academic year and are required to re-register on the system at the start of a new year. They cannot all be deleted from the system at the end of the year as they would then not be able to gain access the following year in order to register again, so there is an overlapping period until after registration.
The other obstacle was getting buy-in from the community for closing off roads. To demonstrate the effectiveness of road closure, Yale Road was sealed off for a one-year trial period in 1998 and in 1999 approval was granted to make this permanent.
Part of a solution of this nature is the need to find a reliable and efficient partner who will install and maintain various devices and assist in developing and integrating new devices as needs arise. The past two and half years of the systems life have been some of the most reliable thanks to the assistance of the Stanley/Blick SA team who provide an on site service performing various maintenance tasks, new installations and responding to fault reports which are logged with their call desk.
The result
One of the immediate benefits to have been experienced was the decrease in vehicle theft from the campus parking lots, which dropped substantially since access has been controlled.
Within the confines of the campus students are in a safer environment and equipment in the various departments is more secure due to the turnstiles at entry points into each room containing valuable equipment. Many facilities are now available to students 24 hours a day.
Fact file
Key service providers, products and solutions:
Diebold South Africa, Christa Kensley, 011 348 2941.
Blick South Africa, Mike Lotter, 011 844 3200.
Turnstar, Mark Eardley, 011 786 1633.
Boomgate, Andre Rossouw, 011 769 1677.
University of the Witwatersrand, Giles Watermeyer, 011 717 1870.
Credit(s)
Further reading:
Gallagher to showcase new Controller 7000 single door
Technews Publishing Access Control & Identity Management Products
Gallagher will be showcasing its latest access control innovation, the Controller 7000 Single Door on its stand at Intersec Dubai from 17-19 January 2023.
Read more...
---
Smart parking management platform
Access Control & Identity Management Asset Management, EAS, RFID
Parket builds a seamless bridge between supply and the ever-increasing, but fluid – and often temporary – demand for parking bays.
Read more...
---
Visible-light facial recognition terminal
ZKTeco Access Control & Identity Management Products
The SpeedFace-V5L [P] is a visible-light facial recognition terminal using intelligently engineered facial recognition algorithms and the latest computer vision technology.
Read more...
---
Facial and palm verification
ZKTeco Access Control & Identity Management Products
The ProFace X [P] supports both facial and palm verification, with a large capacity and rapid recognition.
Read more...
---
Glide Master High Security 90° Sliding Gate
BoomGate Systems Access Control & Identity Management Products
Boomgate Systems was asked to make a sliding gate that can turn 90 degrees. The gate had to offer high security and be vandal-proof.
Read more...
---
Informing, entertaining and communicating across your landscape
Evolving Management Solutions Access Control & Identity Management
For the first time, the attraction of large shopping malls with many stores, entertainment and food courts no longer offers enough appeal to attract customers.
Read more...
---
Suprema's new BioStation 3
Suprema Access Control & Identity Management Products
The brand new BioStation 3 is not only Suprema's smallest face recognition device to date, but it also comes packed with the largest variety of features.
Read more...
---
Suprema renews international privacy and security standard certifications
Suprema News Access Control & Identity Management
Suprema has simultaneously renewed two important international standard certifications regarding information security management (ISO/IEC 27001) and privacy information management (ISO/IEC 27701).
Read more...
---
SuperVision biometric access control
Integrated Solutions Access Control & Identity Management Products
SuperVision is a time & attendance (T&A) biometric access control system Fourier IT has been developing and enhancing for 18 years.
Read more...
---
Manage energy usage with Paxton access control
Paxton Access Control & Identity Management Products
Paxton provides access control systems that can integrate with existing infrastructure and manage a building's energy-consuming activities to save energy and costs.
Read more...
---