printer friendly version
Safety for students
July 2006
Access Control & Identity Management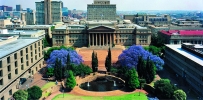 Project scope
Ensuring the safety and security of 65 000 people occupying 110 buildings under the auspices of the University of the Witwatersrand.
The history
Wits University needed to upgrade the access control at its campuses and the institutions that fall under it - including the Wits Business School, Medical School and the medical students at the Chris Hani Baragwanath Hospital. Originally the university had an entirely open campus as it was a public area, but because of crime in the area that had to change. In 1996 the applications for a 'seal-off' went through to Government, pilots were run at the Wits Business School in 1997 and at the beginning of 1998 all access to Wits property was shut and controlled.
The goal
The security and access control measures put in place were intended to create a more secure environment for learners and staff without being too restrictive or intrusive and to only let authorised people into the specific areas they are allowed to enter.
The benefits
The cards that grant access are not used just for that. In the case of a student it is linked to various facilities within the grounds and/or buildings of the university. The outermost security measures include pedestrian turnstiles and booms for motor vehicles - this card opens both of these. Once inside the perimeter fencing, the card allows access to the buildings via turnstiles monitored by CCTV. Once inside the buildings, the cards allow access to more secure and restricted parts of the buildings, cardholders are identified and allowed access to predetermined areas. The cards also serve as debit cards against which food can be bought, photocopies made as well as laser printing. The cards are also used for Wits' Meal Booking system for catered residence students among others.
The Wits Meal Booking system allows students to book a meal at any one of the dining halls across campus or a retail outlet. The student then swipes to gain access to the serving area of the dining hall and is prevented from re-entering during the same meal.
Obstacles en route to a final solution
The main hiccup in the system comes when students finish an academic year and are required to re-register on the system at the start of a new year. They cannot all be deleted from the system at the end of the year as they would then not be able to gain access the following year in order to register again, so there is an overlapping period until after registration.
The other obstacle was getting buy-in from the community for closing off roads. To demonstrate the effectiveness of road closure, Yale Road was sealed off for a one-year trial period in 1998 and in 1999 approval was granted to make this permanent.
Part of a solution of this nature is the need to find a reliable and efficient partner who will install and maintain various devices and assist in developing and integrating new devices as needs arise. The past two and half years of the systems life have been some of the most reliable thanks to the assistance of the Stanley/Blick SA team who provide an on site service performing various maintenance tasks, new installations and responding to fault reports which are logged with their call desk.
The result
One of the immediate benefits to have been experienced was the decrease in vehicle theft from the campus parking lots, which dropped substantially since access has been controlled.
Within the confines of the campus students are in a safer environment and equipment in the various departments is more secure due to the turnstiles at entry points into each room containing valuable equipment. Many facilities are now available to students 24 hours a day.
Fact file
Key service providers, products and solutions:
Diebold South Africa, Christa Kensley, 011 348 2941.
Blick South Africa, Mike Lotter, 011 844 3200.
Turnstar, Mark Eardley, 011 786 1633.
Boomgate, Andre Rossouw, 011 769 1677.
University of the Witwatersrand, Giles Watermeyer, 011 717 1870.
Credit(s)
Further reading:
Gallagher Security releases Command Centre v9
Gallagher News & Events Access Control & Identity Management Integrated Solutions
Richer features, greater integrations, with the release of Gallagher Security's Command Centre v9 security site management software designed to integrate seamlessly with various systems and hardware.
Read more...
---
Paxton's Net2 secures medicinal cannabis facility
Paxton Access Control & Identity Management Healthcare (Industry) Videos
Paxton's Net2 access control has been installed at Highlands Grow, a fully licensed industrial-scale cultivator, producing cannabis for medicinal and recreational use.
Read more...
---
Lock down your access control with Alcatraz AI
C3 Shared Services Healthcare (Industry) Access Control & Identity Management AI & Data Analytics
Alcatraz AI, represented in South Africa by C3 Shared Services, changes access control by harnessing the power of artificial intelligence and analytics at the edge, where facial recognition becomes the essential credential autonomously.
Read more...
---
Effective access control
Flow Systems Access Control & Identity Management Products & Solutions
Flow Systems has introduced its new Extra Heavy Duty Industrial Rising Vehicle Barrier, which provides a high level of protection. It is a traditional-looking control barrier with the benefits of high-level physical protection.
Read more...
---
Newport Aquarium replaces traditional locks and keys
Paxton Access Control & Identity Management Entertainment and Hospitality (Industry)
Newport Aquarium wanted to replace its old security system with an easy-to-use and high-security access control solution to keep the animals, visitors, and staff safe. The solution was Net2, a PC-based access control system that offers centralised administration.
Read more...
---
Securing easy access
Suprema neaMetrics Access Control & Identity Management
Securing access to hospitals and healthcare institutions presents a unique set of challenges, because these facilities operate 24/7, have highly 'open' access in public areas and require a strict level of security.
Read more...
---
Reliable mass notification
Access Control & Identity Management
The use of voice alarm and voice evacuation systems within the healthcare industry ensures a safer and more reassuring environment in the event of an emergency.
Read more...
---
Upgrading security at lifestyle estate
Turnstar Systems Access Control & Identity Management
Lifestyle estates are often located in out-of-town settings, and living away from the hustle and bustle of the city can be conducive to a relaxing lifestyle. However, it requires a high level of security to keep residents secure.
Read more...
---
Protecting our most vulnerable
Access Control & Identity Management
In a nation grappling with the distressing rise in child kidnappings, the need for innovative solutions to protect our infants has never been more critical. South Africa finds itself in the throes of a child abduction pandemic.
Read more...
---
New generation of cyber-focused controllers
Gallagher News & Events Access Control & Identity Management Products & Solutions
The C7000 gives users an opportunity to leverage their hardware and firmware to build a platform designed to catapult their organisation into the future, with cybersecurity baked in from inception.
Read more...
---