printer friendly version
Novel access control solution at RM
August 2005
Access Control & Identity Management

SACO Systems has implemented a novel access control solution at Richards Bay Minerals' (RBM) floating mining ponds in northern KwaZulu-Natal.
Aimed at preventing illegal entry by trespassers and even children, while also serving as an intelligent access control system for employees on the site, SACO based the wireless solution on radio frequency identification (RFID) technology in the 860 to 915 MHz range. As this high frequency functions over long distances, RBM's security personnel can now digitally monitor movement on the mine using sophisticated software provided by SACO.
The situation
RBM's mining pond features a mobile floating rig with flexible walkways that allow staff to move on and off the pond. A container bearing the turnstile access system and other security equipment is linked to the walkway and floats alongside it. As the mining area progresses further away from the walkway, the container and catwalks are also physically moved - on average this happens once or twice a month. Having a wireless solution significantly simplifies this procedure. The wireless monitoring and access control system monitors the movement of people through the control point via a remote video recorder ensuring that only card-holding employees enter the area.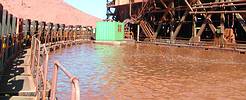 The floating container is unique in its ability to float on a pontoon that follows the movement of the mining pond
"The advantages of the system are numerous," says SACO's KZN branch manager, Mario Venter. "Apart from ensuring the security of personnel on site, the control point scanner ensures that the individual swiping his/her access card has the relevant training required to work in that area and is not due for a medical checkup by accessing, checking and displaying the person's work history. If the employee is lacking regulated authorisation due to any reason, the system automatically locks out the employee, preventing an unnecessary safety hazard. The system also requires very little maintenance, as everything is controlled remotely.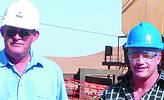 Project engineer for Richards Bay Minerals, Faan Bekker (left), with SACO Systems' Mario Venter
"A further advantage is that the video recorder employs motion detectors, so it only records when someone enters or leaves through the access point," Venter points out. "This avoids the recording of 'dead' periods so security personnel do not have to view hours of inactivity."
The benefits
Project engineer for RBM, Faan Bekker, points out that there is no longer a need for security personnel to be placed at the ponds, as all activity through the turnstiles is recorded on the video and can be picked up immediately for reaction purposes. "We can also record time packages of personnel as they have to clock in through the system." The system has been implemented at all five of RBM's ponds.
SACO Systems, a wholly owned subsidiary of the JSE-listed Reunert Group of electronics companies, specialises in middleware which connects radio frequency identification readers to management information systems, which can be utilised in conditions ranging from underground mining to the retail environment.
The tracking system used in Richards Bay allows assets to be tracked wherever they may be, through the use of RFID tags. The system's robust and portable components are ideally suited to this task. Portable data terminals, which are capable of reading both bar code and RFID tags, are optimised to suit the particular operation and over specific frequency bands. The access control system not only offers contactless smartcards and time control, but also offline operation during power failures.
The company's Genius reader with integrated keypad allows access to be controlled by zone and time of day. Standard reports include late arrivals and early leavers as well as absentees by department or work group.
For more information contact Des Oliver, SACO Systems, 011 652 5320, doliver@saco.co.za
Further reading:
A contact-free hotel experience
Issue 7 2020, Technews Publishing , Access Control & Identity Management
Check-in and go straight to your room without stopping at the reception desk at Hotel Sky in Sandton and Cape Town.
Read more...
---
AI digitises coronavirus management
Issue 7 2020, NEC XON , Access Control & Identity Management
NEC XON is using NeoFace Watch and specialised thermography cameras to measure temperature and identify employees and visitors.
Read more...
---
Combining visual and IR face recognition
Issue 7 2020, Suprema , Access Control & Identity Management
The FaceStation F2 offers face recognition and anti-spoofing performance.
Read more...
---
Anviz unveils FaceDeep5
Issue 7 2020, ANVIZ SA , Access Control & Identity Management
Anviz Global has unveiled its new touchless facial recognition identity management and IoT biometric device.
Read more...
---
Touchless biometric options
Issue 6 2020, Entry Pro , Access Control & Identity Management
When it comes to estate access control management, the foremost topic of conversation at the moment seems to be the importance of touchless biometrics.
Read more...
---
Fast access to Kevro production facilities
Issue 6 2020, Turnstar Systems , Access Control & Identity Management
Employee and visitor access at Kevro's Linbro Park premises in Gauteng is controlled through eight Dynamic Drop Arm Barriers from Turnstar.
Read more...
---
Know your facial recognition temperature scanner
Issue 6 2020, ViRDI Distribution SA , Access Control & Identity Management
Facial recognition with temperature measurement is, for the most part, available in one of two technologies – thermopile and thermography/IRT.
Read more...
---
Suprema integrates with Paxton's Net2 access control
Issue 6 2020, Suprema , Access Control & Identity Management
Suprema has announced it has integrated its devices with Paxton's access control system, Net2.
Read more...
---
Contactless check-in at hotels
Issue 6 2020 , Access Control & Identity Management
Onity has delivered the DirectKey mobile access solution to hotel chains around the globe, which allows for contactless check-in and property access.
Read more...
---
UFace facial recognition now in SA
Issue 6 2020, Trac-Tech , Access Control & Identity Management
Trac-Tech has secured the distribution rights to the UFace range of contactless biometric facial recognition and identity management IoT devices.
Read more...
---