printer friendly version
Sensormatic Distribution launches its new digital time-lapse video recorder the Intergra
March/April 2000
CCTV, Surveillance & Remote Monitoring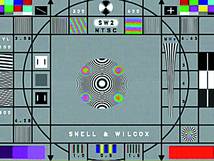 Sensormatic Distribution has introduced its latest digital imaging innovation, Intergra, a digital time lapse video recorder. Integra is the first of a new line of digital recording devices designed to replace traditional video cassette recorders(VCRs) in general security and surveillance applications. Intergra records video to a DVD-RAM a removable optical disk cartridge that scores four to eight times more information than a CD.
Says Sensormatic Distribution General Manager Brian Hill, "Integra combines emerging digital storage technology with Robot's proprietary compression and multiplexer encoding methods, to bring high-capacity, high quality digital time-lapse recording to the local market for the first time."
Integra records video to a DVD-RAM, a removable optical disk cartridge that stores four to eight times more information than a conventional CD and which can be reused thousands of times.
Integra is targeted at users of traditional time-lapse video cassette recorders (TLVCRs) and event recorders. Says Hill, "Integra complements our existing digital solutions, (for example Intellex) and will appeal to distinct market segments. For example Integra has one video input, so it records signals from a quad, multiplexer or single direct video input. Intellex on the other hand, accepts 16 direct camera inputs and has an integrated multiplexer."
The advantages of digital time-lapse recording
The security industry has long used VCRs to record images, some in realtime. However a large percentage use time-lapse video to document events and for most applications, the relatively low purchase cost makes mechanical TLVCRs the choice for a majority of equipment buyers. However, there are significant drawbacks to mechanical TLVCRs that create an opportunity for a digital recorder. Integra addresses these problems in several ways:
* At up to 640 horizontal lines, Integra's image resolution far surpasses the capability of any security industry VCR on the market. Note that 'horizontal lines of resolution' refers not to internal digital pixel memory but actual high bandwidth television line (TVL) resolution.
* Image quality - digital recording ensures that investigators will have the video they need when they need it which could lead to higher apprehension rates.
* Durability - time-lapse VCRs require frequent maintenance to keep the heads clean and the transport mechanisms operating. Time-lapse VCRs are typically replaced every three years and require maintenance servicing at least once a year. Using optical storage technology, Integra is expected to have an average life of five or more years, requiring virtually no maintenance. This reduces maintenance cost, downtime and spares requirements.
* Time-lapse videotapes can and do stretch, wear thin or even break because of the stress from the rotating heads. Tapes need to be replaced often. Optical storage is physically more durable and stable than videotape and is not subject to accidental erasure from exposure to electromagnetic fields. DVD-RAM allows hundreds of rewrites to one disk.
* Search time - Integra storage is 'random access', so any image on the disk can be retrieved in seconds. There is no fast forward or rewind; you simply identify the date, time or alarm and then instantly view the video using the play, pause or fast review controls.
* Image quality is retained during fast search operations with multiplexed fields, where tape media often produces 'tearing' or garbled images.
* Missed events - Integra's 'infinite pause' solves this problem, because video data can be immediately written to the optical disk even after extremely long waiting periods.
* The continuous recording mode allows years of unattended operation in cases where daily archiving is not required, with no delay for rewinding! Not missing critical events may contribute to an increase in successful apprehensions.
Integra key features:
* Records high resolution time-lapse and alarm video on removable optical disk.
* Instant event response with 'infinite pause'.
* Instant video retrieval using time/date or alarm list.
* Linear or continuous record modes.
* Daily or seven-day recording schedule.
* User-selectable settings for image rate, quality and resolution.
* Independent rate/quality settings for alarm mode.
* Compatible with multiplexers.
* Authenticated file format.
* Upgradeable architecture.
The final word
Integra does not replace 24 h near-realtime recorders - yet.
Says Hill, "Because of the current capacity of DVD-RAM disks, the first release of Integra can record for 24 h only at time-lapse rates. This means it may be a suitable replacement for 24 hour near-realtime recorders only for applications that use these machines in standard-play time-lapse modes. As disk capacity grows in the near future, the application set for Integra will correspondingly grow to include all applications currently satisfied by VCRs and will eventually surpass what is possible with VCRs.
"Integra is a reliable, high-capacity digital event-recorder and cost-effective replacement for traditional TLVCRs," he concludes.
Further reading:
Shorten your checkout lines to enhance customer experience
September 2019, Hikvision South Africa , Retail (Industry), CCTV, Surveillance & Remote Monitoring
Hikvision's queue detection technology is purpose-built to offer cutting-edge flow analysis to retail outlets and any situation where waiting to pay is required.
Read more...
---
Constructive CCTV contributions to research
September 2019, Leaderware , Editor's Choice, CCTV, Surveillance & Remote Monitoring
Study leads to understanding that we need more recognition and reward for constructive participation in society.
Read more...
---
New Africa sales manager for Axis Communications
September 2019, Axis Communications SA , News, CCTV, Surveillance & Remote Monitoring
Axis Communications has appointed Brendon Hall, previously the founder and MD of Pentagon, as its new sales manager, Africa.
Read more...
---
Hikvision helps secure African Union Summit
September 2019, Hikvision South Africa , News, CCTV, Surveillance & Remote Monitoring
Hikvision established a complete intelligent video solution to ensure the security of the thirty-third African Union (AU) Summit held on 7 July in Niamey, the capital of Niger.
Read more...
---
Genetec to integrate CylancePROTECT
September 2019, Genetec , Editor's Choice, CCTV, Surveillance & Remote Monitoring, News
Genetec has announced it is partnering with Cylance, a business unit of Blackberry, to bring AI-based antivirus protection to its appliance customers.
Read more...
---
Dashcams useful for more than social media
September 2019, Graphic Image Technologies , CCTV, Surveillance & Remote Monitoring, Transport (Industry)
Logistics companies need to make sure that they have a complete solution that allows real-time driver monitoring and event notifications as they happen.
Read more...
---
Best in class at sea and ashore
September 2019, Axis Communications SA , Transport (Industry), CCTV, Surveillance & Remote Monitoring
Thermal network cameras support the guard tour function that can be used for continuous monitoring of a particular area according to the pre-set guard tour.
Read more...
---
Improving operational efficiency through surveillance
September 2019 , CCTV, Surveillance & Remote Monitoring, Products
Today?s surveillance systems are no longer just about monitoring, but more so the intelligence that sits on the camera and what businesses can do with that information proactively.
Read more...
---
New thermal/visual drone
September 2019 , CCTV, Surveillance & Remote Monitoring, Products
New drone equips security professionals and first responders with a reliable everyday tool for dynamic operations in challenging environments.
Read more...
---
Securing ATMs 24/7
September 2019, Hikvision South Africa , CCTV, Surveillance & Remote Monitoring, Financial (Industry)
To be effective, most ATMs need to be in public areas and open all hours, and they hold cash, making them an attractive target.
Read more...
---