printer friendly version
How digital signal processing is improving outdoor intrusion detection
March/April 2000
Perimeter Security, Alarms & Intruder Detection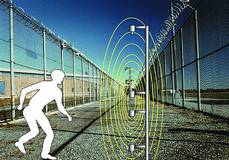 The past decade has seen incredible leaps in out door security alarm reporting. Regardless of the technology, the following questions had to be answered before the newest breakthrough could be employed:
* Is the probability of detection high?
* At what point can the technology be defeated?
* Does it provide a high or low false/nuisance alarm rate?
* Are we better off adding this technology or should the same money be spent to bolster what we already have?
Sophisticated outdoor products that meet exacting performance criteria typically are accompanied with higher price tags. Nonetheless, even some of these premium priced products still lack the dynamic ranges necessary to distinguish actual intrusions from nuisance alarms. At the same time, lower cost products tend to offer a lesser probability of detection and trigger increased alarms, seemingly at will. What's the problem? The great outdoors itself. Products created for indoor applications won't necessarily be successful outdoors.
The outdoor environment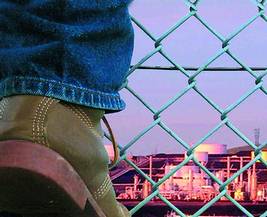 The outdoor environment presents a complex series of conditions that indoor-based electronics gear finds adverse - temperature extremes, rain, fog, snow, animals, wind, debris, traffic, seismic effects and the nature of the terrain above and below ground. Combine a few of these conditions and the problems become even more acute. One plus one equals three when working outdoors.
DSP to the rescue
New microprocessors now permit Digital Signal Processing (DSP) at the alarm itself. DSP uses multiple parameters to better discriminate between real intruders and environmental effects. This yields more dynamic, intelligent interpretations of sensor signals. DSP helps the system determine that a rabbit isn't a vandal and a bird is not a thief.
You will find DSP used to greatest advantage in the alarm processor. Veterans of the security wars will remember that older analog units attempt to average background signal changes to establish a base for thresholding. Once the background activity reaches a certain level, the thresholds are 'gearshifted' to some higher value in order to compensate. When background activity decreases, the base level requires time to adjust. Thus, sensor sensitivity is compromised.
However with DSP, the background is evaluated on a dynamic, ongoing basis. Thresholds are adjusted continuously to maintain the same sensitivity within a dynamically changing background. Because of this, performance is not compromised. There are fancy names for this such as 'Ambient Compensation' and 'Dynamic Thresholding'. They both mean that the system will know a rabbit is a rabbit and a bird is a bird or, conversely, neither the rabbit nor bird is an intruder.
From a technology sense, this isn't necessarily new. Indoor intrusion units have exploited DSP for some time. However, research in developing sensors for the outdoors finds that signal characteristics for intrusions differ significantly from wind, rain and other natural phenomena - dynamics that can be ignored indoors.
Now, new systems can handle these dynamics outdoors. Today's DSP distinguishes these outdoor events, something that causes great difficulties for those older analogue filters. With DSP, you obtain better detection and fewer false alarms. In addition, the problems of processor drift with time and variation of output signal strength within the sensor environment are things of the past.
Even more advantages come to the forefront when using DSP in dual zone processors. Now, by comparing the ambient signals in both zones, the processor can even better identify common effects caused by the environment. There's a fancy name for this, too. It is called 'common mode rejection'. It helps reduce nuisance alarms.
For those that want to really go techie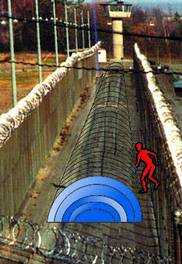 DSP is only the beginning of new outdoor intrusion detection technologies. The processing used for detecting intruders in the outdoors is also more sophisticated. Instead of only looking for a simple change in signal amplitude, a digital processor analyses a complex signal consisting of amplitude changes (ie mass of the intruder), rate of signal change (ie movement of the intruder) and the time the intruder is in the detection field, along with other parameters. In other words, the system is now saying, "If the disturbance is the size of an intruder, has the movements of an intruder and is taking the time required for an intruder to intrude, we just might have an intruder out there. We don't have a rabbit or a bird."
Digitisation also means that alarm and sensor data can now be sent over a twisted copper pair of wire or fibre optic data network. Today, alarm information is typically sent to a central location. The network itself can then be used to monitor sensor performance, give a dynamic display of sensor operation at the central station and, when necessary, adjust the thresholds of each sensor zone separately.
Benefits are far ranging
To optimise sensor performance, the display terminal at the central station has replaced the chart recorder or digital voltmeter used in the field. Since data is now easy to obtain, technicians no longer must be so intensively trained. That saves money and eliminates human mistakes.
Sensor performance can also be communicated directly and completely by data transmission via a phone line. Through clever, patented use of bandwidth properties, it is now possible to use the sensor cables themselves to detect intruders, send power to each processor and transmit information on a data network to a central alarm display and maintenance unit.
Yes, digital technology is now greatly enhancing the performance of outdoor perimeter security sensors. These sensors can be quickly configured when added to data networks in a plug-and-play fashion. They are immediately recognised by the system.
For details contact Martin Kelly of Senstar-Stellar on tel: (0944) 1386-834433 or e-mail: senstaruk@senstarstellar.com
Further reading:
Securing Savannah Hills Estate
August 2019, Rhyco Risk Projects , CCTV, Surveillance & Remote Monitoring, Perimeter Security, Alarms & Intruder Detection
Savannah Hills Estate in Midrand planned a security upgrade which was awarded to Rhyco Risk Projects. The project started in March 2019 and was completed in May 2019.
Read more...
---
Multiple methods for motion detection
August 2019, Axis Communications SA , Perimeter Security, Alarms & Intruder Detection
There are strengths and weaknesses with all motion detection solutions, and their effectiveness will be dictated by the environment and the components they are being used with.
Read more...
---
Ensuring your electric fence is compliant
August 2019, Stafix , Perimeter Security, Alarms & Intruder Detection, Security Services & Risk Management
A challenge facing both existing and potentially new perimeter electric fence installations is how to economically meet the legal requirements required in the SANS 10222-3:2016 standards document.
Read more...
---
From fog to foxes
August 2019, Axis Communications SA , Perimeter Security, Alarms & Intruder Detection, CCTV, Surveillance & Remote Monitoring, Integrated Solutions
What makes radar devices so valuable is the fact that they can provide a high range of accurate data while barely relying on external factors, such as weather or light.
Read more...
---
AI-based malware detection
August 2019 , Perimeter Security, Alarms & Intruder Detection, Cyber Security
Check Point Software introduces Malware DNA, a new artificial intelligence-based malware detection engine to accelerate zero-day threat prevention.
Read more...
---
RDC's IceCube Video
August 2019, Radio Data Communications , Perimeter Security, Alarms & Intruder Detection
IceCube Video gives the benefit of adding CCTV cameras to the system with control and monitoring integrated in the same app.
Read more...
---
Manage exceptions only
July 2019, Secutel Technologies , Perimeter Security, Alarms & Intruder Detection, Products
Secutel Technologies brings intelligence to all cameras with its locally designed, manufactured and marketed SecuVue Cloud Video Recorder (CVR), turning cameras into intelligent sources of information.
Read more...
---
GSM IceCube Gateway
July 2019, Radio Data Communications , Perimeter Security, Alarms & Intruder Detection
The GSM IceCube Gateway unit is a new generation, multi-directional interactive gateway module which replaces the traditional radio, and is a key component to generating future revenue for security companies.
Read more...
---
Network cameras with strobe light and alarm
June 2019, Hikvision South Africa , Perimeter Security, Alarms & Intruder Detection
Hikvision has introduced the new AcuSense network camera series to its EasyIP 4.0 security solutions, featuring a strobe light and an audio alarm.
Read more...
---
Enhancing perimeter security with video
June 2019, Pelco by Schneider Electric , CCTV, Surveillance & Remote Monitoring, Perimeter Security, Alarms & Intruder Detection
Securing perimeters, whether they surround an airport, seaport, or an oil and gas facility, require a layered approach.
Read more...
---