printer friendly version
Smartcard trends: 1999 reviewed - 2000 previewed
May 2000
Access Control & Identity Management
The smartcard industry underwent a paradigm shift in 1999, following the first mass deployments of open-platform multi-application cards, notes smartcard leader Schlumberger. Despite substantial rises in silicon costs, and consequences of the economic setbacks encountered in Asian economies, smartcard shipments still grew 17% to reach 1400 million – demonstrating an unstoppable momentum in the deployment of this new wave of distributed computing. Among the forecasts the company makes for 2000 in its annual market review are that shipments will increase by 25% – driven largely by wireless applications, and electronic commerce with its need for secure ID and public key encryption.
What happened in '99
The star application sector for the smartcard industry in 1999 was SIM (subscriber identity module) cards for mobile phones, which expanded by 60%, exceeding all expectations. Smartcard technology continues to be pioneered in this sector. The year was notable for a massive roll out of multi-application SIM cards offering value-added services such as mobile banking and information-on-demand - Schlumberger alone delivered 80 new applications - and a marked trend towards the adoption of open platform cards.
From a base of near zero, in just 12 months the mobile communications industry has already deployed well over 11 million Java-compatible SIMs, close to 7% of total shipment volumes for this market segment. Over 99% of these Java cards were shipped by just two suppliers, Schlumberger and Oberthur, with Schlumberger - the first to enter this sector - by far the dominant player. Schlumberger also notes that SIM cards are increasingly being supplied as elements of turnkey systems projects, with host servers and software - spearheading the card industry's move towards becoming solutions providers.
"Mobile operators are transforming their operations from voice communications, to multi-media business and leisure services," says Stephan Legentil, Product Line Manager Mobile Communication Cards, Schlumberger. "Smartcards are a catalyst for this change - for both GSM, WAP and Third Generation mobile telecommunication markets - providing security combined with personalised client functions."
Banking and retail cards - the next largest market sector for microprocessor-based smartcards - continues to grow strongly with a 29% jump in volumes, but this market remains almost universally based on proprietary, country-specific, smartcard products.
Token cards for payphone applications - based on sophisticated memory chips - remained the largest single segment, with a total market volume approaching a billion cards in 1999, but there has been considerable consolidation on the supply side. Just two suppliers, Schlumberger and Gemplus, account now for over two-thirds of phone card production. Schlumberger attributes this dominance to the expert knowledge that mass producers can bring to bear to maximise yields and keep costs down - a crucial factor in this commodity market as the costs of chips escalated over the last year.
The two specialist application segments of health and transport still remain quite small, because of their reliance on small numbers of major projects. Health cards jumped by 71% to a total of 60 million in the last year, driven largely by the nationwide roll-out of the French patient cards. But the transport application sector - based primarily on contactless cards - remained almost static, with some Asian projects delayed by the macro economic situation.
One key disappointment for the card industry during the year was the delay of Windows 2000, which - with its intrinsic support for smartcards as security tokens - will underpin major growth in the emergent network identity segment.
Considered geographically, Europe and Asia Pacific continued to dominate the smartcard market throughout 1999. Of note was Asia Pacific's increased share despite the relative slow down in the region - because some major country markets such as China remained stable throughout the economic troubles. While the North American -market realised 50% growth in the number of cards issued in 1999, it continues to lag way behind other regions, representing only 3% of total card shipments.
Outlook for 2000
The coming year will bring even stronger demand for smartcards, forecasts Schlumberger, with year-on-year growth of 25%. Again, the primary driver is expected to be wireless communications, this time with the added stimulus of the WAP (wireless application protocol) market, and its requirement for high-end public key security - based on subscriber cards. This high-profile showcase for the virtues of smartcards will in turn influence the use of the technology as the security of choice for e-commerce via PC and set-top TV equipment.
Geographically, Schlumberger continues to view Asia Pacific as a growth area for the short term future, as projects suspended during the economic turmoil are revived. 2000 is expected to be a watershed year for North America too, driven largely by roll-outs in the banking sector. Predicted growth of 86% will begin to close the major gap between this region and the rest of the world.
However, 2000 will probably be most notable for progression in smartcard technology. The trend for higher and higher memory levels - enabling cards to store multiple applications and perform more sophisticated functions - will begin to stimulate demand for chips offering 16 and 32-bit architectures and extended memory addressing ranges.
The deployment of open platform cards will also accelerate. This will be marked in the mobile telecommunications sector following the recent creation of a standard for Java SIM cards by ETSI for the all-important GSM market and the public demonstration of applet interoperability at Cartes in November 1999. This demonstration confirms that operators will be able to buy their Java SIMs from multiple suppliers. It also provides a major boost for the network operators and the many third-party content/service providers developing applications for the huge digital cellphone marketplace - now numbering over one billion users globally.
"The application development freedom and confidentiality of open platforms will drive the smartcard market forward in 2000", says Mats Bertilsson, Director Field Marketing Europe, Schlumberger.
This year will see the open platform trend extended to the next-largest microprocessor card application sector - banking and retail. Shipments of Java and MULTOS multi-application card technologies are expected to account for up to 7% of total banking shipments by the year end. The third multi-application platform, Microsoft's Smartcards for Windows, is unlikely to play any significant part in this segment until its security has been proven in field trials.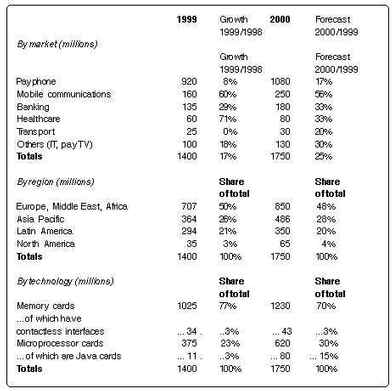 Table 1. World smartcard consumption and forecast for 1999-2000
"We anticipate banks releasing their first open platform card schemes in 2000", says Cedric Collomb, Product Line Manager, Banking Cards, Schlumberger. "The situation we are now witnessing in the mobile communications arena provides a guide to this future, signalling a new era of personalised relationships with customers."
One other technological trend, which is expected to start playing a key role by the year's end, is a new generation of smartcards compatible with USB (universal serial bus). Offering the means to dispense with the smartcard reader - this new form of card rewrites the business case for implementing smartcard security on PCs. Schlumberger anticipates that once these cards are available in mid 2000, the burgeoning demand for security in enterprise IT network and e-commerce applications will see usage quickly grow to account for 20% of market sector shipments by the year's end.
Two major additions to the smartcard security armoury made their commercial debuts during 1999: elliptic curve encryption algorithms to increase security against logical attacks, and protections for chips to implement a physical barrier against hardware access. Both of these techniques are expected to see their first volume applications in 2000, helping to maintain the smartcard industry's lead over hackers.
"Very high levels of R&D investment will be required to stay competitive in the smartcard industry in coming years", notes Xavier Chanay, Research and Development Manager, Schlumberger Smartcards. "Innovation holds the key to success."
Market sectors
In terms of specific market sectors, the key events in mobile communications in 2000 will be in Europe, with the first trials of WAP terminals equipped with smartcard-based WIMs (WAP Identity Modules), and the general worldwide drive to implement value-added services using the SIM Toolkit. It is also expected that third generation mobile communication systems, which reconcile the incompatible GSM, CDMA and PDC standards, will make their debuts in Japan in the second part of the year, with smartcards.
In banking and retail, the focus will start to shift from the current markets in Europe which have completed the major phases of their roll-outs - with the exception of the UK which is still deploying its EMV-compatible UKIS cards - to new volume projects in South America, USA and Asia.
The transport market will continue to see sporadic peaks as new mass transit electronic ticketing projects are implemented, but remain at a relatively small volumes overall, partly because there is no single standard for contactless cards.
Smartcard technology for health care is also at an early stage of development, and highly dependent on new projects for growth, and is unlikely to see significant new activity outside of current schemes, existing and under deployment, until 2002.
Finally, now that Windows 2000 has been released, IT applications of smartcards to support network security and e-commerce will begin to grow very rapidly, with this sector becoming a major element of the market by the end of the year.
"Smartcard-based security on PCs will become an important market segment in 2000", says Olivier Piou, Vice President, Schlumberger Smartcards. "It will be led by the initiatives of many major corporations to safeguard their enterprise networks."
For details contact Schlumberger Test & Transactions on tel: (0933) 1 47 46 66 67, fax: (0933) 1 47 46 63 67 or visit www.slb.com/smartcards/
Further reading:
A contact-free hotel experience
Issue 7 2020, Technews Publishing , Access Control & Identity Management
Check-in and go straight to your room without stopping at the reception desk at Hotel Sky in Sandton and Cape Town.
Read more...
---
AI digitises coronavirus management
Issue 7 2020, NEC XON , Access Control & Identity Management
NEC XON is using NeoFace Watch and specialised thermography cameras to measure temperature and identify employees and visitors.
Read more...
---
Combining visual and IR face recognition
Issue 7 2020, Suprema , Access Control & Identity Management
The FaceStation F2 offers face recognition and anti-spoofing performance.
Read more...
---
Anviz unveils FaceDeep5
Issue 7 2020, ANVIZ SA , Access Control & Identity Management
Anviz Global has unveiled its new touchless facial recognition identity management and IoT biometric device.
Read more...
---
Touchless biometric options
Issue 6 2020, Entry Pro , Access Control & Identity Management
When it comes to estate access control management, the foremost topic of conversation at the moment seems to be the importance of touchless biometrics.
Read more...
---
Fast access to Kevro production facilities
Issue 6 2020, Turnstar Systems , Access Control & Identity Management
Employee and visitor access at Kevro's Linbro Park premises in Gauteng is controlled through eight Dynamic Drop Arm Barriers from Turnstar.
Read more...
---
Know your facial recognition temperature scanner
Issue 6 2020, ViRDI Distribution SA , Access Control & Identity Management
Facial recognition with temperature measurement is, for the most part, available in one of two technologies – thermopile and thermography/IRT.
Read more...
---
Suprema integrates with Paxton's Net2 access control
Issue 6 2020, Suprema , Access Control & Identity Management
Suprema has announced it has integrated its devices with Paxton's access control system, Net2.
Read more...
---
Contactless check-in at hotels
Issue 6 2020 , Access Control & Identity Management
Onity has delivered the DirectKey mobile access solution to hotel chains around the globe, which allows for contactless check-in and property access.
Read more...
---
UFace facial recognition now in SA
Issue 6 2020, Trac-Tech , Access Control & Identity Management
Trac-Tech has secured the distribution rights to the UFace range of contactless biometric facial recognition and identity management IoT devices.
Read more...
---