printer friendly version
SA's first security city
February 2005
Access Control & Identity Management

A new concept in secure living is being developed at Midstream Estates in Centurion, Gauteng, the first of what ABSA chairperson Dr Danie Cronje calls `security cities'. The concept is expected to explode in South Africa in coming years as a result of increasing security consciousness throughout the country.
Midstream Estates, which is being developed on 250 hectares of 1200 hectares set aside for this purpose, will be sub-divided into 1500 stands.
In order to achieve the very high level of security required in this project, it was found necessary to implement cutting-edge technology to control access to the development, as well as to a gym and school located on the property.
There are five main access points to the estate, with each entrance and exit having separate vehicle lanes for residents, visitors and contractors, as well as turnstiles for pedestrian traffic.

In a development of this size and standing, it is essential to implement technology that enables fast and accurate identification-based access control. It was also considered important to avoid the high costs and administration that would have been incurred in managing a card-based system for approximately 10 000 users.
Fingerprint-based biometric technology was selected as the ideal solution, providing the right mix of security and convenience. After extensive on-site tests and comparisons with other biometric systems, Sagem biometric technology was selected.
The specific challenges faced at the Midstream site included:
* Very large resident population.
* Large numbers of contractors and workers on site during construction.
* The fact that construction workers typically have severely damaged fingerprints.
* High visitor traffic.
Biometric systems generally work in one of two ways:
* Identification one-to-many (1:MANY) - in this case users are required only to place a finger on the scanner without presenting any other information to the system.
* Authentication one-to-one (1:1) - in this case the user is required to first present a card or enter a personal identification number (PIN) before placing a finger on the scanner. The PIN or card is a way of directing the system to search a specific user's record in the database.
Use of PINs in conjunction with fingerprints introduces a significant delay as the user must key in the PIN before the transaction can be completed. Use of cards introduces an unnecessary cost factor, and a possible bottleneck in the system. Should a user's card be lost or stolen, he or she will not gain access even with the correct fingerprint.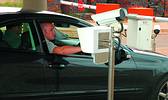 The developers selected Sagem fingerprint biometric systems, which are capable of managing very large population databases and can also analyse and match very poor quality fingerprints accurately.
To meet fully the specific needs of Midstream Estates, InfiniteAccess (an approved Sagem installer and the contractor responsible for security systems at the project) in conjunction with Softcon SA, developed a customised enrolment system based on Sagem's Integrators Kit technology. All residents, staff and contractors are registered once only at the main guardhouse. All demographic data, including stand number and photographs, are captured.
Visitors are registered automatically in the visitors' lane, from the convenience of their vehicles. In a process that takes no more than five seconds, a visitor's fingerprint is captured into the system and the boom is opened. After the visitor has gone through the boom, his or her fingerprint is immediately removed from the inbound reader and written to the outbound reader. On exiting, the visitor places his/her finger on the scanner, is identified in approximately one second, and the boom opens.

Images of all persons and vehicles entering the site are recorded on a state-of-the-art digital video recording (DVR) system.
The local school and gym have also been secured using Sagem biometric technology. Among the unique features deployed is the automatic deletion of gym members' access rights when their contracts expire.
System summary
The Sagem biometric system at Midstream is thought to be the largest residential biometric system in operation in South Africa, utilising 50 ruggedised Sagem MorphoAccess (OMA 300) readers and 12 Sagem MorphoAccess (MA 300) readers. All readers have the capacity to store 96 000 fingerprints, thus easily catering for all persons on the estate.

Sagem fingerprint technology is used internationally in both the criminal and civil fields, and is in use in a large variety of environments. No fewer than 1,5 billion fingerprints worldwide have been enrolled onto Sagem systems.
Some of the larger Sagem clients are the FBI, Interpol and the United Nations. In South Africa, references include the South African Police Service and the Department of Home Affairs. Sagem technology is also used by the Department of Transport for drivers' licences, and by Social Development to pay some 3 million pensions and other grants every month.
For more information contact Gary Jones, Ideco Technologies, 011 442 0064, info@ideco.co.za, www.ideco.co.za or Thomas Tocknell, Infinite Access, 012 653 8336.
Further reading:
A contact-free hotel experience
Issue 7 2020, Technews Publishing , Access Control & Identity Management
Check-in and go straight to your room without stopping at the reception desk at Hotel Sky in Sandton and Cape Town.
Read more...
---
AI digitises coronavirus management
Issue 7 2020, NEC XON , Access Control & Identity Management
NEC XON is using NeoFace Watch and specialised thermography cameras to measure temperature and identify employees and visitors.
Read more...
---
Combining visual and IR face recognition
Issue 7 2020, Suprema , Access Control & Identity Management
The FaceStation F2 offers face recognition and anti-spoofing performance.
Read more...
---
Anviz unveils FaceDeep5
Issue 7 2020, ANVIZ SA , Access Control & Identity Management
Anviz Global has unveiled its new touchless facial recognition identity management and IoT biometric device.
Read more...
---
Touchless biometric options
Issue 6 2020, Entry Pro , Access Control & Identity Management
When it comes to estate access control management, the foremost topic of conversation at the moment seems to be the importance of touchless biometrics.
Read more...
---
Fast access to Kevro production facilities
Issue 6 2020, Turnstar Systems , Access Control & Identity Management
Employee and visitor access at Kevro's Linbro Park premises in Gauteng is controlled through eight Dynamic Drop Arm Barriers from Turnstar.
Read more...
---
Know your facial recognition temperature scanner
Issue 6 2020, ViRDI Distribution SA , Access Control & Identity Management
Facial recognition with temperature measurement is, for the most part, available in one of two technologies – thermopile and thermography/IRT.
Read more...
---
Suprema integrates with Paxton's Net2 access control
Issue 6 2020, Suprema , Access Control & Identity Management
Suprema has announced it has integrated its devices with Paxton's access control system, Net2.
Read more...
---
Contactless check-in at hotels
Issue 6 2020 , Access Control & Identity Management
Onity has delivered the DirectKey mobile access solution to hotel chains around the globe, which allows for contactless check-in and property access.
Read more...
---
UFace facial recognition now in SA
Issue 6 2020, Trac-Tech , Access Control & Identity Management
Trac-Tech has secured the distribution rights to the UFace range of contactless biometric facial recognition and identity management IoT devices.
Read more...
---