printer friendly version
Entrance technology - the security dilemma
May 2000
Access Control & Identity Management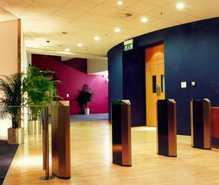 In Business, public services and the leisure industry there is an ever growing challenge to facility and security managers to provide secure, efficient and user friendly buildings. The need is to provide emplyees with a safe environment to work in and to protect the assets and information within the building.
The issues
To counter these risks an increasing number of businesses are installing access control systems to automate the process of staff entering the building. One of the biggest weaknesses of these systems is the fact that most of them cannot actually control the number of people that enter a building when an access card is presented. Most systems allow you to control which card works at which door, but once that door is open any number of people can pass through. This is known as tailgating. Tailgating is easy to do. We have all been told that it is good manners to hold doors open for other people and more often than not good manners win over the good security practice of closing the door firmly behind you to stop someone else coming in. Therefore intruders may be willingly let in to a building and the access control system is beaten.
In reality it is this form of tailgating that is one of the biggest threats to the office environment, particularly in larger offices with 200 staff or more, where it becomes virtually impossible for everyone to recognise everyone else. The problem is amplified with a large number of visitors. Once this problem is recognised there are a number of options open to facility and security managers to solve the issue. Enter the turnstile. Traditionally turnstiles are associated with football stadiums, tube stations and other environments where individuals pay to gain access, however a growing number of offices are using them to prevent tailgating and the security industry has created a number of different options to help achieve this. These include half height turnstiles, optical turnstiles, full height turnstiles and security booths. The concept behind all these options is to create a secure perimeter just inside the building to ensure only authorised people progress further into the building, thereby creating the secure working environment required. The entrance to a commercial office must be welcoming and easy for staff to use and security to manage. The choice of technology used must take these issues into account and also create the right impression to visitors. Often it is a visitor's first impression of an organisation and therefore the entrance control technology should give the correct impression of a professional and well-managed business. There never is a second chance to make that first impression.
The options
All the options in entrance control technology will offer different levels of security, speed of throughput, aesthetics and ease of use. Proper analysis of the risk faced by an organisation is the first task in deciding which option to use. Then the security or facility manager needs to think about the impression they want to create to both staff and visitors. The following is a brief overview of the choices:
Half height turnstiles
Typically used in a manned reception area half height turnstiles provide a readily accepted form of tailgate detection. They offer acceptable speed of throughput combined with a medium level of security. However, a knowledgeable intruder climbing over or under the barrier can easily defeat them and often the aesthetics can prove to be unacceptable to some companies. Additionally a separate gate is required for disabled access. There is also a requirement to ensure the correct maintenance is done.
The trend in half height turnstiles has been towards improving the aesthetics by using a variety of materials such as glass, marble and wood in an attempt to blend in to the environment. half height turnstiles are a good option for office reception areas that are constantly manned and where aesthetics are not the highest requirements.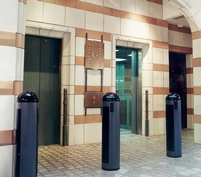 Optical turnstiles
These provide the most discreet form of tailgate detection. The optical turnstile utilises infrared beams between pedestals to remove the need for the traditional barrier. They provide a similar level of security as a traditional half height turnstile and can only be used in manned reception areas. In the event of an illegal entry a security guard is required to intervene and take the person to one side to be managed. However as there is no barrier a far higher speed of throughput can be achieved, typically one person per second. Additionally the lack of barrier makes them easier to use, provides safe emergency egress and there is no requirement for a separate gate for disabled users. Also with no moving parts there is little maintenance requirement ensuring a fairly low cost of ownership. The open appearance created by optical turnstiles ensures aesthetic acceptance in most office environments where the overall design is important to create the correct image of a building.
Optical turnstiles are a good option for well managed manned reception areas where ease of use, speed of throughput and aesthetic acceptability are prime requirements.
Full height turnstiles
Full height turnstiles provide a higher level of security than half height turnstiles and optical turnstiles, as they are impossible to jump over or crawl under. They can offer cost savings on guarding requirements, as there is no need to constantly man the area. However their appearance and lower speed of throughput mean that they are more often used in areas where security is the prime requirement and not in reception areas. Additionally there is a separate requirement for disabled access.
Full height turnstiles are a good option for commercial and industrial facilities where security and guarding costs are more important than appearance.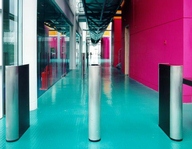 Security booths
Security booths, sometimes called mantraps, offer the highest security level of all. An individual's identity is checked before they are allowed in to a holding area. Once secured inside the holding area further checks can be made to ensure that they are by themselves and they offer no risk, via weight checks and metal detection for example. As the person is in a holding area they can easily be dealt with if they do present a possible threat. The high security nature of security booths lends themselves to usage in banks, military installations and hi-tech industries. Additionally they can often accommodate disabled users and provide safe emergency egress whilst their design can also offer a hi-tech aesthetically acceptable appearance. However they are very expensive, fairly slow, with high maintenance costs.
Security booths are a good option for use at unmanned areas with a high security requirement and relatively low traffic volumes. Additionally they can be used internally at high security areas such as computer rooms and cash handling areas.
Other issues
Having considered the options available further thought needs to go into the effect which legislation such as the Disability Discrimination Act has on building design. Looking at the American market which has been living with this type of legislation (ADA) for longer than the UK, the majority of offices which require entrance control in the reception area, opt for either half height turnstiles or optical turnstiles with about a 60/40 percentage split in favour of mechanical turnstiles. Full height turnstiles are the preferred option for unmanned employee entrances whilst the preferred choice for buildings with a high security risk is the security booth.
Fringe benefits
Additional benefits can be achieved with access control systems. These can include managing the new EU 48-hour working week directive, time and attendance, role call and cost savings by integration with building management systems.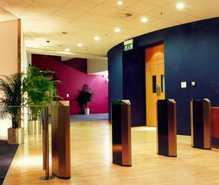 Conclusion
At the end of the day each company's requirements will be different and there is no one blue print that can solve all potential problems. There is a need to create the right balance between allowing staff easy access to their work environment and a secure building whilst ensuring all visitors have the right impression of the organisation. The implementation of an effective access control system will cause some inconvenience to the users of the building. However the benefits of a safe working environment for the staff and ensuring that information and assets are protected will far outweigh the potential inconveniences. Hopefully the options now available will also minimise these inconveniences and provided the correct solution for any building.
For details contact Michael Bystram, Sales and Marketing Manager at Integrated Design on telephone: (0944) 1784 245 941, fax: (0944) 1784 240 647, e-mail: info@idl.co.uk or visit www.idl.co.uk
Further reading:
A contact-free hotel experience
Issue 7 2020, Technews Publishing , Access Control & Identity Management
Check-in and go straight to your room without stopping at the reception desk at Hotel Sky in Sandton and Cape Town.
Read more...
---
AI digitises coronavirus management
Issue 7 2020, NEC XON , Access Control & Identity Management
NEC XON is using NeoFace Watch and specialised thermography cameras to measure temperature and identify employees and visitors.
Read more...
---
Combining visual and IR face recognition
Issue 7 2020, Suprema , Access Control & Identity Management
The FaceStation F2 offers face recognition and anti-spoofing performance.
Read more...
---
Anviz unveils FaceDeep5
Issue 7 2020, ANVIZ SA , Access Control & Identity Management
Anviz Global has unveiled its new touchless facial recognition identity management and IoT biometric device.
Read more...
---
Touchless biometric options
Issue 6 2020, Entry Pro , Access Control & Identity Management
When it comes to estate access control management, the foremost topic of conversation at the moment seems to be the importance of touchless biometrics.
Read more...
---
Fast access to Kevro production facilities
Issue 6 2020, Turnstar Systems , Access Control & Identity Management
Employee and visitor access at Kevro's Linbro Park premises in Gauteng is controlled through eight Dynamic Drop Arm Barriers from Turnstar.
Read more...
---
Know your facial recognition temperature scanner
Issue 6 2020, ViRDI Distribution SA , Access Control & Identity Management
Facial recognition with temperature measurement is, for the most part, available in one of two technologies – thermopile and thermography/IRT.
Read more...
---
Suprema integrates with Paxton's Net2 access control
Issue 6 2020, Suprema , Access Control & Identity Management
Suprema has announced it has integrated its devices with Paxton's access control system, Net2.
Read more...
---
Contactless check-in at hotels
Issue 6 2020 , Access Control & Identity Management
Onity has delivered the DirectKey mobile access solution to hotel chains around the globe, which allows for contactless check-in and property access.
Read more...
---
UFace facial recognition now in SA
Issue 6 2020, Trac-Tech , Access Control & Identity Management
Trac-Tech has secured the distribution rights to the UFace range of contactless biometric facial recognition and identity management IoT devices.
Read more...
---