printer friendly version
African Airports World 2005
December 2004
News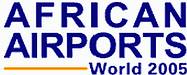 22-25 February 2005, Sandton Convention Centre, Johannesburg, South Africa
http://www.terrapinn.com/2005/airza
African airports in the limelight
According to Monhla Hlahla, managing director of Airports Company South Africa (ACSA), air travel on the African continent is set for explosive growth over the next two to three years due to perceptions that African countries are a safer destination than many others (Business Day).
Industry heavyweights analyse strategies to improve Africa's airport infrastructure
The African Airports World 2005 conference will unite industry heavyweights from Africa's airport sector in Johannesburg during February 2005 and will address some of the most pressing issues surrounding the industry. Chief Chinyere Asika from the New Partnership for African Development in Nigeria will assess infrastructure management to ensure Africa meets the global standards.
According to Asika, "link roads, car parks and runways at Africa's major airport terminals need to be improved". Asika will investigate the option of outsourcing facilities management in airports and sketch a plan ahead on working with the public and private sectors to ensure constant infrastructure improvements.
Kenya's airports will be under the magnifying glass when the managing director of the Kenya Airports Authority, George Muhoho reports back on the state of Kenya's airports. Muhoho is of the opinion that the current state of trade and tourism is generating various challenges and opportunities for the role that airports will play in the future.
With South Africa hosting the 2010 World Cup, capacity planning is one of the key issues to be looked into. Carmine Bassetti from ACSA will discuss the impact of the 2010 World Cup on infrastructure development at ACSA airports. Bassetti will review the anticipated increases in air transport in Africa, as well as generating capital to fund the necessary developments.
Strategies to improve African airports
Airports play a major role in free trade across borders and ensure economic growth and development in Africa; therefore it is essential to uplift African airports to global standards. And it is imperative to evaluate the future of African air transport; its capacity planning and look at airports as a driving economic force for Africa.
Some of the countries that are represented by speakers from airports or airport authorities and will participate at the conference include Mozambique, Swaziland, Nigeria, Cameroon, Gambia, Mauritius, Kenya, Uganda, Tanzania and Botswana. They will debate on issues such as privatisation, attracting investment, developing infrastructure and improving on policies and standards that govern airport management.
For more information, please contact Leatitia van Straten, from Terrapinn, who is organising the conference on 011 516 4053, fax 011 707 8356, e-mail: [email protected], http://www.terrapinn.com/2005/airza
Further reading:
StorONE eliminates capacity-based pricing, offers per-drive pricing model
News
StorONE announced a new pricing model that enables customers to scale for free, driven by a significant software update to the StorONE Storage Engine.
Read more...
---
Axis sets science-based targets for reducing emissions
Axis Communications SA News
Axis Communications has committed to set company-wide emissions reduction targets in line with the Science Based Targets initiative (SBTi), which aims to drive ambitious climate action across the private sector globally.
Read more...
---
Cybereason expands presence across sub-Saharan Africa
News Cyber Security
Cybereason has appointed Chantél Hamman as its new channel director focused on growing the company's presence across sub-Saharan Africa.
Read more...
---
Duxbury awarded Axis SA Distributor of the Year
Duxbury Networking News CCTV, Surveillance & Remote Monitoring
Axis Communications held its Annual Partner Awards on 1 July 2022 to celebrate and acknowledge the efforts of Axis' partners by awarding them for key projects and achievements throughout the year.
Read more...
---
inq. acquires Enea Edge IP for edge orchestration capability
News
inq., a global edge solutions provider, announced an agreement with Enea AB to license the Enea Edge intellectual property through a perpetual software development licence.
Read more...
---
Add a mobile punch to payroll
News
Econz Wireless has appointed 4Sight Holdings as a distributor of its products throughout the Middle East, Central Europe and Africa regions.
Read more...
---
How deepfakes attack business and how to combat them
News
The FBI recently announced that more companies have been reporting people applying for jobs using deepfaked, video, images, recordings and stolen identities pretending to be someone else to get a remote IT position.
Read more...
---
Liquid launches Africa's first Cyber Security Fusion Centre
News
Liquid Cyber Security, a business of Cassava Technologies, recently launched the first of its matrix of Cyber Security Fusion Centres in Johannesburg, South Africa.
Read more...
---
Cybersecure surveillance cameras
HiTek Security Distributors News CCTV, Surveillance & Remote Monitoring Cyber Security
Provision-ISR builds customer trust and opens up new opportunities with Check Point Quantum IoT Protect Firmware built into Provision-ISR cameras.
Read more...
---
CathexisVision integrated with Suprema's BioStar2
Technews Publishing News Access Control & Identity Management Integrated Solutions
This integration uses BioStar2 access control events to trigger automated actions on the CathexisVision system, including alerts, recording a camera and commands such as locking and unlocking doors, and clearing an alarm.
Read more...
---