printer friendly version
ACSA: holistic security in a complex environment
December 2004
Asset Management, EAS, RFID

We live in an environment where there are regular heists of cash-in-transit vehicles, robberies where cash is being collected from banks and ATMs, and increasingly the phenomenon of blatantly robbing supermarkets and customers. Yet when an incident occurs at Johannesburg International Airport (JIA) the press is quick to castigate the holding company, Airports Company South Africa (ACSA), for serious breaches in security.
To get a better perspective of the situation at JIA and the security measures that have been, and are being implemented, Hi-Tech Security Solutions was given the opportunity to interview Bongani Maseko (airport general manager) from ACSA. As a National Key Point the specifics of certain security measures cannot be divulged, so our discussions revolved around the issues in general.
The event that created major headlines recently was the attempted heist in September of a high-value cargo (reportedly gold and diamonds) that was about to be loaded onto a KLM aircraft. As a major exporter of gold, diamonds and un-worked platinum, export of such goods is probably an almost daily occurrence. In the event the heist was thwarted by police escorting the cargo, although several of their personnel were injured.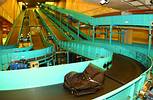 Baggage behind the scenes
The airport was subsequently closed for some two hours for the necessary police and safety investigations. As nothing was stolen the airport security was obviously adequate to deal with the attempt (no security solution is perfect) and the only controversy is how the criminals were able to breach the perimeter security fences and presumably escape the same way (there is an outer and inner fence and these are regularly patrolled).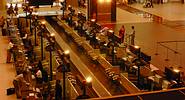 Check-in counters at JIA
What was not published in the press was that ACSA was in the process of improving perimeter security, which had been identified as a weakness, prior to the KLM incident. This process will now be fast-tracked as a matter of urgency.
Magnitude of the task at hand
Before even discussing security measures one first needs to look at the size of the operations at JIA, which handles some 13 million passengers per year and has some 18 000 people employed by companies operating within the complex. If we add to the passenger numbers the people seeing off and meeting relatives, friends or business people, one could conservatively estimate that JIA deals with some 100 000 people per day - the size of a big town.
The parkade at JIA
While details regarding the securing of the airport perimeter are not publicly available (for obvious reasons), the perimeter itself extends for 26 km, making it a massive task to secure it against penetration, considering the sophistication of organised crime in this country where even cash-in-transit heists are organised down to the last detail with military-type precision.
The last major heist (this time successful) at JIA occurred in December 2001 when an incoming KLM flight was involved and foreign currency, diamonds and jewellery to the value of some R115 million were seized. This event resulted in ACSA totally reviewing security and the appropriately named Operation Octopus was launched by the SAPS. This was obviously successful as the September incident was the first new attempt to breach security using a similar modus operandi.
Travellers checking in
Following the recent incident, perimeter security has been further beefed up with members of the National Intervention Unit and the Area Crime Combating Unit having stepped up patrols both inside and outside the perimeter fence.
The complexity at JIA is in evidence from the number of different security organisations involved and while these people often did their own thing, major efforts are now being made to coordinate their efforts and provide rapid communication.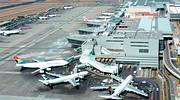 Co-ordinating joint operations
While the main responsibility of ACSA is aviation security (everything on the air side and access to it) JIA also houses normal SAPS units (whose open visibility in the public departure and arrivals areas has been significantly increased), border police, drug squad personnel, customs, police bomb squad, and the National Intelligence Agency. Whilst the Scorpions do not yet have a base at the airport, they are considering it. The activities of these various units are now coordinated and the Joint Operations Committee meets on a weekly basis and involves all the role players to discuss operational issues and implement new procedures where loop holes have been identified.

Air side at the airport
JIA (as with all ACSA operated airports) also has a Local Airport Security Committee (LASC) which also involves the SANDF. The latter is not unusual and in heightened security conditions I have seen heavily armed troops and tracked armoured vehicles deployed at major international airports such as Heathrow, but to my knowledge such passenger unfriendly tactics have not yet been used by ACSA. The Local Airport Security Committee is chaired alternatively by the SAPS and ACSA. In addition to this there is a National Airport Security Committee (NASC) which oversees activities at all local airports, so there is a three tier approach to security.
What needs to be secured
In terms of the roles played by the various security organisations, Maseko made it clear that ACSA's main responsibility is perimeter security and access control to the air side. And in terms of this, there has been a significant uptake and usage of technology, not only in South Africa, but world-wide.
At JIA, screening of all passengers makes use of new archway metal detection systems together with X-ray machines, and physical searches of hand baggage where necessary. The screening of hold luggage also makes use of the most modern X-ray technology to detect possible bombs or other suspicious items in hold luggage such as an excessive number of aerosol cans.

Physical security checks on passengers
With the number of people teaming around the landside areas this is a breeding ground for petty criminals (particularly as travellers are negligent in terms of setting valuable items down) and here the strong police presence acts as a deterrent, keeping their eyes open for petty theft, pick pockets and suspicious loiterers.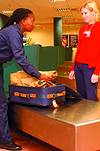 Checking baggage
Car theft is a responsibility of both police and ACSA security.
Earlier this year security services recorded an increase in vehicle theft and introduced countermeasures. Spiked chains and vehicle inspections at exit booms proved highly effective and immediately brought thefts under control.
Security personnel check through baggage
As seen with the KLM incident, armed police are also now used to assist normal security personnel in the transfer of valuable cargos to and from secure holding areas that have their own internal security systems.
Keeping an eye on airport security
As an international airport JIA is not allowed to operate its security system independently. It is audited locally by the Civil Aviation Authority (CAA) and because direct flights are made to the USA it was audited by the FAA and now by the new Transport Security Administration (TSA). The latter imposes additional passenger screening requirements on ACSA staff for flights to the USA, while other airlines such as El Al use their own staff for a very high level of screening.

Access to the parkade
In addition, ACSA staff attend major international workshops and conferences organised by IATA (International Air Transport Association) and the ICAO (International Civil Aviation Organisation) where new best practices, recommended by airlines and airports, are identified and implemented if appropriate. IATA looks after the security of airlines amongst other activities while ICAO is responsible for airport security.
JIA is also classified by IATA as a Class C airport and this classification includes recommendations regarding for example the processing time for passengers. Maseko was quick to point out however, that suspicious arriving or departing passengers can be detained as long as necessary to ensure that they are not criminals or possible threats to security on the aircraft. Also he indicated that in terms of security that if the ICAO laid down new standards ACSA would be obliged to budget to implement these.
The build-up to improved security
While those of us with short memories may think that airline and airport security only became an issue after 11 September, Maseko pointed out that it was in fact the crash of the Pan Am flight at Lockerbie in 1988 that triggered the focus on heightened security. New security regulations (such as plastic knives and forks on certain flights, and armoured cockpit doors) have been imposed since 11 September, and these have where necessary been implemented by ACSA and the airlines using JIA.
It should, however, be noted that the most recent threat assessment for the local airports did not identify terrorism as the major risk, but rather the possibility of organised crime carrying out theft of high value cargo.
Over the last few years, following the implementation of Operation Octopus as an interim measure, it was identified that lack of resources was a major issue and hence the increased use of the SAPS and their specialised units. A pilot project is now in progress to enable the authorities to better organise all the available resources. In general a huge willingness has been shown by all security personnel to work together.
Security going forward
The recent expansion of JIA (new International Terminal in 1999 and the Domestic Terminal in 2003) created its own problems with legacy security equipment where systems did not communicate with each other. ACSA has always taken security very seriously and following massive expenditure in equipment JIA will soon see everything consolidated in a single control room where inputs from all security systems, including CCTV cameras, will be monitored and swift reaction will follow violations.
Maseko stressed that the availability of funding for security has never been a problem and although the entire system of transporting valuable goods has not been benchmarked against other airports he believes that the JIA system is still very advanced.
Measures taken post September include making greater use of the SAPS and this has seen the creation of a Protection and Security Service within the ranks of the SAPS where police staff are provided with aviation training and the uniqueness of the airport as an environment for crime. Another reason for this is the conflict of interest between aviation and national security and ACSA has taken the view that these are so intertwined that it is necessary to take a holistic view on the security structure and personnel. In terms of security, ACSA will be spending an additional R80 million this year at JIA, with normal operating costs running at R50 million.
In conclusion it appears that ACSA has made every effort to enhance security at JIA and its other airports. Even the best security systems can be breached, especially by the well-organised and armed criminal element we find in this country at present and ACSA's task remains one of finding loopholes and closing them. In the future, Maseko expects to see much wider use of biometric technology in all areas of security, and this would also allow better use of security staff as the control room would be aware of their location as well as knowing where in the airport additional resources are required.
And lastly, from a travelling passengers' perspective, we should be thankful that South Africa's airport threats are more related to the movement of precious goods rather than terrorism. Although the latter threat is addressed professionally at South African airports, we do not see the North American paranoia, and the inconvenience to arriving and departing passengers remains minimal.
A 3-tiered approach to security:
Joint Operations Committee
Local Airport Security Committee
National Airport Security Committee
Security services and resources co-operating at National Key Points such as JIA include:
* ACSA Security personnel and contracted private security.
* SAPS units including:
- Dedicated SAPS units.
- Border police.
- SAPS drug squad personnel.
- SAPS bomb squad.
- Public Order Policing.
* Customs.
* National Intelligence Agency.
* SANDF.
* Home Affairs: Immigration.
Heathrow International and organised high-value crime
For those that believe that organised crime and high-value theft from airports, etc, only happens in South Africa, the case of Heathrow provides an interesting perspective. In a recent UK publication the question was asked whether the threat of terror attacks at major international airports was deflecting security resources from combating high-tech (high value) cargo crimes.
Between January 2001 and March 2004 it is estimated that there were nearly 150 high-value crimes in and around Heathrow with a total value of $130 million of goods stolen. The result of this organised theft resulted in Operation Grafton in which UK police, customs and intelligence authorities set out to halt the crime wave. News of the operation did not reach the ears of some foolhardy robbers who in May this year attempted to steal $140 million in cash and bullion from the sheds of airport handler Swissport.
This theft was foiled as police had prior intelligence and were lying in wait for the perpetrators, but note that the latter had penetrated the perimeter.
Going back in time the biggest robbery at Heathrow occurred in 1983 when six thieves broke into the secure Brinks Mat warehouse at Heathrow. Expecting to find £3 million in cash the robbers were astounded to uncover gold bullion worth £26 million. What was to have been a quick in-and-out operation lasted nearly two hours during which several members of the gang left the airport to return with heavier transport. Although most of the members of the gang were arrested, charged and sentenced there is still 3 tonnes of gold missing and the case is still open.
Further reading:
Reducing identity fraud with a selfie
Access & Identity Management Handbook 2020, Technews Publishing , Asset Management, EAS, RFID
Authenticating your identity remotely via an app has become a reality with a new solution from South African company iiDENTIFii.
Read more...
---
Security enhancements at Sharm El-Sheikh
November 2019 , Asset Management, EAS, RFID
ADANI Systems supplied the X-ray screening equipment, including combined high-energy and low-energy systems, for Sharm El-Sheikh.
Read more...
---
Learn from their mistakes
October 2019 , Logistics (Industry), Asset Management, EAS, RFID
One of the cardinal rules of business is to learn from the mistakes you make during your journey, but sometimes another company's error can be just as instructive.
Read more...
---
SAP and Uber Freight join forces
September 2019 , Transport (Industry), Asset Management, EAS, RFID
SAP and Uber Freight announced a partnership to modernise the freight industry through intelligent process automation and better access to a network of connected and reliable drivers.
Read more...
---
Securing people, vehicles and cargo
September 2019 , Transport (Industry), Asset Management, EAS, RFID
The transport industry is under siege, not only with fuel price and legislation increases, but also with widespread unrest, looting and violence against drivers.
Read more...
---
Clear visibility into supply chain complexity
September 2019 , Transport (Industry), Asset Management, EAS, RFID
The Internet of Things is refining the capabilities of the supply chain to reduce theft, increase visibility and transform legacy complexity.
Read more...
---
Autonomous attendance
September 2019 , Products, Asset Management, EAS, RFID
The SACO RF attendance solution was developed with the focus on driving down costs without compromising functionality and ease of use.
Read more...
---
TAPA EMEA appoints Thorsten Neumann as president and CEO
July 2019, TAPA (Transported Asset Protection Association) , News, Asset Management, EAS, RFID
The Transported Asset Protection Association (TAPA) has appointed Thorsten Neumann as its first full-time president & CEO.
Read more...
---
Active cargo tracking units growth
June 2019 , Asset Management, EAS, RFID, Logistics (Industry)
The number of active tracking devices deployed for cargo loading units including trailers, intermodal containers, rail freight wagons, air cargo containers, cargo boxes and pallets reached 6.1 million world-wide in 2018.
Read more...
---
Local manufacturing from Hissco International
May 2019, Hissco , Editor's Choice, Asset Management, EAS, RFID, News
Hissco International recently announced it has set up a local manufacturing partnership that will supply X-ray equipment to partners around the world.
Read more...
---