printer friendly version
Mobile security comes of age
November 2004
Asset Management, EAS, RFID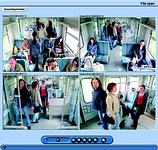 The numbers of vehicle thefts and robberies continue to increase. Freight theft amounting to millions of rands add significantly to the bottom line with insurance excess at 10-20% of the total load. Theft of goods from trucks, trains and now aeroplanes means that the method and style of security needs to be addressed. Most fleet owners use fleet management solutions combining GPS with GSM updates which allow you to monitor the route, speed, direction, braking and many other aspects of your vehicle, but you still cannot see what the vehicle is actually doing. Fleet owners receive statements from their drivers stating that they were asleep and did not know what was happening in the back of the truck, others claim that they were arrested by the police and during arrest their load was removed. Do these scenarios sound familiar? What are the options for a solution?
Actual incident - video evidence on and around trucks
One of the national freight carriers had a recent theft of R6 million worth of goods from one vehicle. The driver and his assistant claimed that the police arrested them and unloaded the truck's load into another truck and drove off, they were released and returned to their depot to report the theft. The truck was found parked in Alexandra well away from its intended route. In interview, it was established that the vehicle had in fact stopped at a service station in Marlboro, close to Alexandra. A check of the service station DVR supplied by Vision Catcher, found the necessary footage to place the truck, the driver and his assistant, an alleged accomplice and the support vehicle complete with colour, registration number and full descriptions of other alleged people involved. On seeing this video evidence the driver made a new statement resulting in a charge being laid.

Truck shot
In this case the freight carrier company was fortunate that the truck had stopped at this particular service station where full video evidence was captured at a resolution and quality that allowed recognition of the relevant parties. What would have been even better is for the truck to have had its own mobile solution on board capturing images of the route, the driver's cab, the goods carried and the trailer, with visuals of the load when loaded or off loaded, the fuel tank and other images.
In this actual incident the cost to the freight company will be around R600 000 as an excess, if not more. The cost of placing mobile solutions onto the trucks could allow for as many as eight or 10 trucks having their own cameras and recording solutions, possibly leading to the hopeful eradication of theft from these particular vehicles. Vision Catcher offers the FleetVu RR range of stable, shock-proofed, versatile mobile solutions.
FleetVu RR is a tried and tested video solution for all mobile applications. The systems offer a variety of camera inputs, audio inputs, monitor outputs, removable hard drives, GPS and GSM interface, alarm inputs and outputs, and all on a shock mounted chassis. It operates on 12/24/110/220 V giving you a wide range of power options. Add to this the certifications for buses and trams as well as trains and this is a versatile and well qualified system that will provide you with a working mobile solution that will stand the test of time.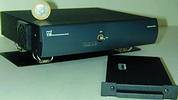 Shock mount FleetVu RR
Trains and containers
FleetVu RR provides mobile solutions along similar lines for trains, containers, trams, buses and other mobile applications. Capable of offering from two to a total of 16 camera inputs per carriage and the ability to network between carriages through the coupling devices provides a total train or bus solution. Supporting 110 V or smaller DC options ranging from 10-12 V the system can present live images in the drivers cab with options for checking any camera at any time or multiple views. Likewise the guard or on-board security team can monitor any camera on a series of screens, even within each and every carriage. Recording is to hard drive with information downloaded at the end of the line through network connection, by removing the hard drive, or by dialling in through GSM or GPRS to view live or recorded images.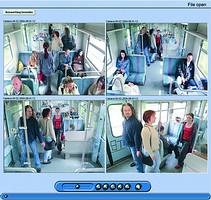 Inside of train carriage
GPS can be interfaced and a number of other mobile modules allow for a myriad of options that have seen this product as a popular choice within the European marketplace. The reference list of installations speaks for itself and confirms the ability of this mobile range to stand the test of rugged and inhospitable conditions, with the ability to provide quality information on the daily happenings of the mobile transport system used.
Considerations
There are a number of mobile solutions currently on offer in the marketplace at various prices. However, prior to committing to a particular system consideration must be given to the nature of the environment the system is going to work within. You need to consider the extent cold or heat may play within the confines of the unit mount, you need to watch for vibration and shock conditions, you need to consider the impact of human intervention; there are many ways that a mobile solution can be rendered ineffective while the vehicle is out of sight.
Cost of installation is going to be a factor in what you eventually decide to do. The question that you need to ask is how much am I prepared to pay to find a workable solution that will stand the test of time and the factors that that might mitigate against a successful result; perhaps saving me a lot of money and perhaps the lives of my staff.
Conclusion
Check around the marketplace to see what is really available. Ask for a demonstration where the unit is put under hot and cold conditions with shock testing - sitting on the car seat is not a realistic demo. Consider the track record of the supplying company and how many systems they have sold within this testing mobile environment.
Credit(s)
Further reading:
Deposita's Digitisor SmartPOS devices can grow your business
Deposita Financial (Industry) Asset Management, EAS, RFID
The Digitisor N910 Pro and N700 SmartPOS devices are suited for SMME retailers and suppliers looking to enhance their customer payment experience.
Read more...
---
Warehouse management system for ECONOFOODS
Asset Management, EAS, RFID
CQuential rolls out warehouse management system for ECONOFOODS national network, starting with its Johannesburg warehouse in a phased rollout.
Read more...
---
HS 6040 security X-ray inspection system
Asset Management, EAS, RFID Products
Hissco's HS 6040 DE is a compact, versatile security X-ray machine used in a wide range of applications, and manufactured under strictest ISO 9001:2015 and CE standards.
Read more...
---
Hytera and KZN Police Service roll out digital call handling system
Government and Parastatal (Industry) Asset Management, EAS, RFID Integrated Solutions
Hytera Communications announced that the municipality of Ray Nkonyeni in the KwaZulu-Natal province of South Africa is now using its digital call handling system for the reporting and recording of crimes.
Read more...
---
Smart parking management platform
Access Control & Identity Management Asset Management, EAS, RFID
Parket builds a seamless bridge between supply and the ever-increasing, but fluid – and often temporary – demand for parking bays.
Read more...
---
Keeping devices in check
Cyber Security Asset Management, EAS, RFID IT infrastructure
Kaspersky patents new technology for analysing relationships between electronic devices to counter cyberattacks launched through connected IoT devices.
Read more...
---
A new dawn in sustainable storage optimisation
Technews Publishing Asset Management, EAS, RFID Security Services & Risk Management Products
Industry is experiencing a move from VRLA (valve regulated lead–acid) batteries, which have been used in data centres for decades, to lithium-ion battery technology.
Read more...
---
Don't count lead-acid batteries out
Forbatt SA Security Services & Risk Management Asset Management, EAS, RFID
Lead-acid batteries are a standard in the security market and they will continue to be for many years, despite the growth of lithium-based devices.
Read more...
---
Smart energy alternatives
Asset Management, EAS, RFID Security Services & Risk Management
With or without load shedding, moving towards cleaner renewable energy in any environment is a great idea, and lithium must be your battery of choice.
Read more...
---
Better process control and audit reporting from Traka
Traka Africa News Access Control & Identity Management Asset Management, EAS, RFID Commercial (Industry)
Traka has announced it will be launching its next-generation key management systems in 2023, providing enhanced security, serviceability and traceability.
Read more...
---