printer friendly version
Protection for access control systems
November 2004
IT infrastructure
RS485 has been widely used in access control systems but is not immune to the effects of lightning and ground potential differences. A local company has developed some interesting ways to solve this problem.
Contrary to popular belief, direct lightning strikes account for only a small percentage of damage to electronic equipment. Over 99% of lightning damage stems from the induced effects and differences in ground potential during a lightning strike. When lightning strikes a tree, powerline or other structure, an enormous amount of energy is passed into the ground which sets up an intense electromagnetic field that will couple into communication and power cables. Access control systems suffer from this phenomenon in two ways:
Inductive coupling
In a simple access control system, a card reader will talk to a host computer some distance away via a copper communication cable. Both the host computer and card reader will be supplied with power from a 230 V a.c. source. An inductive loop is formed by the communication cable on the one end and power source on the other. This inductive loop will absorb energy from the lightning strike, even if the lightning strike is some distance away. The closer the lightning strike to the installation, the higher the voltage that will be developed within the loop. Damage to the equipment will result even if the equipment is switched off!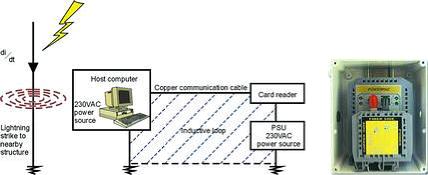 Figure 1. Example of an inductive loop
Ground potential differences
When lightning energy is passed into the ground, a very high potential exists at the point of contact. As one moves away from this point, the voltage along the current paths decreases very rapidly. If equipment is installed along these current paths and connected to the available safety earth system, large potential differences will exist between these earth connections. The result will be that equalisation will try and take place through the communication cables. One solution may be to try and interconnect the safety earths at both sites but this is usually impractical.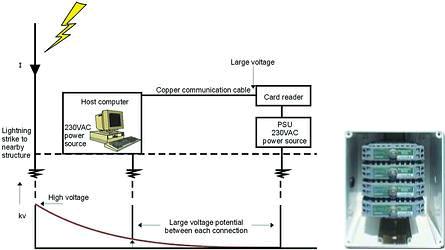 Figure 2. Example of ground potential difference
Practical solutions
Short circuit protection
This has been the traditional way of providing protection for communication systems. The protection element consists of an arrangement of gas arresters, metal oxide varistors and transorbs to divert the induced energy away from the equipment to be protected. Problems are normally encountered by the lack of an equipotential arrangement for protection of all the inputs and outputs of the equipment and so damage is still experienced. The correct arrangement for good protection is as per Figure 3.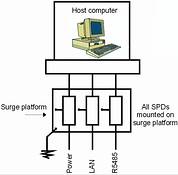 Figure 3. Example of an equi-potential platform
In the example shown, a data and power protector have been fitted to the same housing and a good protection arrangement has been achieved. It is essential that all connections to the equipment to be protected be passed through the protection devices on the platform.
Fibre-optic systems
Fibre systems have been with us for a long time but have not been installed due to the high cost. There are now a number of low cost solutions that specifically cater for the access control market. As fibre is non-conductive, the problems of inductive loops and ground potential differences simply do not come into the picture. Using the fibre approach, only protection on the power supply needs to be implemented.
Glass fibre modules
There are many fibre-optic modules available and the example shown here may be din-rail mounted with its own power supply or fed from a 24 V d.c. source. Distances of up to 4 kilometres at speeds of 115 bps are easily obtained. These units are used with 62,5/125 µm or 20/125 µm multimode fibre.
Plastic fibre modules
A new development for ease of installation is fibre converters using 1 mm plastic fibre. The advantage of this type of system is that the installation technician can easily install these converters without expensive special tools or splicing equipment. The cable is installed, cut to length, and ends polished with an inexpensive kit as shown below. Twin plastic fibre cable comes on 500 m rolls and due to its small size, can easily be carried in the boot of a car. The usable length between converters is limited to about 120 m at 115 bps but still a viable option for small installations.
Credit(s)
Further reading:
ALM a key element of data security
IT infrastructure
ALM is core to any data security framework in the digital age and it is an element that no business can afford to be careless with.
Read more...
---
Integrate, integrate, integrate
IT infrastructure
Security and speed will always war for dominance in DevOps but it's time to integrate the two as the landscape becomes increasingly fractious and complex.
Read more...
---
The benefits of Managed File Transfer
IT infrastructure Products
Blue Turtle Technologies looks into how a Managed File Transfer platform benefits businesses, as opposed to the usual FTP or SFTP suspects.
Read more...
---
Accelerating your Zero Trust journey in manufacturing
IT infrastructure Cyber Security Industrial (Industry)
Francois van Hirtum, CTO of Obscure Technologies, advises manufacturers on a strategic approach to safeguarding their businesses against cyber breaches.
Read more...
---
Cyber resilience is more than cybersecurity
Technews Publishing Editor's Choice Cyber Security Integrated Solutions IT infrastructure
Hi-Tech Security Solutions held a round-table discussion focusing on cyber resilience and found that while the resilience discipline includes cybersecurity, it also goes much further.
Read more...
---
Keeping devices in check
Cyber Security Asset Management, EAS, RFID IT infrastructure
Kaspersky patents new technology for analysing relationships between electronic devices to counter cyberattacks launched through connected IoT devices.
Read more...
---
IQ WiFi 6 supporting users and security installers
IT infrastructure Products
The IQ WiFi 6 is a new purpose-built mesh router solution for homes and businesses with security, automation and Wi-Fi devices.
Read more...
---
Considering cloud downtime insurance?
Arcserve Southern Africa Cyber Security IT infrastructure Security Services & Risk Management
Byron Horn-Botha, business unit head, Arcserve Southern Africa, reveals three vital steps that you must consider to ensure business continuity before you buy insurance.
Read more...
---
A robust OT cybersecurity strategy
Editor's Choice Cyber Security IT infrastructure Industrial (Industry)
Cyber experts are still struggling to convince senior management to spend money to protect their control system assets, resulting in a lack of even basic measures to protect control systems.
Read more...
---
IT security at the core of smart cities
Cyber Security IT infrastructure Government and Parastatal (Industry)
The success of service delivery and public access to universal Wi-Fi, home automation and smart sensors is based on increased IT security.
Read more...
---