printer friendly version
Rail security on the move
November 2004
Asset Management, EAS, RFID
There seems to be little sign that the threat of terrorist attack across our global transport infrastructure, including its rail networks, is going to disappear any time soon. In fact, recent events have only served to underline the dangers rail operators and their passengers face. As a result, we are likely to witness an ever broader spectrum of measures being applied, including CCTV, to heighten vigilance in railway stations, on commuter trains and along thousands of kilometres of railway track.
Here, John Goy, senior product manager at Dedicated Micros, looks at the solutions being adopted by our European counterparts, specifically the performance characteristics of mobile CCTV solutions, highlighting what rail operators should demand from the latest systems.
One approach which has generated considerable interest in a number of countries - including UK, Spain, the Netherlands and Germany - is the application of multicamera digital recorders. When fitted to trains these compact, self-contained systems are capable of continuously monitoring the inside of carriages. There is even the potential to conduct remote surveillance from trains on key routes, so complementing the existing permanently positioned CCTV infrastructure.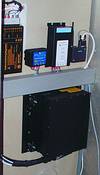 From air to ground
The origins of this technology can be traced back to the aviation sector, where, since the mid-1990s, such systems have proven their worth on commercial passenger jets. Here, digital recorders, linked to internal and external cameras, have been able to assist aircrew and attendants by providing critical monitoring of the cockpit door, passenger cabin, cargo hold and the undercarriage of aircraft.
Now, spurred on by more sophisticated software, ever-increasing computing power and the advent of low cost, high capacity disk drives, the economics and refinement of these mobile multicamera digital recorders is such that they are proving an attractive proposition for installation on the ground.

Practical benefits
As well as the obvious potential of this technology to address the vulnerability of extensive railway infrastructure in the uncertain global climate, by helping train operators to spot unusual activity, it can also be applied to tackle the day-to-day headaches of vandalism and assaults on passengers and staff.
Applied as an overt measure, with the cameras in public view, experience suggests that this provides a significant deterrent to criminal damage, delivering much needed reassurance to the travelling public. This positive benefit was underlined in a recent trial in the Netherlands which found that 60% of commuter train passengers felt safer with digital recorders and cameras installed, train staff also believed that their working environment had improved and damage due to vandalism plummeted by 45%. Also, during the test period video recordings were reviewed on several occasions, assisting the police and the train operator to solve a number of incidents. Significantly, the success of the trial has led to its expansion to every double train on the Dutch route.
Recording on the move
So what should a typical multicamera digital recording system be able to offer transport operators? Units ought to be capable of multiplexing and recording from up to eight video cameras per carriage. Further, multichannel audio recording can be used to store relevant voice information and the associated images from multiple points on a train, especially useful in incidents of staff or passenger abuse. Storage is usually via one or two internal hard disk drives, although some operators may prefer a single removable drive which can be taken from a unit in the event of an incident.
While to a user it may appear that this type of unit operates in a similar way to a multiplexer and VCR during standard recording, there are significant benefits beyond these more traditional approaches, including, of course, the fact that everything is stored digitally. The latest units can for instance apply different record rates to specific cameras. As a result of this 'variable rate' recording more important cameras can be prioritised in the recording sequence. Alarm inputs or system events can be used to trigger changes in the recording speed, making it possible to record incidents at a much faster rate than normal.
When making a selection, it is advisable to look out for units with an advanced go-to-time feature, supporting playback from a specified time and date to tie-in with particular incidents. It is also beneficial if the system software supplied facilitates visual searches of camera images at up to x1000 normal speed and even closer inspection at one quarter speed (slow motion) to allow for the rapid location and detailed study of incidents.
Power management
Auto power management is certainly becoming a more common feature in multicamera digital recorders. Typically, this stops a unit recording and closes down operation 15 minutes after a vehicle is taken out of service - a time period which can also be defined by the user. The unit will also conduct a controlled and timed power down sequence when the vehicle's voltage has fallen below a set level. Once the minimum operating voltage is reached this is immediate. With a pass through relay controlled power feature, during normal operation, voltage is supplied (the same as the input) to peripheral devices such as cameras. This is removed when the digital recorder itself is powered down.
The answer is evidential
All individual images stored by a digital recorder - which can be archived to PC or mass storage devices - should carry vital header information including date and time and details of any alarms. Ideally some of this information should be able to be displayed with the image on playback. With the potential for images to end up in court as evidence, systems need to be designed to deliver a verified audit trail. The best systems will support watermarking where a unique fingerprint is assigned to a range of images. As a result, when evidence is submitted to the police - for example on CD - the watermark data can be issued as a watermark certificate. To verify the authenticity of the CD at a later stage a second certificate can be created from the images on the CD. If the two certificates match then the CD has not been tampered with. In some cases evidence provided by such units may even be able to assist train operators by providing vital protection against fraudulent attack/injury claims.
Rugged construction
Undeniably, the passenger transport environment places rigorous demands on any electronic system so the solution selected for this type of application has to be extremely durable. Ideally the compact sealed recorder unit needs to be suspended via aerospace grade mountings to eliminate heavy vibration.
Information download
With wireless Internet access starting to become more commonplace on trains, consideration should be given to systems which, when combined with a broadband spectrum transceiver, have the capability to supply realtime information on a train's operational environment back to a control station. Where this facility is not available, data, including train speed, can be logged for later download.
In some cases, to enhance protection for staff and passengers, digital recorders are linked to a panic button. In the event of an emergency, the panic button is simply activated by authorised personnel, such as drivers or train managers, so initiating an immediate call to a control station for assistance.
An eye on the future
Looking ahead, there is little doubt that multicamera digital recorders are going to become an ever more common sight on public transportation world-wide, not only in the face of new global uncertainties but also to deter and respond to more usual concerns such as vandalism, including arson and graffiti, and attacks on staff.
Further reading:
Deposita's Digitisor SmartPOS devices can grow your business
Deposita Financial (Industry) Asset Management, EAS, RFID
The Digitisor N910 Pro and N700 SmartPOS devices are suited for SMME retailers and suppliers looking to enhance their customer payment experience.
Read more...
---
Warehouse management system for ECONOFOODS
Asset Management, EAS, RFID
CQuential rolls out warehouse management system for ECONOFOODS national network, starting with its Johannesburg warehouse in a phased rollout.
Read more...
---
HS 6040 security X-ray inspection system
Asset Management, EAS, RFID Products
Hissco's HS 6040 DE is a compact, versatile security X-ray machine used in a wide range of applications, and manufactured under strictest ISO 9001:2015 and CE standards.
Read more...
---
Hytera and KZN Police Service roll out digital call handling system
Government and Parastatal (Industry) Asset Management, EAS, RFID Integrated Solutions
Hytera Communications announced that the municipality of Ray Nkonyeni in the KwaZulu-Natal province of South Africa is now using its digital call handling system for the reporting and recording of crimes.
Read more...
---
Smart parking management platform
Access Control & Identity Management Asset Management, EAS, RFID
Parket builds a seamless bridge between supply and the ever-increasing, but fluid – and often temporary – demand for parking bays.
Read more...
---
Keeping devices in check
Cyber Security Asset Management, EAS, RFID IT infrastructure
Kaspersky patents new technology for analysing relationships between electronic devices to counter cyberattacks launched through connected IoT devices.
Read more...
---
A new dawn in sustainable storage optimisation
Technews Publishing Asset Management, EAS, RFID Security Services & Risk Management Products
Industry is experiencing a move from VRLA (valve regulated lead–acid) batteries, which have been used in data centres for decades, to lithium-ion battery technology.
Read more...
---
Don't count lead-acid batteries out
Forbatt SA Security Services & Risk Management Asset Management, EAS, RFID
Lead-acid batteries are a standard in the security market and they will continue to be for many years, despite the growth of lithium-based devices.
Read more...
---
Smart energy alternatives
Asset Management, EAS, RFID Security Services & Risk Management
With or without load shedding, moving towards cleaner renewable energy in any environment is a great idea, and lithium must be your battery of choice.
Read more...
---
Better process control and audit reporting from Traka
Traka Africa News Access Control & Identity Management Asset Management, EAS, RFID Commercial (Industry)
Traka has announced it will be launching its next-generation key management systems in 2023, providing enhanced security, serviceability and traceability.
Read more...
---