printer friendly version
Cell C standardises on Honeywell CCTV
February 2004
CCTV, Surveillance & Remote Monitoring
Cell C, South Africa's first cellular provider operating a dual band GSM network, has standardised countrywide on CCTV security systems from Honeywell. To-date more than R2 million has been invested by Cell C in this area.
Cell C was awarded its licence in February 2001, launching commercially on 17 November in the same year. At this time the organisation was new to the country and had no security policies or systems in place.
Says Andrew Melville, Cell C's Head of Corporate Security, "We had to build security infrastructure, security support services and implement security policies for Cell C in South Africa and yet we were unsure specifically what services our dynamic and rapidly expanding company would need. It was very important for us to choose the right service provider from the start - one that would guarantee us the flexibility for complex integration migration in future, coupled with technical expertise and local back-up available every day. Ultimately, it was critical to find an efficient and effective solution.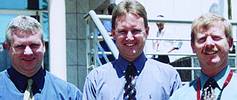 From left to right: Tim Timmins and Chris Koetsier of Honeywell with Andrew Melville of Cell C outside Cell C's Marion Place
"Initially Cell C researched what was available in South Africa with regards CCTV, access control, fire detection and intrusion detection systems. Sustainability in terms of technical support, ability to service and maintain equipment, technology ability, reliability and development were major considerations. Honeywell is a substantial player that provides quality reliable solutions, backed up by competent local technical support and it has the ability to integrate systems, which are critical for Cell C as it grows," says Melville.
Cell C is essentially two companies in one - its main operational arm - the nerve centre of the organisation - Cell C is headquartered at Marion Place in Sandton, Johannesburg. This campus will house 1000 staff when complete. Its main service provider centre, Cell C Service Provider, is housed at Esher Place, also in Sandton, and is similar in size.

Cell C control room operators Cornelius Makgotlho and Raymond Ogle
CCTV implementation started about 18 months ago at both Marion Place and Esher Place and countrywide roll-out will continue over the next three years.
According to Melville, Cell C has already found that CCTV has greatly reduced rates of misappropriation. "Firstly, it is a deterrent and secondly the combination of CCTV footage combined with access control data and statements means we get better resolution of incidents with a 90% clear up rate," he says.
Embedded DVRs - system integrity with PC flexibility
Cell C decided to go the route of Honeywell embedded digital video recorders (DVRs) and this is now standard countrywide.
Two different types of Honeywell DVRs are utilised depending on the application. The Ultrak KXR is used in the most sensitive key points like Marion Place, Esher Place as well as the organisation's warehouse and national switch and call centre. The KXR is also currently being installed at Cell C's brand new call centre in Durban and at the new national monitoring centre now being completed at Marion Place.
The Ultrak KXR is an advanced, networkable video management system that delivers a long-term, low-maintenance digital video storage and retrieval solution.
Minimal use of bandwidth
"The main benefits of the KXR include its vastly superior storage capacity, through the efficiency of MPEG 4 compression, which delivers incredibly small video file sizes - approximately 1,2 to 3 KB. These files are typically 10 to 20 times smaller than that of any competitor product, giving 10 to 20 times longer storage times," says Honeywell CCTV specialist, Chris Koetsier.
Conserving bandwidth has become a virtual obsession in many organisations, and as a direct consequence of the MPEG 4 compression and resulting small file sizes, the KXR uses 10 to 20 times less bandwidth than standard DVRs. Bandwidth efficiency was a key requirement for Cell C due to remote monitoring of certain sites.
During the course of 2004, Cell C will build two additional warehouse units which will also make use of KXR systems. The value of stock held by the company is considerable - this Christmas there was around US$18 million worth of stock in the warehouse to support the Cell C festive sales campaign.
Smaller Cell C facilities around the country make use of Honeywell's Ademco AHDR16 recorder.
Fixed camera philosophy
Honeywell CCTV cameras are specified and several hundred are in place at all the facilities mentioned. Cell C has standardised on fixed cameras as opposed to dome or motorised zoom cameras. "My personal philosophy is that fixed cameras are most effective and I would rather spend budget on more cameras than make use of a smaller number of domes," says Melville. "Whilst dome cameras are suitable for certain applications they are not right for ours. Experience shows that the camera will be 'looking' the wrong way at a critical moment or perpetrators will stage a diversionary incident. Additionally, the domes require manning with consequent human error and the maintenance burden to ensure serviceability is increased."
Importance of integration
Integration is the future in security and a key reason Cell C chose Honeywell was to ensure a viable route through which integration can be intensified as the organisation grows.
"In particular," comments Melville, "one of the reasons we chose the Ademco unit for our smaller facilities was ease of integration. We are typically monitoring fire alarm, airconditioning controls, PIR burglar alarms and a perimeter fence alarm through this unit all linked to an armed response. We have found this unit to be both reliable and more than capable of the job."
Internationally there is a move away from armed guarding to central remote control rooms. It is Cell C's intention to move in this direction in the future as more bandwidth becomes available so it was key to have the infrastructure in place that makes this migration possible.
Incident examples prove the effectiveness of CCTV
In the relatively short time that Cell C has had its CCTV systems in place a number of cases have been successfully prosecuted that would not have been resolved without the back-up of video footage.
Says Melville, "In these cases CCTV footage has proved invaluable. Securing a conviction requires corroborating evidence which often proves tricky - many a security officer knows exactly what has occurred but the challenge is to prove it beyond reasonable doubt. CCTV footage has proved critical in supporting cases and has maximised prosecution in conjunction with other evidence."
Examples that have occurred at Cell C include an incident in which a person was seen rolling a stolen item into a newspaper and then walking out of the camera footprint. This footage, in conjunction with other evidence, was sufficient to reveal the culprit's identity and modus operandi.
In another incident it was obvious that a perpetrator was aware of a particular camera blind spot. The camera was secretly moved and caught footage of a person returning to a desk and placing items in a workstation. The person waited a few days for the situation to cool down and was then captured on video placing the items in a bag and leaving the building.
Cell C had a covert camera in one of its storerooms, which captured footage of a person entering the storeroom and removing goods. Cell C's own goods, and those of other companies, were eventually recovered from this individual's home.
Cell C has also found good value in its perimeter cameras. "Perimeter cameras often provide very good examples of persons taking stolen goods to places they believe are dead spots and hiding them," says Melville. "However, these individuals often fail to realise that whilst the actual drop is not captured, much of the rest of the activity is captured - for example removing a bag of goods from a car, returning to the car and so on - by a number of other cameras. When this footage is properly audited the sequence of events becomes obvious and can be conclusive with other evidence in securing a conviction."
In addition to CCTV systems, Cell C has very recently agreed to standardise on Honeywell's enterprise building integrator (EBI) countrywide. EBI is a comprehensive suite of applications that provides a complete solution for key facility management requirements making fully integrated provision for access control, security, surveillance, heating, ventilation and airconditioning and life safety systems including fire detection and prevention. The first two EBI projects at Cell C have recently commenced.
For more information contact Tim Timmins, Honeywell, 011 574 2503, tim.timmins@honeywell.com, www.honeywell.com
Further reading:
Consolidating control rooms and service delivery within a COVID-19 environment
Issue 6 2020, Leaderware , CCTV, Surveillance & Remote Monitoring
It is essential to have informed, coordinated and professional responses within control rooms at this time of increasing turmoil.
Read more...
---
Technology driving the healthcare industry
Issue 6 2020, Duxbury Networking , CCTV, Surveillance & Remote Monitoring
Seeing cameras as sensors opens up new possibilities, and each one of them responds to typical demands inside a hospital, clinic or nursing home.
Read more...
---
Flexible temperature screening options for challenging times
Issue 6 2020, Hikvision South Africa , CCTV, Surveillance & Remote Monitoring
A thermal imaging camera is an effective screening device for detecting individuals with elevated skin temperature. This type of monitoring can provide a rapid screening approach in high-traffic areas.
Read more...
---
Toyota Argentina joins the new normal
Issue 6 2020, Dahua Technology South Africa , CCTV, Surveillance & Remote Monitoring
Toyota Argentina makes use of Dahua technology to ensure COVID-19 safety protocols are adhered to.
Read more...
---
Qognify launches Cayuga R15 VMS
Issue 6 2020 , CCTV, Surveillance & Remote Monitoring
Cayuga R15 is compatible with Qognify's Umbrella web-based platform that can be used to configure, manage and monitor all connected Cayuga systems centrally.
Read more...
---
New DeepinView camera series
Issue 6 2020, Hikvision South Africa , CCTV, Surveillance & Remote Monitoring
Cameras equipped with multiple dedicated algorithms that can be selected as required based on the needs of the installation, then switched as the security needs change.
Read more...
---
Mitigating the human risk
Issue 5 2020, Managed Integrity Evaluation, Technews Publishing, iFacts , CCTV, Surveillance & Remote Monitoring
Hi-Tech Security Solutions asked Jennifer Barkhuizen and Jenny Reid for some information around background screening and vetting of potential new hires.
Read more...
---
Teaching old cameras new tricks
Residential Estate Security Handbook 2020, Deep Data , CCTV, Surveillance & Remote Monitoring
Dr Jasper Horrell and Mark Smuts from DeepAlert reveal how estates can upgrade their existing surveillance infrastructure to include the latest AI-enhanced analytics, without buying new hardware.
Read more...
---
Thermal continues to evolve
Residential Estate Security Handbook 2020, Technews Publishing, Axis Communications SA, Bosch Building Technologies, Dahua Technology South Africa , CCTV, Surveillance & Remote Monitoring
Thermal cameras have made an enormous impact to perimeter security, with more to come as artificial intelligence enhances analytics.
Read more...
---
Automated estate protection
Residential Estate Security Handbook 2020, Axis Communications SA , CCTV, Surveillance & Remote Monitoring
Marlenique Estate makes use of an end-to-end Axis Communications solution, installed by Energize Technology Africa for automated security. Automated estate protection.
Read more...
---