printer friendly version
Preventing computer theft
October 2003
Security Services & Risk Management
The presence of valuable office equipment at specific locations inside buildings and offices is a strong motivating factor for theft and robbery. Computers and laptops are an increasingly popular item for criminals who target them because of their vulnerability, availability and ease of disposal.
Although computer theft is a common problem throughout the industrialised world, in South Africa it has reached very serious proportions. In fact, it has been reported that more than 60% of all South African companies have had computers stolen over the past 18 months. In South Africa, computer theft is often accompanied by violence or threat of violence as when, for instance, employees or security guards are attacked during the commission of the crime.
Crime intelligence
Organised crime syndicates have been linked to the recent spate of computer thefts and robberies. Commercial/corporate businesses are therefore not dealing with single/isolated attacks, but rather with a systematic action on the part of organised criminal gangs operating in small groups, armed and ready to use violence if necessary, eg, when confronted by security.
In many instances, as experienced by the author, the same company can be subjected, over a short period of time, to repeat victimisation because the criminals know that new computers are issued within a couple of days.
It has also been reported that computers are finding their way across the borders of South Africa. The presence of developing economies in southern Africa, eg, Mozambique and Angola, adds credibility to this information.
Intelligence gathering indicates that the criminals' modus operandi when stealing computers usually involves the following actions.
* They assess both rewards and risks. If the risk of identification is too high and the reward too little, criminals will usually move to an easier target.
* They are fully aware of the presence of guards in the complex and, often, know where to inflict maximum losses in the shortest possible time.
* They usually act at night in order to reduce the risk of identification and apprehension.
* They wait for the right moment to strike, eg, when security is as far as possible from the scene or has just completed a patrol.
* They are aware of the fact that, in order to avoid a confrontation with on site security, armed response or police, they need to act as quickly and efficiently as possible, within a very limited period of time, especially when the alarm has detected their presence.
* They usually act in groups in order to remove as many computers as possible in the shortest period of time possible.
* They are usually armed and willing to inflict injuries or death to anybody crossing their path.
* Once a company is identified as an easy target, the risk for repeat victimisation is very real.
Having said that, there have been recorded instances in which an entire security and work force (usually night shift employees) in a complex was held up by a determined group of robbers. This gives the criminals sufficient time to cause maximum losses to a company. In a recent incident involving a similar modus operandi, an important news agency suffered the loss of more than 50 computers.
Risk factors
The areas most vulnerable to computer theft, particularly smash and grab attacks, are those where there is a high concentration of computers, eg, IT and project departments, creditors and debtors departments, etc.
These areas require immediate attention in that they offer the right opportunity for criminals to commit computer theft.
Although being sited within the boundaries of a well protected complex reduces the likelihood of a theft and robbery attack targeting computer equipment, the possibility for this type of crime to occur should not be underestimated.
Preventing computer theft
Not only the immediate areas where computers are located need to be protected. In fact, it can be stated that effective computer security starts with the perimeter fence and proceeds inwards, through a combination of crime reduction measures such as, amongst others, good quality fencing, lighting, external passives, infrareds and beams, CCTV systems, intruder detection systems, solid locks, glass protection (against smash and grab), as well as trained guards.
The security of the computer itself is also of the utmost importance. In this regard, the following preventive measures should be considered.
* Mark your property in a permanent and prominent way. Keep an inventory of all computer equipment. This can help prevent internal theft, and will help the police if you are burgled.
* Arrange to have the computer's component parts marked, and advertise this on the outside of the computer. However, in the interest of safety always seek professional help before opening a computer and check that you will not invalidate any warranty or guarantee.
* The most secure place to store a computer is in a high security cabinet or safe. Some models allow you to use the computer inside the cabinet.
* Alternatively, anchor your computer to something solid. You can fix it to the work surface with security plates. Some of these devices encase the processor unit completely so they protect the components as well as the computer. All lock-down equipment of this kind should conform to loss prevention standard.
* Another way of protecting your computer is to attach it to furniture or walls with a cable kit which links computer equipment together. The cables are made of steel and they should be at least 7,5 mm thick. This method will help protect the computer, although it will not prevent a thief gaining access to the computers' parts. A low cost way of giving some protection to the components is to replace the cabinet screws with security screws.
* Fit an alarm. Some of these fit inside the computer and sound if the equipment is moved. Others, called 'loop' alarms have a cable which passes through the equipment and which sounds if it is broken.
* Site the computer away from the ground floor windows if possible.
* Remember to back-up data on disk on a regular basis or at a remote station via the intranet. The data within your computer can also be protected by using locking devices which cover or slot into the disk drive's bezel.
* If you carry a portable computer or laptop around with you, keep it out of sight when you are travelling.
* Do not leave it in view in a car, even when you are in the car yourself - thieves may try to snatch it when the car is stationary.
* Remember that thieves will recognise the special cases that portable computers come in - conceal them in a briefcase or bag instead.
* Carry back-up disks and, if you are able to, hard disk drives separately.
* Do not leave a portable computer lying about in the office - keep it locked away or take it home at the end of a working day.
Conclusion
Beside the negative financial implications, the loss of several computers as a result of crime may cause a serious disruption to a company's activities. Furthermore, the risk of a violent confrontation during an incident of computer theft should never be underestimated. Therefore, the adoption of the most effective defensive strategies is of the utmost importance.
For more information contact Elio Zannoni, International Threat Analysis, 011 792 3739, ez@i-t-a.co.za, www.i.t.a.co.za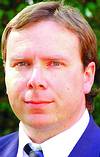 ABOUT THE AUTHOR
Elio Zannoni is a criminologist and specialist in crime risk factors and prevention strategies. He can be contacted at International Threat Analysis, a specialist, international risk consultancy involved in the intelligence and analysis of crime threats and risks worldwide.
Further reading:
Three new portable power stations to ease load shedding
News Security Services & Risk Management Products
EcoFlow has launched three portable power stations that provide sufficient power for consumers wherever they are; the DELTA 2 and RIVER 2 Series are feature-filled power solutions to the volatile electricity supply.
Read more...
---
You cannot bribe a computer
Access Control & Identity Management Security Services & Risk Management
Corruption is a cancer that destroys the prospects and stability of countries and businesses. It widens wealth gaps and punishes the poor. It costs countries many billions in lost revenue.
Read more...
---
How much protection does cyber insurance really give businesses?
Cyber Security Security Services & Risk Management
If organisations don't meet even the minimum requirements of security and data protection, insurance will do them little good. Instead, it needs to be just one part of the digital resiliency toolbox.
Read more...
---
Off-grid power solution for residential estate
Editor's Choice Security Services & Risk Management Residential Estate (Industry) Products
Coral Beach Estate, an upmarket residential estate based in East London, has been struggling with load shedding and power outages due to South Africa's energy crisis, as well as the vandalism of its power infrastructure.
Read more...
---
SafeCity Guarding rolls out across 14 suburbs in Johannesburg
News Security Services & Risk Management
In a major drive to provide communities across Johannesburg with additional safety, Vumacam, in partnership with Fidelity ADT and other security providers across the region, rolled out the innovative SafeCity Guarding initiative in 14 suburbs.
Read more...
---
FleetDomain underpins Afrirent's value proposition
Logistics (Industry) Security Services & Risk Management
Afrirent, a 100% female black-owned fleet management company, has been relying on FleetDomain software for a number of years to help it deliver outstanding service to a growing number of clients.
Read more...
---
Choosing an inferior lithium battery can be detrimental and unsafe
Uniross Batteries Security Services & Risk Management Products
South Africans looking to mitigate the impact of load shedding by installing a solar system for their home must do so through an accredited installer or electrician to avoid insurance claims being rejected.
Read more...
---
Employee screening, a hiring necessity or an invasion of privacy?
Security Services & Risk Management
There is a fine line between checking a potential employee's qualifications and references, and investigating aspects of their lives that have nothing to do with their job application.
Read more...
---
Keeping students, staff and communities safe
Vumacam News CCTV, Surveillance & Remote Monitoring Security Services & Risk Management
South African schools are facing increasing security challenges, making effective surveillance systems more important than ever. To address this issue, Vumacam is offering advanced security solutions with security partners, aimed at keeping students, staff, and the community safe.
Read more...
---
Technology is key to securing physical and cybersecurity
Education (Industry) Security Services & Risk Management
The interpretation of security in educational institutions depends on whom you are talking to and whether their focus is on the physical security of the institution, its assets and its people, or its information and communication technology perspective.
Read more...
---