printer friendly version
Digital video on the move
July 2003
Asset Management, EAS, RFID
The Lenel mobile digital video recorder (LMDVR) offers integrated digital video management capabilities for mobile applications. With its ruggedised chassis and wireless communication, it is ideally suited for use in police cars, trains and other mass transit environments.
The LMDVR's industry-unique method of archiving video provides users with an advanced, hands-free and hassle-free solution.
Video is transmitted from the recorder to a Lenel archive server via wireless LAN infrastructure. Video information can then be managed and viewed from within the OnGuard alarm monitoring application.
Archival methods
The LMDVR supports two methods of transferring video from the LMDVR to the long-term archive storage medium. The first method is by way of the removable iMod. The iMod is the actual computer containing the processor, hard drive. After the vehicle operator's shift is complete, the operator will remove the iMod from the LMDVR and insert it into a docking station that is connected to the network. The video can then be archived off to a mass storage system such as a disk array, storage area network (SAN) or tape library. In addition, now that the video is within the OnGuard system, the video can be reviewed, and the LMDVR settings can be modified if needed. See Figure 1 for more details.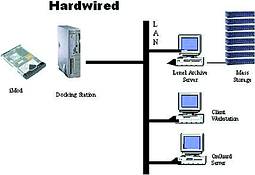 Figure 1
Alternatively, the user can take advantage of Lenel's unique ability to archive the video from the LMDVR via a wireless network infrastructure. The customer will provide a wireless adaptor for the LMDVR, which can be installed in the form of a PCI card. In addition the customer will install an access point(s) so that the LMDVR(s) can communicate via the customers LAN. See Figure 2 for more details.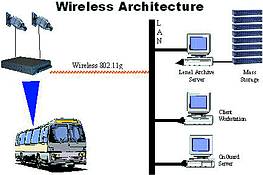 Figure 2
Digital video compression boards
The LMDVR supports one digital video compression board, either the 8-channel video board (25 fps across all eight camera inputs) or the 4-channel video board (25 fps per camera). All of the features and functionality that traditional OnGuard Video users have enjoyed are also present with the LMDVR. Both products use the same technology/software/core hardware, the LMDVR is merely an adaptation of fit and form.
Features
End-users are able to 'mark video' (create a user-generated event) if they desire, by activating an event marker device that is hardwired into one of the 13 dry contact ports on the LMDVR; this could be a panic button or any change of state device. This allows for a streamlined investigation to occur because the system administrator can simply run a report on user-generated events and quickly view the recorded video. They do not have to review the entire shift's video to find the event. They can quickly retrieve the relevant video and review/export/distribute the video as they see fit in a timely manner.
The LMDVR supports one channel of audio. The system administrator can choose which camera the microphone is associated with and can retrieve and playback synchronised audio and video.
The LMDVR has a PC monitor output that users can utilise should the customer's application require such functionality. In this scenario, the OnGuard Client Software can be loaded onto the LMDVR allowing for the configuration, management and viewing of video to be undertaken, for example, within a vehicle. This feature is especially useful for surveillance vehicles or for vehicles that have accommodation for a working area.
If the user decides to archive via wireless network architecture, the LMDVR comes equipped with a battery shut down timer, which enables the LMDVR to archive the video without the need to keep the vehicle running. If the LMDVR requires, for example, one hour to archive the recorded video to the archive server, then they can set the battery shut down unit to activate after one hour. In this scenario, the LMDVR will receive power from the vehicles battery for one hour, and then perform a proper system shut down, much the same as if one was to select the start button and select shut down on a Windows PC.
Seamless integration
The Lenel mobile digital video recorder can be utilised as a standalone system or as a seamlessly integrated product module in an OnGuard total security knowledge management solution. Users will be able to utilise the familiar OnGuard alarm monitoring application and system administration applications to configure, administer, and monitor the system.
For more information contact Phil Mailes, Lenel Systems International, 0944 148 381 5230.
Further reading:
Reducing identity fraud with a selfie
Access & Identity Management Handbook 2020, Technews Publishing , Asset Management, EAS, RFID
Authenticating your identity remotely via an app has become a reality with a new solution from South African company iiDENTIFii.
Read more...
---
Security enhancements at Sharm El-Sheikh
November 2019 , Asset Management, EAS, RFID
ADANI Systems supplied the X-ray screening equipment, including combined high-energy and low-energy systems, for Sharm El-Sheikh.
Read more...
---
Learn from their mistakes
October 2019 , Logistics (Industry), Asset Management, EAS, RFID
One of the cardinal rules of business is to learn from the mistakes you make during your journey, but sometimes another company's error can be just as instructive.
Read more...
---
SAP and Uber Freight join forces
September 2019 , Transport (Industry), Asset Management, EAS, RFID
SAP and Uber Freight announced a partnership to modernise the freight industry through intelligent process automation and better access to a network of connected and reliable drivers.
Read more...
---
Securing people, vehicles and cargo
September 2019 , Transport (Industry), Asset Management, EAS, RFID
The transport industry is under siege, not only with fuel price and legislation increases, but also with widespread unrest, looting and violence against drivers.
Read more...
---
Clear visibility into supply chain complexity
September 2019 , Transport (Industry), Asset Management, EAS, RFID
The Internet of Things is refining the capabilities of the supply chain to reduce theft, increase visibility and transform legacy complexity.
Read more...
---
Autonomous attendance
September 2019 , Products, Asset Management, EAS, RFID
The SACO RF attendance solution was developed with the focus on driving down costs without compromising functionality and ease of use.
Read more...
---
TAPA EMEA appoints Thorsten Neumann as president and CEO
July 2019, TAPA (Transported Asset Protection Association) , News, Asset Management, EAS, RFID
The Transported Asset Protection Association (TAPA) has appointed Thorsten Neumann as its first full-time president & CEO.
Read more...
---
Active cargo tracking units growth
June 2019 , Asset Management, EAS, RFID, Logistics (Industry)
The number of active tracking devices deployed for cargo loading units including trailers, intermodal containers, rail freight wagons, air cargo containers, cargo boxes and pallets reached 6.1 million world-wide in 2018.
Read more...
---
Local manufacturing from Hissco International
May 2019, Hissco , Editor's Choice, Asset Management, EAS, RFID, News
Hissco International recently announced it has set up a local manufacturing partnership that will supply X-ray equipment to partners around the world.
Read more...
---