printer friendly version
The threat of industrial and commercial espionage
April 2003
Security Services & Risk Management
Industrial and commercial espionage has been in existence for thousands of years, long before the advent of the industrial revolution. However, its importance has increased considerably in the past 50 years or so. This is due to the continuous advancement that has taken place in all fields of technology.
Nowadays, industrial and commercial espionage is heavily dependent on electronics. However, it cannot take place without the involvement of the human element. The reality is that, by having their information overheard, monitored and recorded, companies, organisations and private individuals may sustain serious damage to their economy, presence in the market place and private life.
Understanding the threat
Industrial and commercial espionage can be defined as a predetermined and unauthorised attempt to obtain information, from individuals, companies and organisations that would normally be withheld. Once captured, the information may be used for various purposes, eg, to achieve a competitive advantage, to tender for important contracts, the ultimate goal being to obtain financial gain. However, it is also possible that the individuals in possession of sensitive information resort to blackmail and extortion tactics, which in turn could lead to even more serious types of crime such as kidnapping and murder.
Electronic surveillance 'eavesdropping' implies the use of electronic methods, eg, radio transmitters, video and laser systems and photography, to gain access to various sources of information. This can be done in real or recorded time, directly from the source, be it a business or management meeting, computer hard disk, documentation or telephone conversation.
With modern, low priced and easily available electronic equipment, it is possible, with various degrees of effort, to monitor, listen, record and photograph the inside of companies, offices and boardrooms. The threat to an organisation's information system comes mainly from personnel but also sub-contractors, maintenance staff (eg, dishonest IT, telephone, PABX technical staff and office cleaners) and sales people.
The above individuals can act as paid agents for local or international organisations which may be interested in obtaining information either for their own purposes, or to forward it to other interested parties at a price. Electronic, cyber surveillance and photography are the most common methods of intrusion.
Identifying the targets
The targets of illegal surveillance can be not only companies and organisations, but also individuals who are believed to be in possession of important information.
The information being targeted can adversely affect many vital aspects of a company or organisation's activities including, amongst others:
* Labour union disputes with management.
* New product development and plans.
* Trade secrets.
* Corporate legal problems.
* Negotiating strategies.
* Mergers and/or acquisitions.
* Financial information.
Some foreign governments' agencies are also known to actively target business-related visitors as part of their overall intelligence collection activities.
Information capturing techniques
There are many information-capturing techniques, depending on the type of target being selected. Examples of known techniques are:
* Room monitoring (remotely).
* Tapping (phone, fax lines and data communication).
* Silent break-ins (eg, photography, tampering with computers and copying data).
* Recruiting inside personnel.
* Bribery of individuals/employees.
Electronic surveillance is one of the most common methods of obtaining information. Different devices, from simple to complex ones, can be utilised by agents to penetrate an information system such as, amongst others:
* Listening devices or 'bugs' consisting of transmitters and receivers. The transmitter can be concealed inside plugs, telephones, circuitries and lines, under chairs and tables, whilst the receiver can be placed up to a considerable distance away from the monitored site.
* Some transmitters are also able to transform any telephone into a sensitive 'bug' that will actually pick up all sounds and conversations within a large room, with the telephone remaining on the hook.
* Amplifiers with a parabolic aerial to capture conversations from a considerable distance.
* Cellular phone monitoring.
* Micro-cameras connected via fibre-optic or microwave link.
Eavesdropping transmitters are designed to operate on various frequencies, some of which may be very difficult to detect without the use of sophisticated equipment.
Protecting sensitive information
A basic rule of defence begins with the individuals who happen to be in possession of sensitive information, and can be summed up as follows: 'speak about sensitive issues: (a) only if necessary; (b) only to those people who need to know; (c) in a place where only people who are authorised to listen are present'. Other steps that individuals can take to protect proprietary information are as follows:
* Do not wear clothing with company logos. Avoid using business cards or other items with the organisation's name/logo on the luggage.
* Avoid leaving laptops and briefcases in hotel rooms. Always arrange to have them locked in a safe.
* Avoid using the laptop to access confidential information in a public area.
* Do not use foreign computers, fax machines or telephone to transmit confidential information.
The reality is that the protection of sensitive information is a complex task which implies the implementation of security systems and procedures such as physical and electronic security for the protection of sensitive areas, equipment and documentation, eg, burglar proofing, safes, strong rooms and document lockers, access control systems, biometric identification, intruder detection systems, paper shredders, computer and system passwords and encryption techniques.
An important preventative aspect, which tends to be overlooked by businesses and organisations, is the choice of suitable interior design as a method of counter-surveillance. The layout of office furniture in sensitive areas, eg, executive management and directors' offices and boardrooms should be kept neat and spacious; desks, chairs and cabinets should be simple with smooth surfaces; large plants, pictures and carpets should be avoided. If these recommendations were followed, on the one side, industrial and commercial espionage agents would find it more difficult to hide listening devices and, on the other, counter-surveillance specialists easier to spot them.
In this regard, through the intelligent and expert utilisation of electronic counter surveillance systems, it is possible to counter serious threats to a company's information system, and in such a way, protect information which if captured, could cause very serious damage to many organisational areas such as, amongst others, finance, trade, patents and innovations, personnel and labour matters.
It is therefore important for organisations in need of information protection to rely on the professional assistance of reputable companies involved in the field of counter-surveillance.
Counter-surveillance implies a thorough electronic and physical examination of a sensitive area with the aid of electronic scanning receivers and transmitter locators which are able to identify various frequencies emitted by different bugs.
An in depth physical search of sensitive areas is also necessary in order to localise electronic devices which may have run out of battery life or been remotely switched off.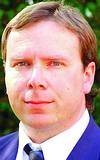 Elio Zannoni
About the author
Elio Zannoni is a criminologist and specialist in crime risk factors and prevention strategies. For further information on how to manage the threat of industrial and commercial espionage effectively, he can be contacted at International Threat Analysis - a division of Corporate Confidential Solutions - on 011 792 3739, fax: 011 791 6352, e-mail: ita@c-c-s.co.za
Further reading:
Industrialisation or imperialism?
Issue 7 2020 , Security Services & Risk Management
4IR has to be a matter of national agenda; national economic and political sovereignty and national security - necessitating commensurate prioritisation.
Read more...
---
PCI DSS can be your PoPIA security blueprint
Issue 6 2020, Galix Group , Security Services & Risk Management
Some of the requirements of PCI DSS can also be used to comply with PoPIA, South Africa's data privacy law.
Read more...
---
Monopoly: AI edition
Issue 6 2020 , Security Services & Risk Management
Due to the inherent nature of artificial intelligence (AI), AI-powered industries naturally tend towards monopolisation.
Read more...
---
eVisa solutions for Botswana
Issue 6 2020 , Security Services & Risk Management
Travelers to Botswana will soon be able to complete visa applications online and ease their entry into the country.
Read more...
---
Three steps to kick-start POPIA compliance
Issue 6 2020 , Security Services & Risk Management
Complying with data privacy, security laws and regulations can be a daunting task for any organisation.
Read more...
---
Digital evidence handling in the cloud
Issue 5 2020 , Security Services & Risk Management
Investigate Xpress is a free, cloud-based digital evidence management solution designed to make police forces more efficient and productive.
Read more...
---
The evolution of security in residential estates
Residential Estate Security Handbook 2020 , Editor's Choice, Integrated Solutions, Security Services & Risk Management
Two large estates discuss their security processes and the ever-expanding scope of responsibilities they need to fulfil.
Read more...
---
Bang for your security buck(s)
Residential Estate Security Handbook 2020, Alwinco , Editor's Choice, Security Services & Risk Management
Hi-Tech Security Solutions asks how estates can maintain a good security posture in the time of the ever-shrinking budget.
Read more...
---
More efficient guarding through the effective use of technology
Residential Estate Security Handbook 2020, Technews Publishing, OnGuard, Stallion Security, Active Track , Security Services & Risk Management
Technology in its many forms can be used to optimise the efficiency and performance of on-site guarding.
Read more...
---
Range of grid-independent power systems
Residential Estate Security Handbook 2020, Specialised Battery Systems , Products, Security Services & Risk Management
SBS Solar has a range of solutions to provide power, save on costs and above all provide peace of mind.
Read more...
---