printer friendly version
The future of technology enhanced human operations
February 2003
CCTV, Surveillance & Remote Monitoring
Increasingly, sophisticated technology has substantially broadened the scope of security and provided the potential for many new security applications. Sometimes the technology has advanced so quickly it has jumped too far ahead of the ability to implement it.
Benefits, however, have come in rapid increases in hi-tech applications in areas such as control rooms, CCTV, X-ray screening, and explosives detection. Sometimes there has been an accompanying belief that this technology will solve any security problems by itself. Indeed, in some cases the hope is that this technology will do away with the need for people altogether. There is, however, an increasing recognition that people are critical to the effective operation of technology. Although the use of technology can often lead to the reduction of manpower (eg, CCTV removing some of the need for physical guarding), inevitably the skill demands on the remaining people increases and their performance becomes even more critical to success of the operation. In various articles I have indicated how things like selection, training, performance monitoring, and management are important in realising the potential of technology systems.
Appropriate ergonomics
There is an increasing recognition that not only can you have the dual emphasis on technology innovation and people, but that enabling people through technology is another important element. Ergonomics has been a key area in this regard, with more and more people becoming aware of the need for an appropriate interface and control room environment that allows people to work comfortably and effectively over sustained periods. Besides addressing health and safety issues, appropriate ergonomics can improve motivation, retention of personnel, and lead to higher levels of ongoing performance and delivery of results. A newer trend is emerging, however, where technology is being developed in such a way that it does not aim at replacing people, but aiding them to work in a more sophisticated way and leverage their skills more.
The development of automated recognition or alarms for complex situations is one of the first areas being looked at. To illustrate how important this is, Matthew Bransby (see footnote*) gives an example of a plant control room that, by design, gave over 150 alarms per minute to an operator for the first 15 minutes of a disturbance. These non-prioritised alarms provide no basis for operator response and, besides creating excessive noise, almost guarantee a sense of panic through operators being overwhelmed by demands. Contrast that with new X-ray screening functions at airports that highlight potential priority threats within bags to the X-ray screener for follow up investigation using a number of different techniques. This approach has the theme of guiding and assisting the screener rather than just providing the information. Similarly, in the case of air traffic controllers, they are alerted to priority conditions with planes that indicate potential dangers in collisions in such a way that they can evaluate a situation and take appropriate action. For some time to come, human operators will remain far better positioned to make effective evaluations of complex dynamic situations involving people than computers. However, computerised processing can make a major contribution in assisting them to this.
In the CCTV area, automated recognition is increasingly becoming an element of operations. While basic detection of presence or movement have been around for a while with video motion detection, increasingly sophisticated computer detection of direction of movement, face recognition, density of people, unusual speed changes, body postures and movement pattern analysis are well into development and close to widescale commercialisation. This could, for example, provide cues for operators doing live surveillance to switch to potential incident conditions not currently shown on any monitor, or provide clips and direction for review and follow-up. Enhanced viewing techniques that aid operators in detecting incident conditions more clearly, or allowing a focus on only relevant aspects of the picture are also close to release. These parallel some of the current X-ray technology where operators can choose what depth and what filter is best for viewing potential suspect articles. In CCTV, this could involve the removal or blanking of non-essential parts of the picture, highlighting only moving elements, and computer memorisation of scenes to allow detection of changes over time.
Attention during observation
Concepts such as tracking the movement and contacts of people automatically using things such as face recognition or electronic monitoring will allow such things as operators being able to follow and study people moving across rooms of a complex. The operator will be able to focus on the key behaviour without having to do continual readjustments such as manual camera switching and view changes. Another area of focus is looking at ensuring personnel maintain attention during observation. Already, X-ray screeners around the world are exposed to electronically simulated guns, knives and explosives that are projected into bags being checked at airports. Not only does it keep screeners highly vigilant and motivated, this kind of technology provides an indirect measure of how well observation is occurring. These projected images also provide a realtime training function and continually reinforce what screeners are looking for. Similar concepts are being applied and researched in the CCTV area and promise similar advantages.
Making technology work for people is a relatively new philosophy in the security industry. On the other hand, a look at places like the US military will demonstrate multiple ways in which technology is being adapted to enhance the way people can perform their duties, from fighter pilots to tank and foot soldiers. Security has produced an amazing set of new technologies to deal with crime and terrorism. In my view, technology enhanced human observation and decision making is going to be one of the key challenges and successes of the next decade.
*People in Control - Human Factors in Control Room Design (2001), Edited by Jan Noyes and Mathew Bransby. The Institution of Electrical Engineers, UK.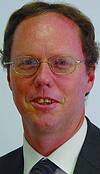 Dr Craig Donald
Dr Craig Donald is an industrial psychologist and specialist in human factors in security and CCTV. He is the co-developer of the Surveillance and Monitoring Assessment Exercise (SAMAE) for the selection and placement of CCTV operators and presenter of the CCTV Surveillance Skills training course. He can be contacted on telephone: 011 787 7811, fax: 011 886 6815, or e-mail: craig.donald@leaderware.com
Further reading:
A step up in safety
Issue 4 2020 , CCTV, Surveillance & Remote Monitoring
With the COVID-19 pandemic, body-worn cameras (BWC) now play an even more important role in safety and accountability than ever before, ensuring a more significant option in the protection of employees.
Read more...
---
Latest Longse thermal technology
Issue 4 2020, LD Africa , CCTV, Surveillance & Remote Monitoring
Longse thermal IP cameras include remote monitoring, a video server and high-definition camera functions.
Read more...
---
LenelS2 enhances VRx VMS
Issue 4 2020, UTC Fire & Security SSA , CCTV, Surveillance & Remote Monitoring
LenelS2 announces enhancements to VRx video management system, uses deep learning and native NetBox ecosystem integration for a unified security management experience.
Read more...
---
Empowering verticals with AI
Issue 4 2020, Dahua Technology South Africa , CCTV, Surveillance & Remote Monitoring
Dahua Technology has released WizMind, a portfolio of project-oriented products delivering AI solutions to verticals including government, retail, energy, finance and transportation.
Read more...
---
Safety and productivity for retailers
Issue 4 2020, Dahua Technology South Africa , CCTV, Surveillance & Remote Monitoring
Dahua Technology launches retail epidemic safety protection solution to enhance store operation safety under COVID-19.
Read more...
---
Non-contact and visual protection measures
Issue 4 2020 , CCTV, Surveillance & Remote Monitoring
Non-contact and visual protection measures to contain the coronavirus – Geutebrück extends its product portfolio by three DSGVO-compliant video solutions.
Read more...
---
Smart is the new black
Issue 4 2020 , CCTV, Surveillance & Remote Monitoring
The idea of 'smart' is becoming a reality in almost every aspect of our business and personal lives, from home security and lifestyle, through to smart buildings and smart working processes.
Read more...
---
Smarter monitoring with AI
Issue 4 2020, Deep Data , CCTV, Surveillance & Remote Monitoring
Deep Data's DeepAlert is changing the security monitoring market (remote and on-site) with deep learning and cloud services.
Read more...
---
Upgrade your current security system with SecuVue
Issue 4 2020, Secutel Technologies , CCTV, Surveillance & Remote Monitoring
Cloud-based analytics can be added to existing CCTV solutions to upgrade the efficacy and value the installation adds.
Read more...
---
Accurate temperature detection with thermal cameras
Issue 4 2020, Dahua Technology South Africa , CCTV, Surveillance & Remote Monitoring
Dahua Technology recently launched two thermal cameras specifically for accurate temperature measurement.
Read more...
---