printer friendly version
How to cope with bomb and other terrorist threats in the mail
February 2003
Access Control & Identity Management
The worldwide increase in terrorist bombings and the recent rash of local incidents raises the question as to how these perpetrators will attack next.
Dramatically increased airport and airline security has significantly reduced the threat of on-board explosive devices but the response to that came with the unsuccessful missile attack on an Israeli aircraft in Mombassa. Note that this threat was not unexpected and at Aldergrove Airport in Northern Ireland for example the perimeter roads have been permanently closed since the early 1970s. Asymmetric attacks are a feature of today's terrorists and prior to 11 September the USA believed that it would be in the form of a chemical or biological strike.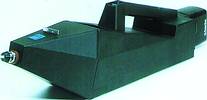 Portable explosives detection system
The clever terrorist will always look for a new way to achieve his evil objectives and in Northern Ireland the IRA targeted the bomb disposal experts by fitting their improvised electronic explosive devices with single and double booby traps. After the loss of several lives the introduction of the bomb disposal robot minimised this threat, although more callous terrorists still use cellphone activated devices that can be remotely detonated on arrival of the first police or army personnel (the answer to this lies in the use of portable jammers). The advent of the robot (also used by the SAPS) reduced deaths and often allowed disruption of the device prior to explosion but the IRA then looked for other ways in which they could target individuals in the police, army or government service. The answer was simple, the postal service and the ubiquitous letter bomb. In its simplest form, using an envelope, such devices usually do not kill, but loss of fingers and hands is commonplace.
The potential threat of the letter/parcel bomb was brought into prominence after 11 September with the spate of letters that appeared containing (mostly harmless) white powder. This resulted in an increased awareness of the need to screen incoming mail and this has been expanded to include government departments, embassies, defence companies, financial organisations and even pharmaceutical companies. It is now generally accepted that simple home made explosive devices can be delivered anonymously to individuals in such organisations and can be used for grudge purposes or by increasingly militant green, anti-animal abuse, anti-military and other lobby groups. The use of such mail delivered to hotels in advance of the arrival of VIP guests is also a concern.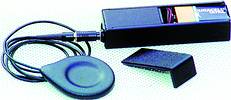 Palm mini metal detector
First precaution
In the mail room the first precaution would be to look for mail with handwritten addresses (and no return address) or from unusual locations. However, many larger companies screen all incoming mail (letters and parcels) using conveyor-type X-ray equipment as found at airports for scanning hand luggage. Unfortunately, although a deterrent, these devices are not infallible as they depend on under-paid operators who might have to screen thousands of objects every day. Such expensive one-by-one screening devices also cause backlogs in the mail room leading to the operators becoming even more perfunctory in their procedures.
Effective screening has to be made much easier and faster with less margin for error. The company Scanna in the UK, which has been in operation for more than 20 years, has developed the Scanmail 10 K for this purpose. The Scanmail is programmed so that it can detect normal mail bomb components such as detonators, batteries etc, but it will not alarm on normal office accessories such as paper clips and staples (British bomb experts determined the alarm threshold and a special test card is supplied to check for correct functioning). The Scanmail will also alarm on all types of weapon, including razor blades (hate mail and possibly contaminated). With its large operating aperture the device can be fed in seconds with bundles of letters or packages up to the size of a normal telephone directory. It provides both an audible and visual alarm. While normally mains powered the unit has an integrated battery with automatic recharge, and this provides up to three hours operation in the event of power failure.
The next question is what do you do when a letter or package sounds an alarm? The obvious thing is again refer to the name of the sender. If it is one of your regular customers it is probably all right but a handwritten address should again be looked on as suspicious. The smaller company may decide to call in the bomb squad if it is suspicious but you will look pretty silly if it is a harmless metallic object such as a key ring, spectacles, a CD, or a hand tool. Scanna also provides an answer to that problem with its Scanmax range of compact X-ray scanners. The suspect object (letter, package or parcel) is placed in the (shielded) inspection chamber (typically just less than half a metre square) and a single button action will produce an X-ray image of the contents on a black and white or colour TV monitor. The preferred colour versions of the Scanmax provide automatic image enhancement, negative or reverse image options with an eight times zoom feature and use of colour to highlight higher density objects. The components of a bomb such as a battery, flying leads and the detonator will be clearly visible.

Scanna letterbomb detector
The advantage of the Scanmax is that the operator is now focused on a single object and is alert. With simple training he will be able to identify the telltale traits of letter bombs, narcotics hidden in boxes or containers, and harmless devices such as video cassettes, pens, keys etc. Skilled operators can also detect the presence in an envelope of powders but it is impossible with just X-ray technology to differentiate between talcum powder and anthrax or other dangerous substances. In this case the advice of police forensics needs to be taken although simple biological detectors are now available on the market (such as the recently released Smiths Bio-see).
If you do detect and identify what looks to be an explosive device then the safest thing is to leave it in the inspection chamber and call the bomb squad. However, remember that letter bombs are made to withstand rough handling by the postal service and detonate only when the trigger mechanism (such as opening the cover of a hollowed out book) is activated. To avoid disruption of mail room services the suspect package or letter could be placed in a container. A number of devices including letter bomb containment bags, bomb suppression blankets and bomb blast inhibitors are available and these minimise the hazard and reduce dangerous fragmentation effects. These containment devices can be used for temporary storage before the arrival of skilled bomb disposal personnel.
All of the devices and systems described in this article can be obtained locally from ECM Technologies or MIT through their principals in the UK, namely Smiths Detection, Scanna, PW Allen and Remotec UK. Some devices require end user certification.
For more information contact ECM Technologies, 012 329 4116 or MIT, 012 348 0569
Further reading:
Access authentication with a wave
May 2019, IDEMIA , Editor's Choice, Access Control & Identity Management, Integrated Solutions, Financial (Industry), Commercial (Industry)
Financial organisations are making the move to contactless fingerprint biometrics in order to meet the increasing burden of regulatory and compliance demands.
Read more...
---
Face to face with Suprema FaceLite
May 2019, Suprema , Editor's Choice, Access Control & Identity Management, News, Products
Suprema has announced the launch of FaceLite, the new generation compact face recognition terminal designed for enterprise access control as well as time and attendance applications.
Read more...
---
ASSA ABLOY showcases latest digital access solutions
May 2019, ASSA ABLOY South Africa , Editor's Choice, Access Control & Identity Management, News
ASSA ABLOY hosted a breakfast at the Country Club Johannesburg in Woodmead on 2 April, to showcase the company's latest and greatest digital access solutions.
Read more...
---
Keyless access control launched in Africa
May 2019, FS-Systems , News, Access Control & Identity Management, Agriculture (Industry)
FS-Systems launches a cutting-edge keyless access control solution for the critical infrastructure environment across the African market.
Read more...
---
Know your customer/criminal
May 2019, ZKTeco , Financial (Industry), Access Control & Identity Management
Biometric facial recognition is becoming the most powerful way to prevent bank robberies and fraud.
Read more...
---
New Paxton audio monitor
May 2019, Paxton Access , Products, Access Control & Identity Management
Paxton has launched the Net2 Entry audio monitor, bringing a simple, cost-effective option to the Net2 Entry range.
Read more...
---
Paxton's global training reaches more installers than ever
May 2019, Paxton Access , News, Access Control & Identity Management
Paxton has trained more than 2000 installers across the world already this year, meaning a record first quarter, and enabling more people than ever to use Paxton products.
Read more...
---
Streamline lunchtime queues
May 2019, Secutel Technologies , Products, Access Control & Identity Management
Secutel, in partnership with Matrix Cosec, offers a one-stop-solution for the management of cafeterias and transactions.
Read more...
---
IP video intercom system
May 2019, Hikvision South Africa , Products, Access Control & Identity Management
Hikvision has released its second-generation IP video intercom system designed for door entry communication including video and security access.
Read more...
---
Identity and access management in the cloud
May 2019 , Access Control & Identity Management
HID Global announced the availability of the new HID Authentication Service, which is part of its cloud identity platform, designed to deliver a suite of trusted identity solutions.
Read more...
---