printer friendly version
Getting to grips with networked CCTV - Part two
December 2002
CCTV, Surveillance & Remote Monitoring
Last month Jeff Berg looked at the tools an engineer needs to handle the installation of network CCTV. This month, as promised, a little bit of network knowledge.
The knowledge
For most people the prospect of dealing with networks, or even learning the basic tricks is perceived as an insurmountable task.
However, things are not as bad as they might seem. You can learn all you need to get by in less than a day. Do not believe me? Read on...
Networks and numbers
When you first brush up against the world of networks you can be overwhelmed by what seems like an avalanche of jargon: addresses, gateways, routers, bandwidths, subnet masks, etc.
Despite the apparent complexity, you can get to grips with this quite quickly, after all you did manage to master the video recorder, did you not?
Let us look at the basic bits and pieces that make the whole thing tick.
The network address
Everyone needs an address, and it is the same with networks and all the devices attached to them; the PCs, the printers, the CCTV video servers, even your laptop when you plug it into a network.

This is a typical PC set-up showing a Network Ether IP address and subnet mask for the network
The address, or to give it its correct name, the Network Ether IP address appears in the format xxx.xxx.xxx.xxx where xxx is a number between 000 and 255.
If we split those four numbers up and called them Country/City/Street/House number, we could say a network is usually defined by the first three, Country/City/Street. Individual house numbers are the addresses where the devices (PCs, printers, video servers) live, and each has a unique address.
Given that when you try to find a home for your video server which house number do you choose? If you choose a house number that is already occupied you can bet there will be trouble from the present owner, so where do you squat?
Fortunately, there are two solutions: the first is to ask the network administrator to allocate you an address, the second is to get your laptop or video server to request an address from the network itself. This will only happen if the network itself has DHCP (dynamic host conversion protocol).
The DHCP facility is a bit like trying to get a house. Your PC/video server arrives in the new neighbourhood, sticks up its hand and says "I do not have anywhere to live - can you help?" The DHCP (estate agent) replies: "Here are the keys to number 55." Job sorted.
Nowadays, most networks are a little more hi-brow and can handle DNS (dynamic name server). More along the lines of "My name is Nigel, can I have a house?" the reply is "Of course Nigel, if anyone calls for you by name, I will send them straight over, no need to know your house number, I will take care of all that."

Typical set-up on a CCTV network video server. The network ether IP address, subnet mask, and gateway are defined for a typical small network
The subnet mask
Once you have established your address, you need to know the range of your network. This range is defined as the subnet mask.
The most common setting for the subnet mask is 255.255.255.000 which defines a range where the first three figures of the network address are fixed and the last figure is variable.
If your network is defined by the numbers 172.126.100.xxx every device on the network will use the same three fixed numbers xxx will be the variable number (between 000 and 255) that leads you to any other device on the network.
If you want to access a number outside your local range you need to visit the big wide world, and the way through to that is via the gateway.
The gateway
Mysterious as it might seem the gateway is just the point of contact to take you to other networks or maybe just to individual remote devices, like CCTV video servers.
Think of it as an off-ramp on the freeway that can take you to other networks. It is also the off-ramp that allows other users to reach your network. You have to know where it is, so it also has an address.
The gateway address follows the same protocol as the network (Ether IP) address. More often it will be given the prime address: xxx.xxx.xxx.001 remember that some networks may have more than one gateway.
In most instances the gateway is a router.
The router
When your PC, or video server needs to contact some device outside your network the router does the job of directing your call and connecting it to the right place.
A router is an intelligent device that takes requests to find other network addresses and connects your request by either a network connection or maybe via a telephone line. The routers that connect via PSTN or ISDN lines are also known as LAN MODEMS. Depending on the size and type it can connect many calls at one time. They need setting up of course, and depending on their size and capability this can take some time and expertise. Fortunately, a network expert will have already done this for you. If not you can experience a learning curve. No small wonder that good network engineers can command a reasonable shilling.
Now when I mentioned that the gateway or router is just like an off-ramp onto a freeway, it was not the whole truth. Networks have to be secure, you just do not want everyone calling by every five minutes. So the router challenges all incoming calls, checking all visitors against a guest list (called a profiles table) passing known visitors to the network and rejecting strangers.
A router is the electronic equivalent of "We know where you live mate," and "You are not coming in here wearing that outfit."
Bandwidth
If you have managed to read this far, it is reward time. In 98% of sales involving CCTV connected to video networks, you will have to face the network administrator.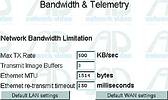 The capability of restricting bandwidth is shown in the above picture. The transmit rate is in kilobytes per second. 600 KBps would be ideal for a LAN (local area network) but should the images be sent across a WAN (wide area network) via a slower link, the transmit rate could be reduced to avoid slowing down other data traffic
You may have a R500 000 contract in your pocket with the customer about to sign up, but if you cannot run the gauntlet of the network administrator it could all go up in smoke.
The main concern is bandwidth, that is the amount of traffic that can be on a network at any one time. The trouble is that video can take up a lot of bandwidth. So the network administrators concern is that all those fancy video images will clog up his precious data flow.
Fortunately, some video servers are capable of limiting their bandwidth usage (sometimes called throttling back) and this feature will ensure you do not hit any problems with the network administrator.
If you are really smart, sell the system to the IT department, after all it is their network that carries the images and saves on physical wiring infrastructure. (Thank heavens, no civils!) Plus most IT departments have budgets 10 or 20 times that allocated to their security section.
The worst thing that can happen is the network admin guy turns round and says: "It cannot work, it is too cheap."
Conclusion
So that is the basics, all you need to confidently attend the annual convention of serious network engineers. Watch out for Part three in the next issue of Hi-Tech Security Solutions.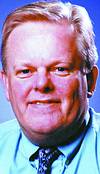 Jeff Berg
About the author:
Jeff Berg is currently technical director of AD Network Video and can be contacted on jberg@ad-networkvideo.com
Further reading:
Drones and cybersecurity?
October 2019 , CCTV, Surveillance & Remote Monitoring
Hacker drones can eavesdrop electronically on conversations, can perform network attacks, or can create fake wireless access points.
Read more...
---
Body-worn cameras transforming security
October 2019 , CCTV, Surveillance & Remote Monitoring, Security Services & Risk Management
Police Service Northern Ireland now has over 7 000 officers using 2 500 cameras covering approximately 173 000 incidents each year.
Read more...
---
Camera Selection Guide 2019
CCTV Handbook 2019 , CCTV, Surveillance & Remote Monitoring
The Camera Selection Guide 2019 includes a range of IP, analogue, thermal and speciality cameras aimed at a broad range of surveillance functions.
Read more...
---
Intelligent analytics and the brains to match
September 2019, Bosch Building Technologies , CCTV, Surveillance & Remote Monitoring, Integrated Solutions
What if the brains behind our security cameras could be trained to improve their cognitive ability to pay attention, learn, and problem-solve according to specific rules and situations?
Read more...
---
AI-powered autonomous Drone-in-a-Box
September 2019 , CCTV, Surveillance & Remote Monitoring, Integrated Solutions
Organisations in the mining, energy and industrial, oil and gas, ports and terminals sectors can optimise security and business operations, whilst reducing risks and operational costs
Read more...
---
Cybersecurity for video surveillance systems
September 2019 , Cyber Security, CCTV, Surveillance & Remote Monitoring
Video surveillance systems are increasingly accessible over any IP network, which has led to the rise of potential cyberattack.
Read more...
---
A platform approach to innovation and value
CCTV Handbook 2019, Technews Publishing , Editor's Choice, CCTV, Surveillance & Remote Monitoring, Integrated Solutions, IT infrastructure
Moving to the platform model of doing business holds tremendous advantages for end users and smaller developers, but also for the whole technology supply chain.
Read more...
---
Back to manufacturer uniformity?
CCTV Handbook 2019, Dallmeier Electronic Southern Africa , CCTV, Surveillance & Remote Monitoring
Decision makers often have to choose between an all-inclusive, complete solution from one manufacturer and the products and services of several different providers.
Read more...
---
Open does not always mean easy integration
CCTV Handbook 2019, VERACITECH, Technews Publishing , Editor's Choice, CCTV, Surveillance & Remote Monitoring, Integrated Solutions
Customers who opt for best-of-breed solutions will have to rely on their integrators to develop customised integrated solutions for them.
Read more...
---
The impact of AI on the surveillance industry
CCTV Handbook 2019, G4S South Africa, Hikvision South Africa, Myertal Tactical Security, Technews Publishing , Editor's Choice, CCTV, Surveillance & Remote Monitoring
What the impact of AI will be on companies, the services and solutions they supply, as well as on the jobs people do.
Read more...
---