printer friendly version
Digital CCTV for Birmingham hospitals
September 2002
CCTV, Surveillance & Remote Monitoring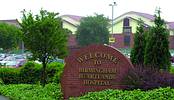 Two of Birmingham's largest hospitals have invested in networked digital CCTV technology in the first phase of a security upgrade.
Both the Heartlands Hospital, a 900-bed acute teaching trust hospital, and the 400-bed Solihull Hospital, lost their existing CCTV coverage in December last year due to system failure. Solihull and Heartlands NHS Trust had been operating a combination of a PC-based digital recorder and a number of traditional analog multiplexers and VCRs. The system was becoming less reliable, so the decision was made to upgrade to a new digital system.
Security consultant, Mike Tolley takes up the story: "The Solihull and Heartlands NHS Trust had won a £396 000 (about R5,9 million) Home Office payout as part of the Crime Reduction Partnership and was already considering ways in which to upgrade and improve security at both hospitals.
"But the shortfalls of the recording system effectively left both hospitals with poor quality security recordings. We had to do something - and do something fast. We did not have time for staff to spend weeks learning another complicated PC operation or for installers to spend days integrating new technology with old.
"This was the rationale behind my recommendation for Digital Sprite from Dedicated Micros. As well as offering a simple plug and play installation, Digital Sprite proved to be a suitable platform for systems integration by providing consistent record performance through its efficient multitasking capabilities."
Two 16-way Digital Sprite multiplexers have been installed by Custom Technology Solutions at Heartlands Hospital, and one Digital Sprite at Solihull, controlling 28 and 14 cameras respectively.
Cameras are located at all exit and entrance points, over car parks and in key internal locations such as the Accident and Emergency wards - often the focus of violent attacks on staff and property.
The new digital capability is supported by 24 hour manned guarding on both sites, whilst images are reviewed at a 24/7 CCTV control centre in Heartlands. As the security lodge at Solihull is not a 24-hour operation, both systems are networked to allow images from Solihull to be accessed by the Heartlands control centre.
System reliability
Dave Smith, security and facilities manager of both hospitals comments: "With the variety of challenges facing hospitals - from threats and violence towards employees to thefts in the car parks - staff and patients alike have to be sure that someone is watching over them at all times. System reliability is obviously critical.
"We have been delighted with the results of the new system. It took minimal time to train our security staff, so we were up and running again very quickly. As we now have fully automated recording, there is no more laborious changing of tapes - and we have added in more control points very cost-effectively."
For evidential purposes, images are downloaded to CD-ROM. A digital signature is applied to all recordings at source for authentication purposes, providing the date, time and identity of the unit recorded on.
According to Tolley, this is the just the first step towards a fully integrated system which will see the system networked with both the town centre management and West Midlands Police.
"We are looking at putting a fibre-optic link up between Heartlands and the local police station at Stechford so that they can view live images of incidents, allowing them to make instant judgements on whether or not a police presence is required. We will also be installing a fibre-optic link between Solihull Hospital and the local authority control room in Solihull town centre."
For more information: Dedicated Micros, 0944 161 727 3200.
Further reading:
Efficient storage for security
Issue 7 2020, Dell EMC , CCTV, Surveillance & Remote Monitoring
There is a dramatic increase in the amount of storage and computing power required to support today's safety and security systems.
Read more...
---
Safe restaurant reopening technology
Issue 7 2020, Dahua Technology South Africa , CCTV, Surveillance & Remote Monitoring
Denmark's Arkaden Food Hall makes use of Dahua People Counting and Flow Control solution for safe reopening.
Read more...
---
Forbatt SA invests in South Africa's security industry
Issue 7 2020, Forbatt SA , CCTV, Surveillance & Remote Monitoring
Forbatt SA is set to offer an improved service to the industry by making sure it has the products and solutions the industry needs, as well as a new showroom.
Read more...
---
Analytics with your existing cameras
Issue 7 2020, Secutel Technologies , CCTV, Surveillance & Remote Monitoring
With SecuVue from Secutel Technologies, it is possible for any business to monitor their offices, warehouses or stores remotely, from any part of the world.
Read more...
---
Consolidating control rooms and service delivery within a COVID-19 environment
Issue 6 2020, Leaderware , CCTV, Surveillance & Remote Monitoring
It is essential to have informed, coordinated and professional responses within control rooms at this time of increasing turmoil.
Read more...
---
Technology driving the healthcare industry
Issue 6 2020, Duxbury Networking , CCTV, Surveillance & Remote Monitoring
Seeing cameras as sensors opens up new possibilities, and each one of them responds to typical demands inside a hospital, clinic or nursing home.
Read more...
---
Turn cameras into traffic sensors
Issue 6 2020, Duxbury Networking , CCTV, Surveillance & Remote Monitoring
Safer communities and cities are achieved through a mixture of technology and human resources, working together in a holistic manner.
Read more...
---
Mobotix thermal technology increases security
Issue 6 2020, Duxbury Networking , CCTV, Surveillance & Remote Monitoring
Installations, machinery, equipment and material available on company premises require effective and cost-efficient protection. In addition, operational safety, optimisation of workflows and protection ...
Read more...
---
Getting a visual on Covid-19 screening
Issue 6 2020, Graphic Image Technologies , CCTV, Surveillance & Remote Monitoring
Should organisations be investing in thermal camera technology to simply contain and limit the spread of the virus?
Read more...
---
Flexible temperature screening options for challenging times
Issue 6 2020, Hikvision South Africa , CCTV, Surveillance & Remote Monitoring
A thermal imaging camera is an effective screening device for detecting individuals with elevated skin temperature. This type of monitoring can provide a rapid screening approach in high-traffic areas.
Read more...
---