printer friendly version
Security solutions for hospitals and health care centres
August 2002
CCTV, Surveillance & Remote Monitoring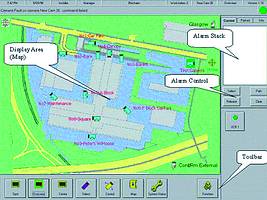 Hospitals, health centres and many other facilities have seen a marked increase in demand for CCTV security applications over the past few years.
Solutions have ranged from simple cameras and monitors to video tape recorders, and more recently towards simple digital recorders to replace the time-lapse video recorders. The problem is that each of these steps require buying a whole new system - a recent example where a client purchased more than 10 digital recorders at a cost in excess of R1 million is proving itself as he wants to upgrade and cannot without removing the recorders bought just on a year ago.
Many will be aware of the ongoing debate between proprietary embedded digital video recorder (DVR) solutions and PC-based DVRs. However, one should bear in mind that when choosing a DVR system it is to your benefit to choose one that supports a nonproprietary format because your recorded information can be viewed by most normal operating systems through media player or similar, even a Mac, Unix or Linux player with the ability to playback avi or other formats. The major advantage of nonproprietary formats is that you are not restricted to a particular brand name and therefore have freedom of choice to choose the best solution for your particular requirements. Where this is most significant is the ability to integrate your DVR into other applications allowing step by step improvements to your security and management solutions as time goes by, instead of having to buy complete new systems.
Building management systems
Hospitals and health centres should consider the complete security system offering the ability to manage access, registration numbers, etc, and still have a full audit trail by incorporating building management systems.
There are a number of building management systems available on the market, of which some are proprietary and some are nonproprietary. A system with the open architecture style allows simple integration of nonproprietary DVRs, as well as many other solutions. One such system presently being utilised in major hospitals is the Pen Control system from Ambis Hi-Tech Security which has the ability to control all facets of a building.
Another development in this field is that Vision Catcher and Ambis Hi-Tech Security have collaborated to provide a readymade integration currently under assessment by a number of the blue chip corporates. Using Vision Catcher's SecureVu VC 2000 DVR and incorporating the Ambis Pen Control Building Management, one can now have captured key recordings or transferred live visuals co-ordinated with open access control software, vehicle recognition, and other services. This means the operator can confirm that the car entering the secure area, has the correct access control information; name, registration number, a picture of the driver, and any other key detail required, enabling the operator to run through a predetermined managed procedure prior to allowing access - all activated from a central control point. This procedure is recorded and a full audit trail and reporting structure can then be produced. This allows a full detailed reporting analysis and predictive assessments to cover likely weak spots or times when more guards might be required on duty.
The future
Modern nonproprietary systems now give you the option of choosing your integration strategies over a number of years. Starting your planning with building management systems and/or with cameras linked to a DVR is just your first step. Being able to integrate your first step with access control, with active tagging, with vehicle recognition, or with any nonproprietary system now puts the control into your hands. Take this one step further, and you could control the hospital stock leaving the premises with bar code reading, etc.
It is important that you are assured that what you are buying will still be supported tomorrow and can be cost effectively and systematically upgraded, enhanced and improved without the frustrations of throwing away costly systems which are not upgradeable. The choice is yours but make it wisely.
Further reading:
Reinventing network camera security
Issue 1 2020, Axis Communications SA , CCTV, Surveillance & Remote Monitoring
Now in its seventh generation and celebrating its 20th anniversary, the Axis ARTPEC chip was launched in 1999 designed to optimise network video.
Read more...
---
Cloud-based fleet and driver management
Issue 1 2020, Graphic Image Technologies , CCTV, Surveillance & Remote Monitoring
Graphic Image Technologies (GIT) has announced the availability of a cloud-based dashcam designed to improve on-the-road behaviour and assist in improving fleet management.
Read more...
---
Cathexis specialises in integration
Issue 1 2020, Cathexis Technologies , CCTV, Surveillance & Remote Monitoring
The integration of multiple systems is intrinsic and essential to the goal of creating an effective and efficient operational environment.
Read more...
---
Do wireless networks meet modern surveillance demands?
Issue 1 2020, Duxbury Networking, RADWIN , CCTV, Surveillance & Remote Monitoring
It is predicted that video will account for 15,1 zettabytes (1 zettabyte = 1 trillion gigabytes) of data annually, which is more than any other IoT application.
Read more...
---
Traffic doesn't have to be this way
Issue 1 2020, Dahua Technology South Africa, Axis Communications SA , CCTV, Surveillance & Remote Monitoring
More effective traffic management is something that would save us all a lot of frustration and wasted time, and it's one of the areas where AI and big data can have a significant impact.
Read more...
---
Dahua launches Hunter Series
Issue 1 2020, Dahua Technology South Africa , CCTV, Surveillance & Remote Monitoring
Dahua launches a new dual-PTZ camera that enables flexible and multi-scene panoramic monitoring.
Read more...
---
8 MP fisheye camera
Issue 1 2020, Dallmeier Electronic Southern Africa , CCTV, Surveillance & Remote Monitoring
Dallmeier's new 8 MP fisheye camera combines AI-supported object classification and H.265 in a compact design.
Read more...
---
Using ANPR to enhance security
Issue 1 2020, Duxbury Networking , CCTV, Surveillance & Remote Monitoring
Deep learning and AI-based algorithms enable ANPR cameras and their associated software to detect and recognise number plates with an extremely high level of accuracy.
Read more...
---
AI supercharges surveillance
Issue 1 2020 , CCTV, Surveillance & Remote Monitoring
The ability to analyse live video through AI techniques means that untapped footage from existing, passive cameras can be used to identify patterns, trends and anomalies.
Read more...
---
IDIS launches new cameras with on-board analytics
Issue 1 2020 , CCTV, Surveillance & Remote Monitoring
IDIS has launched a lineup of Edge VA bullet and dome cameras, featuring on-board analytics that will transform the efficiency of security operations.
Read more...
---