printer friendly version
What is in a password?
August 2002
Access Control & Identity Management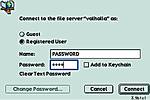 You either love them or hate them, but passwords, user names and PINs are with us to stay. No matter what you do, or who you are, someone somewhere wants you to provide proof, via an unique identifier, that you are who you say you are.
Too often, doing this is not as easy as presenting your passport at emigration control. Indeed, the possible array of numbers, alphanumeric strings, pet names and other character combinations that make up GOOD electronic passwords is far more confusing than your national passport.
There are several simple guidelines to help you choose better passwords. The key ones are:
a. A password should be a minimum of eight characters long.
b. It should include some form of punctuation or digit.
c. Use mixed (upper and lower case) characters, if possible.
d. Do not use a predictable keyboard pattern such as qwertyui.
e. Do not repeat any character more than once in a row like zzzzzzzz.
f. Do not use things that can be easily determined, such as phone numbers and car registrations.
g. Change the password regularly and do not re-use passwords.
h. Do not replace letters with similar looking numbers. For instance, all of the letters i should not be blindly replaced by the digit 1.
(Source: Australian Computer Emergency Response Team)
The use of a poor password may allow someone to fraudulently use your account and possibly use, modify, corrupt or destroy any records that you may be allowed to modify.
Is there a magic bullet that will solve this problem? Many companies spend considerable time and effort to ensure that users do utilise strong passwords and that a good rotation practice is enforced. In these cases, the companies have well documented practices that users must adhere to, as well as a usage policy accepted and endorsed by management.
Are there alternatives?
Two-factor authentication has been with us since we started using ATMs for our cash withdrawals. Two-factor implies something that you have (an ATM card) and something that you know (PIN). Once both these credentials are offered, the bank will provide you with limited access to your assets.
Biometrics are also a good method of authentication (a fingerprint reader, retina scanner, palm print scanner or facial recognition system can be deployed), as they identify you to the central system for who you really are, and not what you carry and know or could have guessed. In the case of a fingerprint reader, mathematically calculated values, unique to the fingerprint, are stored and used for comparison purposes, so these devices are not storing the complete fingerprint. Newer scanners are now capable of determining the heat signature in the finger as well, further enhancing the value that they have.
Wide acceptance of fingerprint scanners are hampered by the misunderstanding of the underlying technology, high cost and low reliability of the scanners as well as the challenges to integrate these systems into existing environments. The high cost of entry for the other biometric systems make them only suitable for deployment in high security complexes such as bank vaults and government facilities.
About the author:
Karel Rode is a senior consultant, Internet Security at Didata in the Western Cape. For more information: Didata, 011 709 1000, bronwyn.goeller@za.didata.com
Further reading:
Managing staff effectively
September 2019, dormakaba South Africa, iPulse Systems , Integrated Solutions, Access Control & Identity Management
Workforce management solutions allow organisations to track the relationship between productivity and the cost of employment, incorporating issues such as health and safety, T&A, rostering and more.
Read more...
---
Hennie Lategan joins Centurion as head of exports
September 2019, Centurion Systems , News, Access Control & Identity Management
Centurion Systems has announced the appointment of Hennie Lategan as the head of the company's exports department.
Read more...
---
New AlproMAX7 secures maximum rating
September 2019 , Access Control & Identity Management, Products
Alpro has launched a new range of ultra-secure mechanical mortice deadlocks, the AlproMAX7 which comply with BS EN 12209.
Read more...
---
ViRDI UBio Tab 5
September 2019 , Access Control & Identity Management, Products
ViRDI Distribution SA (ViRDI Africa) has announced the release of its long-awaited UBio Tablet to the South African market.
Read more...
---
Visitor access control at Ruimsig Country Club
September 2019, Elvey Security Technologies , Access Control & Identity Management, Products
Cost-effective access control solution that would control the ingress and egress of people, without hindering the traffic throughput of members.
Read more...
---
Estate-focused visitor management solution
September 2019, Vox Telecom , Access Control & Identity Management, Residential Estate (Industry)
Vox has expanded its cloud-based visitor management solution to cater specifically for the needs of small multi-dwelling unit estates and large residential estates.
Read more...
---
Biometrics control airport railroad
September 2019, Suprema , Access Control & Identity Management
63 km railroad to Incheon Airport is centrally controlled and secured by Suprema biometric hardware and software.
Read more...
---
Dual energy X-ray inspection system
September 2019, Regal Distributors SA , Products, Access Control & Identity Management
The ZKX6550 X-ray inspection system increases the operator's ability to identify potential threats; the device is designed to scan briefcases, carry-on baggage, small cargo parcels.
Read more...
---
ZKTeco parking barrier
September 2019, Regal Distributors SA , Products, Access Control & Identity Management
The PB3000 parking barrier is an ideal automatic car park barrier for parking lot and security control; it can easily integrate with revenue collection and access control systems.
Read more...
---
ZKTeco automatic bollard
September 2019, Regal Distributors SA , Products, Access Control & Identity Management
The high-quality automatic bollard is used to protect security areas from vehicle intrusion; in case of power failure, the bollard can be lowered manually.
Read more...
---