printer friendly version
Development in fire detection technology
May 2002
Fire & Safety
A fire detector has to be affordable, easy to install, attractive, use a good communications protocol – there are many issues. But above all it must do its basic job – detecting fires – effectively.
There are three basic questions asked:
1. What do we want from a fire detector?
2. What technology is available?
3. What detectors should we use?
Question 1: What do we want from a fire detector?
This is simple. We want to detect fires. We want to avoid unwanted alarms. The objective is to save lives and protect property. Above all, we want to buy time. Time for people to escape and for a fire-fighting response.
Why are people killed in fires?
* Not warned in time to escape fire.
* Cannot see to escape/cannot find the escape route.
* Poisoned by smoke/cannot breathe.
* Burnt.
Remember that we cannot detect a fire directly. We detect the symptoms of a fire - the products of combustion. These are:
* Heat.
* Smoke.
* Gas.
* Radiation.
Fires are not universal. They start in different ways with different fuels, and therefore produce combustion products in differing ways.
Typical fires are: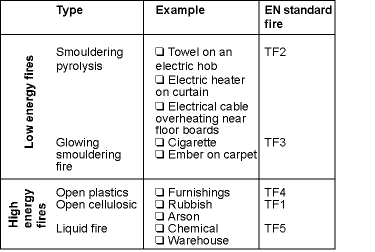 It is important to note that fires will contain a number of features and will develop - if allowed - from one type to another. Typically, a fire will either start as a low energy fire - smouldering in some way - with the risk of developing into a high-energy fire. Alternatively, if conditions - fuel or air - are right, it may quickly or instantly be a high-energy fire. There are endless variables. Current thinking uses a number of well-defined, repeatable fire simulations. In Europe these are 'TF1-TF5' test fires. They are an approximation of real life and not perfect. They represent certain stages of a developing fire or certain typical conditions.
The products of combustion of each fire type can be characterised as follows: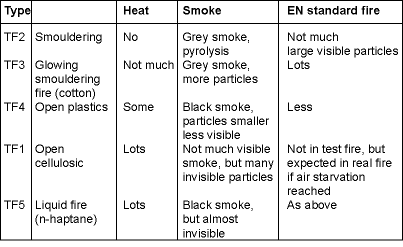 At the same time, it is worth similar products from other sources: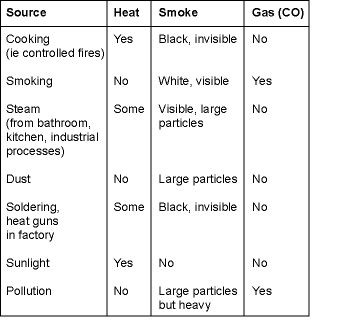 It is important to remember that a detector makes a decision on whether there is a fire or not, typically every 10 s. This means that the detector design process is one involving some compromise. To meet European (EN) standards, we must react to the test fires in a given time. If a detector is to achieve this for all fire tests, then its sensitivity setting is governed by the most difficult test for that detector type. The result is that for fire types for which it is already sensitive, its sensitivity will be increased which can give rise to problems of unwanted alarms.
For example, a detector that works by counting smoke particles regardless of size reacts well to moderate-to-high energy fires. For example, if your television set caught fire, it would produce plenty of smoke particles and the detector would pick this up easily. Even clean burning fires, such as waste paper or wood, which do not produce much visible smoke, do produce lots of invisible particles and will be detected by an ionisation detector.
However, smouldering fires - such as from electric heaters scorching wood or cloth, or a cigarette on upholstery - produce big, visible smoke particles. In order to respond to these types of fire, the sensitivity of an ionisation detector is increased. The compromise is that this makes this type of detector more sensitive than other sources of large numbers of invisible particles, for example, cooking.
Are you wondering how we can make detectors with an acceptable performance given these conflicts? We will review next how modern design makes the compromise quite acceptable. But let us first review some conclusions about what we want from fire detectors:
* Save lives, buy time.
* Respond to the wide range of fire types that can occur.
* Meet the requirements of defined fire tests that help predict detector performance.
Do not forget the point about products of combustion reaching the detector. Guidelines on locating detectors are as important as the performance of the detectors themselves.
Question 2: What technology is available?

From this we can summarise the agenda for point detector development engineers: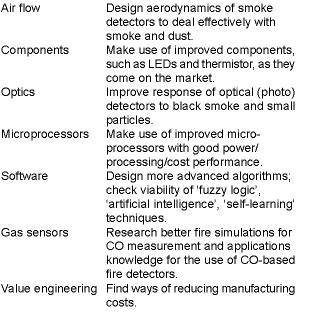 Further reading:
Fire Beam Xtra covers up to 160 metres
October 2019, Technoswitch , Products, Fire & Safety
The Fire Beam overcomes traditional beam detection challenges where building movement and accessibility made beam detection unreliable and laborious to commission and maintain.
Read more...
---
Emergency voice communication system
October 2019, Technoswitch , Products, Fire & Safety
The Technoswitch Emergency Voice Communication Systems concept offers fire telephone and disabled refuge systems, as well as integrating emergency assist alarm systems in a single solution.
Read more...
---
Fast detection of smoke and flames
October 2019, Bosch Building Technologies , Editor's Choice, CCTV, Surveillance & Remote Monitoring, Fire & Safety
Video-based fire detection AVIOTEC from Bosch has been optimised for tunnels to provide early and reliable detection of smoke and flames in these dark environments.
Read more...
---
Choosing the right fire detection system
August 2019, FDIA (Fire Detection Installers Association) , Fire & Safety
Charles Thiong'o from the FDIA highlights important factors to consider when choosing a fire detection system.
Read more...
---
Local security technology manufacturer
August 2019, Technoswitch , Fire & Safety
Technoswitch, a South-African manufacturer, importer and distributor of fire detection and suppression equipment turned 45 this year.
Read more...
---
Fire detection and suppression for server cabinets
August 2019, Technoswitch , Fire & Safety
The TEC601, designed and manufactured by Technoswitch, is an all-in-one fire and extinguishing rack-mountable control system designed to protect electronic equipment in 19-inch server room cabinets.
Read more...
---
ORYX conventional fire panel range
August 2019, Technoswitch , Fire & Safety
The ORYX range of conventional panels from Technoswitch offers 2, 4 and 8 zone options, including weatherproof versions (with or without DIN rail) specifically suited to industrial applications.
Read more...
---
Next generation BlazeCut T-series
August 2019, Technoswitch , Fire & Safety
Designed to protect small enclosed spaces with greater risk of fire, the BlazeCut T-series system is easy to install.
Read more...
---
Emergency lighting and fire detection combination
August 2019 , Fire & Safety, Products
Hochiki Europe has launched FIREscape+, a system which combines emergency lighting, fire detection and wayfinding technology.
Read more...
---
Introducing Gulf Security Technology
August 2019, UTC Fire & Security SSA , Fire & Safety
Gulf Security Technology manufactures more than 16 million detectors and modules and more than 120 thousand control panels per year, making it one of the largest fire detection manufacturers in the world.
Read more...
---