printer friendly version
Interoperability: the future is using gateways
May 2002
Integrated Solutions
Building automation systems have been evolving over the past 25 years from the mixture of pneumatic controls, relays, sensors and actuators of the past to the direct digital controls of the present. Many manufacturers had developed their own protocol to enable their own devices to communicate with each other.
In many buildings interoperability sometimes would mean that the front-end controls for the various systems in the building all terminated in the same room. It was up to the facility manager to study each unique control system to learn what was going on in the building.
Communications challenges in building automation today are:
* Various systems in a building must communicate with each other or to a common control system.
* No common protocol in the industry.
* No single hardware supplier can provide devices for all factory functions.
* Real world is not a controller speaking only to a chain of slave devices.
* Data must be accessible at different points for different uses.
The various control systems in a plant or building can no longer afford to operate independently. Reduced manpower, increased energy costs, increased security needs and enhanced personnel demands means that the building systems must work together to provide the optimum environment for the people and equipment within the structure. For instance, in the case of a fire or smoke alarm, it might be important to know who had access to the area, what equipment is currently operating in the area, and whether or not safety systems are activated. If there are hazardous gases in the area, it would be prudent to know what gases are flowing and that they have been remotely shut off. Also, adjustment of the ventilation system in the affected area and the adjacent areas can reduce smoke damage costs. None of these ancillary features are mandatory features for the containment and suppression of the fire, but are important features in the operation and safety of the building.
Thus, there are many reasons for interoperability of building control systems, including:
* Reduced installation costs.
* Enhanced energy management.
* Improvement of safety and security of plant, personnel and equipment.
* Single-seat user interface.
How does the integrator get these various devices to be interoperable? It would be nice if all devices used a common communication protocol, but reality is that with the large number of legacy devices worldwide, plus the many different protocols available today, a single common protocol is not usually a choice. Also, for most devices there is usually only one protocol output available. A gateway system as illustrated in Figure 1 can seamlessly integrate systems together.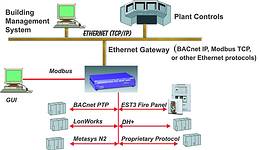 Figure 1
One such gateway that is widely used in the building automation industry is the EST Gateway. The basic idea of the Gateway is that it is a bridge between two or more different devices. These two devices can be using the same protocol or different protocols, or even different communication busses. As the data is fetched from a server node by the EST Gateway, it is stored in a data array at a specified location. The data is then accessible by a client node at any time.
The use of the EST Gateway means that all information available through a device communications port is now accessible by the building automation system. As an example, Figure 1, shows the wide range of information available from an EST3 fire panel from Edwards Systems Technology.
Interoperability is no longer a dream of the future, it is here today. While it is not simply plug and play, it will meet the integrator's need to share data between devices and enjoy unified control. Legacy systems do not need to be left out of an integrated Ethernet based system. Using gateways enables the integrator to bring in legacy devices and enable interoperability between diverse systems. The owner can select the system and device that meets their specific need and not worry about integration by using a gateway to link devices together.
Further reading:
Hikvision unveils range of network speakers
Hikvision South Africa Integrated Solutions
Hikvision has recently unveiled its latest audio product line, featuring various advanced network speakers. Each product is designed to meet different application needs, ensuring flexibility and adaptability across numerous environments.
Read more...
---
HDR multi-camera solution for autonomous mobility
IoT & Automation Integrated Solutions
e-con Systems has launched the STURDeCAM31, a small form factor camera that has been engineered to make autonomous mobility safer by ensuring reliable and superior imaging quality even in challenging outdoor lighting conditions.
Read more...
---
Integrating control rooms and response
WatchManager Integrated Solutions Residential Estate (Industry)
Control rooms have become a standard in large estates, and remote control rooms are finding a home even in smaller estates due to cost efficiencies and the increasing reliability of analytics and artificial intelligence.
Read more...
---
The difference between a SOP and a SOP
Residential Estate (Industry) Integrated Solutions Security Services & Risk Management Risk Management & Resilience
SOPs are a touchy issue that need careful attention and automation to ensure they deliver the desired security results. Beyond design and automation, implementation is the ultimate road to success.
Read more...
---
The benefits of centralised management
Gallagher Integrated Solutions Products & Solutions
Integrating multiple services within one central operating platform allows for fast, effective responses to any security event; it also enables operators to efficiently manage other estate operations from one platform.
Read more...
---
Ensuring peace of mind
Fang Fences & Guards Editor's Choice Integrated Solutions Residential Estate (Industry)
With the rapid advance of technology and artificial intelligence, electronic security systems are not only extremely reliable in safeguarding properties, but a well-designed, implemented and maintained system will prevent crimes before they can happen.
Read more...
---
A comprehensive approach to estate security
ZKTeco Integrated Solutions Access Control & Identity Management
While many residents in gated estates feel secure due to the array of security measures in place, a key challenge is the lack of comprehensive situational awareness of security systems.
Read more...
---
Stadium security with Panomera
Editor's Choice Surveillance Integrated Solutions Entertainment and Hospitality (Industry)
To be able to better identify and track perpetrators and thus reduce financial and non-material damage in a soccer stadium, the operator opted for a video security solution from Dallmeier.
Read more...
---
Plan to use AI? Get your data ready
Integrated Solutions Infrastructure
Artificial Intelligence (AI) is often perceived as an intelligent system that can handle any task. However, this notion crumbles when the AI is given poorly formatted or incorrect data. You cannot simply provide a few spreadsheets or databases to AI and expect it to work flawlessly.
Read more...
---
Smart water management
Axis Communications SA Surveillance Integrated Solutions
South Africa is currently facing a water crisis, with scarcity and inefficient water management posing significant challenges to sustainable, consistent access to water. Smart technology and powerful partnerships may offer a proactive solution to SA's water crisis.
Read more...
---