printer friendly version
Matrix vehicle tracking - providing a total solution
November 2001
Asset Management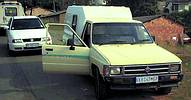 Vehicle hijacking and theft continues to be a great source of concern for many. The vehicle tracking company plays an important role in tracking and recovering these vehicles, often within a very short space of time.
With its technologically advanced recovery systems, Matrix has ensured that they boast a high success rate in terms of recovery of stolen and hijacked vehicles. In addition, Matrix Vehicle Tracking was one of the first vehicle security companies to qualify for VESA approval, ensuring that its services and equipment meet the highest standards regarding the reliability of products and maintaining standards in order to serve the needs of its customers.
Wide range of products
Matrix Vehicle Tracking has a substantial range of products and services particularly suited to protecting vehicles, all of which offer state-of-the art features and functionality. In addition, these products make use of a combined global positioning satellite (GPS), and GSM (cellular) network technology in their products, providing value outside of the traditional security arena.
Some of the more popular products in the Matrix Vehicle Tracking range are:
* MX2: The MX2 is a vehicle tracking and recovery system that has self-testing capabilities to allow the vehicle unit to report back to the Matrix Control Centre periodically to provide peace of mind in terms of the operational status of the unit. With MX2 fleet management, the customer has the option to monitor his own fleet or alternatively monitoring requirements can be given to Matrix in order to manage the fleet on its behalf.
* MX3: The system utilises global positioning (GPS) and the GSM cellular network to calculate positions and then to transmit SMS messages to the client and Matrix. It is a fleet management and recovery system.
The system can be programmed to report back additional emergencies, for example of one option, if a trailer is unhitched it would flag as a panic in the Matrix control centre. The MX3 also incorporates a proven recovery beacon which allows Matrix recovery teams to pinpoint the location from both ground and air.
* FMC 200: This was primarily developed as a high-level fleet management system with voice communication facilities, but it can also be utilised as a vehicle recovery system. The FMC 200 unit has the ability to report status change on certain functions, to the client basestation and to Matrix on a priority basis.
Web-based tracking system
This system is linked to the MX2 and MX3 units - customers can locate their vehicle anytime around the country via an Internet connection. This can be viewed live, on the Matrix website - www.matrix.co.za. To track a vehicle on the site, the subscriber needs to provide a user name and a password. In turn, the unit reports to the Matrix control room to make a connection to the Internet. The vehicle can be tracked over its last five or 10 destinations. This system is best suited to regular monitoring of fleet or family members.
"In a country plagued by hijackings and car theft, Matrix Vehicle Tracking is proud of the success it has achieved towards providing highly effective products and services to vehicle owners. We will continue to add value to our products so that we can become known as the benchmark for the market", concludes Keith Heggie, Marketing Manager of Matrix Vehicle Tracking.
For further details contact Matrix Vehicle Tracking on tel: (011) 654 8600, fax: (011) 654 8018, e-mail: keithh@matrix.co.za
Further reading:
Simplify AARTO compliance for fleets
Guardian Eye IoT & Automation Asset Management Transport (Industry) Logistics (Industry)
While there are challenges around the management and implementation of the AARTO Amendment Act, there are also benefits that need to be understood today to ensure compliance and value tomorrow.
Read more...
---
Logistics operators stand up to safety challenges
Logistics (Industry) Asset Management Transport (Industry)
The second annual Webfleet Road Safety Report for 2023 outlines common safety factors, challenges and solutions that South African transport operators face; deteriorating roads, poor vehicle maintenance, congestion and driver fatigue are common challenges.
Read more...
---
People screening goes mobile
Xscann Technologies News & Events Asset Management
Xscann Technologies has delivered a new mobile solution with added value for people screening. This turnkey solution requires no civil works as it is an all-in-one complete body scanning solution built in a shipping container.
Read more...
---
Securing road transport across Africa
Technews Publishing Editor's Choice Asset Management Transport (Industry) Logistics (Industry) Risk Management & Resilience
SMART Security Solutions spoke to Filipe de Almeida, the Portugal & Spain Regional TAPA EMEA Lead, and Massimo Carelle, the TAPA EMEA Africa Region Lead, about securing transport and logistics in hostile environments.
Read more...
---
Electronic Document Centre uses Synology
Infrastructure Asset Management
Electronic Document Centre (EDC), a semi-government company operating under Emirates Post Group, opted for Synology to streamline its data management infrastructure. This decision has led to improved operational efficiency and enhanced collaboration.
Read more...
---
Telematics help protect SA trucks against expanding risks
Logistics (Industry) Asset Management
South Africa's road freight transport sector currently accounts for about 85% of all goods transported in the country and is growing rapidly annually. "To ensure that goods are delivered safely, promptly, and affordably is a challenge," says Justin Manson of Webfleet.
Read more...
---
The right security solution removes the opportunity
Asset Management Retail (Industry)
South African retailers are facing a multitude of challenges, including economic fluctuations, changing consumer behaviour, increased competition, supply chain disruptions, regulatory changes and the need to adapt to digital transformation, not to mention theft.
Read more...
---
Tips for successful fleet management
Asset Management Transport (Industry)
Fleet Domain, part of the Argility Technology Group, has announced best practices aimed at reducing fleet management costs and delivering a successful fleet management programme.
Read more...
---
Château Gâteaux optimises delivery process through MultiTRAX
Asset Management Logistics (Industry)
With twenty outlets and still growing, Château Gâteaux has implemented an Argility solution in its primary locations to streamline deliveries and allow customers to track their delivery in real time.
Read more...
---
Making cash management more intelligent
Deposita Retail (Industry) Asset Management Products & Solutions
By using state of the art SaaS cash and payment management solutions, keeping a close eye on the situation is a breeze. In fact, it'll save you loads of stress, time, and overhead costs.
Read more...
---