printer friendly version
The cost of talking
November 2001
Infrastructure
Organisations worldwide are implementing drastic cost-saving measures, such as pay and staff cuts, to counteract the current global economic slump.
However, many still overlook one of the more costly areas within their operations: communications. A common problem is that of using mobile phones when relatively inexpensive two-way radio technology can be substituted
According to Nik Patel, Business Manager for Motorola CGISS Middle East and Africa, many companies are ringing up unnecessarily high communications bills because they view two-way radio as an antiquated technology that lacks functionality and has no place in today's hi-tech world. To prove this point, Motorola commissioned a survey by BMI-TechKnowledge to investigate the levels of awareness and identify the cost of talking among some large industry players.
"Of the 20 nonuser companies interviewed, only a third had done a cost comparison between two-way radio and cellular telephony. The number of cellular phones per company averaged 151," remarks Patel. "If you then look at the average monthly cellular costs, it amounts to R71 130 per company (an average cost of R470 per user). Compare this to the companies using two-way radios (where the average number of two-way radios was 529 per company) that had an average monthly cost of R47 000, which works out to R89 per user per month."
Referring to the tables, we see that Company R (Table 1), for example, has 500 cellphone users and pays an average of R250 000 per month. Company G (Table 2) has 500 two-way radio users and pays R1250, thus saving R248 750 per month.
Company O (Table 1) has 100 cellphone users, which costs R25 000 on average each month. Compared to Company H (Table 2), which has 100 two-way radio users and pays an average of R1000 per month, Company O pays an additional R24 000 each month. So, the more users you have, the greater the saving with two-way radio technology.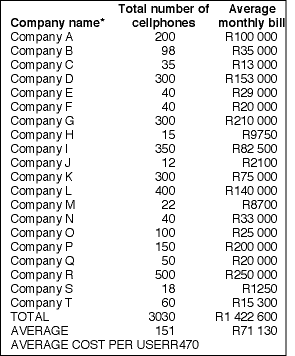 Table 1. Nonusers of two-way radio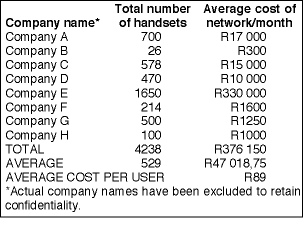 Table 2. Two-way radio users
The reason two-way radio is such a cost-effective communication tool is the fact that users pay a once-off fee for setting up the network, which can include base stations, repeaters, accessories and handsets.
After this, they only pay an annual licence fee which depends on the number of frequencies used, repeater sites and number of handsets. So while the initial outlay may be higher than that for cellphones, the real saving comes from the absence of monthly call charges. Two-way radio users do not pay for the cost of a call, whereas cellular users pay a monthly contract fee and a fixed rate per unit per call."
While two-way radios do limit communications to pre-determined talk groups, and therefore do not allow users access to people who are not on the network, they are the ideal communications technology for group communication on site. Unlike cellular phones, the average range of a two-way radio is 2 km for a portable and 20 km for a mobile radio operating on line-of-site. However, this can be extended significantly using repeaters to create a local area network.
"We are not advocating the replacement of all cellular phones with two-way radios because they are two very specific technologies," says Patel. "We are saying that in certain environments two-way radios are a more effective, efficient and economical alternative.
"With features such as emergency signalling that sends a help signal to a pre-defined person or group of people; a lone worker function, which causes the radio to enter emergency mode if the user fails to respond to a warning signal; alphanumeric phonebooks, call forward, voice messaging and missed call alerts, the two-way radios available today have far more functionality than their cumbersome predecessors," he concludes.
For further details contact Nik Patel, Business Manager, Motorola CGISS on tel: (011) 800 7800.
Further reading:
Cloud platform for cyber resilience in the hybrid enterprise
Infrastructure
The Commvault Cloud brings together data protection, security, intelligence, and recovery on one platform, offering AI capabilities to defeat cyber threats, and includes integration with Microsoft Azure OpenAI Service.
Read more...
---
Rapid rise in DNS attacks drives demand for new approach
Infrastructure Risk Management & Resilience
As ransomware grows more sophisticated and DNS attacks become more frequent, businesses are increasingly trying to protect themselves by adopting innovative approaches and technologies to bolster the integrity and security of their backup systems.
Read more...
---
Majority of South African companies concerned about cloud security
Information Security Infrastructure
Global and local businesses share a common concern when it comes to cloud security. 95% of global businesses and 89% of local businesses are concerned about the security of public clouds.
Read more...
---
Consolidated cybersecurity management
Technews Publishing Editor's Choice Information Security Infrastructure
SMART Security Solutions spoke to Gareth Redelinghuys, Country Managing Director, African Cluster at Trend Micro, to find out what makes Trend stand out from the crowd and also its latest market offerings.
Read more...
---
Access to data centre secured
Suprema Access Control & Identity Management Infrastructure
GBM required a modern access control system to increase the security of its facilities in a productive environment without affecting the operation of the offices and the data centre, which are carried out 24/7/365.
Read more...
---
Africa's growth lies on shoulders of renewable energy
News & Events Infrastructure
The Africa Tech Festival from 13 to 16 November in Cape Town will unpack the challenges and discuss the pivotal role of sustainability & renewable energy in advancing technological development in Africa.
Read more...
---
Commvault appoints Graham Brown as Channel Manager for South Africa/SADC
News & Events Infrastructure
Commvault announced the appointment of industry veteran Graham Brown as Channel Manager for the South Africa/South African Development Community (SADC) region.
Read more...
---
Five considerations when using AI
AI & Data Analytics Infrastructure
Helm CEO, Dawood Patel, offers readers some insights and principles that should be considered by any organisation thinking about implementing an AI solution to leverage its power to shape a better future.
Read more...
---
Does your data hygiene pass the cleanliness test?
Information Security Infrastructure
In today's data-driven world, where every click, swipe and tap generates a trail of data, the safeguarding of information is paramount. It's no longer a case of paying a ransom, but rather defending against attacks by maintaining the hygiene of data.
Read more...
---
The complexity of data sovereignty in a multi-polar world
Infrastructure
The importance of data sovereignty and security creates complexity in a world where sharing such information across borders generates huge social and economic benefits, says Andrew Cruise, Managing Director of Routed.
Read more...
---