printer friendly version
Linking risk management with supply chain management efficiency
July 2001
Security Services & Risk Management
The multidimensional trading environment of today demands complex and comprehensive controls to manage customer service, facilitate cost-effective and reliable supply chains, to ensure product quality and to simultaneously maintain risk within acceptable parameters.
Today, risk management enables organisations not only to control risk, but to leverage the risk management infrastructure to enhance other business areas of competence. These would include supply chain management (procurement, production planning, warehousing, inventory management and transport management), product quality management and financial management.
Understanding risk management
A risk management platform covers an organisation's physical and technical infrastructure, and the policies and procedures needed to understand, record, manage and monitor the different aspects of organisational risk. Organisational risks include:
* Market risk - changes in market forces that may impact on the organisation's ability to operate a profitable business.
* Operational risk - the exposure created by deficiencies in information systems, business processes and controls within organisations and between trading partners.
* Credit risk - the risk of not getting paid by customers, resulting in bad debt;
* Liquidity risk - the risk of not being able to fulfil obligations to creditors and other stakeholders due to cash flow constraints;
* Legal/compliance risks - the inability to comply to regulatory or other industry legislation;
* Quality risk - the risk of nonconformance to global, regional, national or organisation-specific quality standards that may compromise customer satisfaction and result in legal action against the organisation.
The supply chain supports the trading between various players in the life cycle of a product, integrating the operations of raw material suppliers, manufacturers, wholesale operations, logistics service providers and finally retailers and their customers. Throughout the supply chain, there are significant operational risks within and between organisations. These risks are:
* Transaction processing - integrity of financial and operational systems data and information.
* Information flow - integrity of information passed between trading partners on paper delivery notes and invoices.
* Business processes - clear definition, understanding and conformance to inter-organisational business processes that govern a healthy trading environment.
* Outsourced services - integrity of services provided by sub-contractors or outsourced solution providers.
* Shop floor/inventory and transport management - damage to goods, shrinkage and theft throughout various parts of the supply chain.
The implementation of a physical security infrastructure in the form of access control, closed circuit television (CCTV), transponder technology and security guards, supported by intelligent software and operational processes, forms an information base essential to effective supply chain management.
Making the supply chain link
The evolution of security products from large electronic article surveillance (EAS), CCTV facilities to radio frequency identification (RFID) or the intelligent tags of today, opens a complete new world for supply chain managers. As in the security industry, the capabilities and applications of information technology systems have exploded through the development of sophisticated hardware, networking, database technology and integration software. The potential synergy between security and information technology infrastructures is enormous.
Figure 1 depicts how the security infrastructure collects and processes information related to the physical movement and different states of people, assets and products throughout the supply chain. This information layer becomes the basis for all other transaction processing as it provides the control and audit trail needed to confirm the different states and movements of a product throughout its life cycle. This data and information can be translated and used by supply chain systems within and between organisations for inventory management, dispatch, tracking, receiving and quality control of merchandise. This is also the source of key performance indicators such as on time and complete orders, delivery schedule adherence and loss control.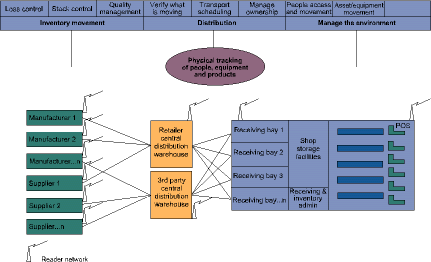 Figure 1. Physical security in the retail supply chain context
By default, the high level of transaction processing integrity facilitated by the security information layer then supports the integrity of financial transactions in the operational or Enterprise Resource Planning (ERP) systems deployed by most organisations.
Conclusion
Through the deployment of a process control solution, incorporating security and information technology infrastructure, an organisation can control what is happening on the shop floor and between organisations, in the process generating valuable information. The information technology platform creates the intelligence and integration capabilities to leverage this information into supply chain and financial systems, providing a level of transaction, information system and business process integrity that significantly reduces the risk profile of any supply chain.
For more details contact: Fanie Becker, DNA i Chains on tel: (011) 802 7424/082 563 3543, e-mail: fanie.becker@dnasc.com
Further reading:
Social media and intelligence-led surveillance
July 2019, Leaderware , Editor's Choice, Integrated Solutions, Security Services & Risk Management
Social media has become a major feature of most people's lives in the last few years and they can be invaluable as a source of information for companies and security organisations.
Read more...
---
The 4th Industrial Revolution
July 2019, Wolfpack Information Risk , Editor's Choice, Cyber Security, Security Services & Risk Management, Industrial (Industry)
Most major industries have turned to and are reliant on technology to run their operations. This is a time of great promise, but also one of frightening peril.
Read more...
---
Fake videos not threat to courtroom evidence
July 2019 , Security Services & Risk Management
The Washington Post recently reported top AI researchers are "racing to defuse an extraordinary political weapon: computer-generated fake videos that could undermine candidates and mislead voters".
Read more...
---
Fear of the unknown
July 2019, Kaspersky Lab , Cyber Security, Security Services & Risk Management
Fear of the unknown: while there's still interest in cryptocurrencies, just 19% locally understand how they work.
Read more...
---
Leveraging on Africa
July 2019, Managed Integrity Evaluation , Security Services & Risk Management
The purpose of cross-border expansion is to not only ensure sustainable growth and business viability, but also the ability to mitigate growing market risk and uncertainties across the globe.
Read more...
---
Assess business resilience in terms of value
July 2019, ContinuitySA , Security Services & Risk Management
Looking at the total value of the investment (VOI) is a far better way of assessing the worth of an in-vestment with many intangible benefits.
Read more...
---
Social media and background checks
July 2019, Managed Integrity Evaluation , Security Services & Risk Management
Social media screening and online checks can provide many benefits to a hiring employer; however, such screening should not be carried out in isolation.
Read more...
---
Johnson Controls launches Technology Contracting in Africa
July 2019, Johnson Controls , Editor's Choice, News, Security Services & Risk Management
To address the growing challenge of planning, integrating and maintaining a multitude of different, highly connected systems, Johnson Controls is launching Technology Contracting in Africa.
Read more...
---
A new method for data destruction
July 2019 , News, Security Services & Risk Management
Xperien is now able to professionally erase data on retired IT assets in compliance with the Protection of Personal Information Act (PoPIA).
Read more...
---
Automated contraband detection
July 2019 , Security Services & Risk Management, Transport (Industry)
Today's X-ray screening solutions have been updated with auto-detection capabilities that will raise an alert if a weapon or even small quantities of explosives and toxic materials are detected.
Read more...
---