printer friendly version
Now look here!
February 2019 Editor's Choice, IT infrastructure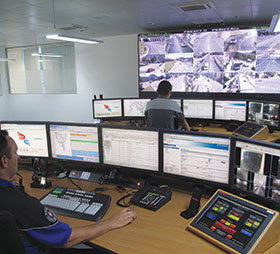 It may be tempting to cut costs by using residential monitors for a security control room setup. How wise is this decision? Hi-Tech Security Solutions spoke to industry specialists about the features to look for in order to achieve optimum user friendliness, accuracy and longevity.
It may be tempting to cut costs by using residential monitors for a security control room setup. How wise is this decision? Hi-Tech Security Solutions spoke to industry specialists about the features to look for in order to achieve optimum user friendliness, accuracy and longevity.
Max De Sousa from Pentagon says that unfortunately most system integrators and consulting engineers do not understand the benefit of using surveillance-grade monitors due to a lack of adequate knowledge sharing on the advantages of using decent monitors over residential-grade TVs.
"TVs are obviously a lot cheaper but they are designed to run for approximately 4 – 6 hours a day, whereas the commercial grade monitors are designed for 24-hour continuous use. Surveillance grade monitors are designed to reproduce accurate 'scene to screen' colours, contrast, brightness and motion, whereas TVs are designed for movie/theatre synthetic colour reproduction."
Pentagon offers the AG Neovo and PVision range of commercial/surveillance grade monitors and low-bezel video wall monitors. De Sousa explains that these LED and LCD monitors are designed to represent scene accuracy in any control room application with any resolution of camera.
"We typically recommend and specify LED panels as they offer better backlight control, colour representation, lower power consumption and lower heat generation/dissipation. The AG Neovo F-series monitors also include a range of adjustable mounting brackets that assist in designing a proper ergonomic control room. The bezel design of these commercial grade/surveillance monitors has not changed in over 10 years. This ensures that your control room aesthetics remain consistent as monitors are added or changed on the video walls," he adds.
Display rating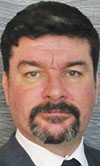 Darren Cox from Questek.
Darren Cox of Questek says that it is important to consider the rating of the display monitor and to align oneself with a manufacturer or supplier who has a record of supplying monitors into security control rooms.
In creating video walls that perform efficiently, three technologies are typically considered – LCD, DLP and a new entry into the market Direct LED. Surface mount device (SMD) technology has now made it possible to have finer pixel pitches in direct LED and this is starting to become a more viable contender in this market.
LCD video wall technology comprises a thin bezel LCD, normally with loop-through capability. The monitors are then linked together to form one continuous video wall. LCD is typically used in environments where cost is an issue. DLP (digital light processing), also known as rear screen projection, comprises LED lit as well as laser-based options, the latter being the latest generation.
DLP is typically used in very high-end professional applications with usage of 10 years or more. It has a number of advantages over LCD in that it is modular in design, upgradeable, does not suffer from burn-in and is seamless. Direct LED is not quite at the same level as DLP in terms of pixel pitch but is being used in environments where there is not a lot of detail and the operator is based a few metres away.
The casing of LCDs has a higher IP rating for use in industrial environments in terms of dust and heat. This rating will provide an indication of how a monitor will be able to dissipate heat over extended periods of time. Cox says that the pixel density is important, as the higher it is, the better the picture definition will be. He advises HD or ultra HD (3840 x 2160) resolution.
The majority of LCD display are TFT (thin-film-transistor), an active-matrix controlled by one to four transistors. The two commonly used TFT varieties are TN (Twisted Nematic) and IPS (In-Plane Switching). The major difference between these are the crystal molecules. TN panel move molecules parallel to the plane, while in IPS they move perpendicular. This ensures greater reliability and less fading over time. Most TN panels display 6-bits per RGB colour and are able to represent 18 bits of the total 24 bits colour available from graphics cards. With professional IPS LCD display there are more colours available, thus making IPS more preferred choice.
Dealing with heat
Abesh Dhevalall of Peripheral Vision says that video wall displays have several features that are not found in consumer grade displays. Amongst these features are advanced temperature management, the complete absence of or very narrow bezels for minimal distraction when displaying content across multiple screens, the ability to have precise colour and brightness adjustment capabilities in order to keep all the displays in the video wall looking evenly balanced or calibrated, and resistance to image retention or burn-in.
"It is common knowledge that heat is the number one 'killer' of electronic components. All displays convert electrical energy to light energy and in the process of this conversion, heat energy is created by the electrical components. As we all know, heat rises. This becomes a crucial factor in a video wall setup," he says.
"Consider a video wall that is set up in a 3x3 configuration. Heat generated by the monitors in the bottom row rises up to the monitors in the middle row. This means that the monitors in the middle row not only need to effectively dissipate their own heat, but they need to deal with the added heat being passed to them by the bottom row of screens. The top row of monitors has to work even harder, as it has its own heat to dissipate plus the residual heat being passed up to it by all the monitors beneath it," he explains.
Professional grade LCD monitors may have built-in thermal sensors that will control the speed of fans according to the ambient temperatures of the monitor in order to keep it functioning at nominal operating temperatures. It is therefore important to consider the heat management capabilities of the screens selected for use in control rooms.
Ideally, dedicated air-conditioner units should be installed specifically for the video wall to keep the displays operating at nominal temperatures. It is important to ensure that the size of the air-conditioner is capable of dealing with the total BTU generated by the entire video wall. Studies have proved that reducing the operating temperature of an LED by 10°C, can double its lifespan. In order to substantially reduce the cost of the air-conditioner plant running costs, the video wall technology with the lowest BTU/hour radiation is essential as the video wall runs 24/7/365.
Regular calibration
The ability to keep all the displays looking the same in terms of colour and brightness in a video wall setup is of great importance, says Dhevalall. This is a challenge, especially with LCD technology in particular, as they tend to 'drift' as they age. This is further exacerbated by the fact that they all age at different rates. The change in colour is not easily noticed if the displays are viewed independently, however, in a video wall setup, even an untrained eye can easily notice the differences.
Therefore, calibration is a key factor to consider when deciding on video wall monitors as the calibration process will have to be performed several times a year to keep the video wall looking evenly balanced. Calibration can be either a manual or automatic process.
The manual process results in system downtime and will cost money as it requires specialised tools and skills. Generally the calibration process will involve the use of an external spectrometer and some form of calibration software with advanced algorithms that allow for the colours to be matched to a single reference monitor. The spectrometer is placed on each monitor in tandem and it reads the colour and brightness levels being generated by the monitor. The collected data is processed by the software, which then matches all the displays to the values of the reference display.
Automatic colour calibration is of course more desirable, as it does not require human intervention, it is completed very quickly and it can be scheduled to run at times when activity in the room is low. In automatic calibration systems, the spectrometers are built into the monitors themselves.
Automatic colour calibration such as Barco's SenseX software allows for continuous real-time automatic calibration throughout the lifespan of the monitors. In these monitors, the calibration process is continually running, to ensure a perfectly calibrated video wall at all times. This becomes particularly useful when a monitor needs to be replaced in the event of failure or if the overall size of the video wall is increased and additional monitors are added. Within seconds of being switched on, the new monitors are automatically adjusted to be perfectly calibrated.
"Therefore selecting a display that comes with an auto-calibration feature is a key part of doing one's pre-purchasing homework as this will reduce down-time and maintenance costs," Dhevalall says.
If the video wall forms a key component of the functioning of the control room, in other words operations within the control room would have to be halted if the video wall is not functioning, then it is a short-sighted approach to base the choice of technology purely on price and the cheapest option available, he says. Lower priced options may appear to be more viable in the short term, but do not contribute to the extended lifespan of a 24/7 control room.
The burning issue
In order to prevent burn-in and to ensure the colour and brightness across all displays is standardised, one should consider preventing and managing the Mura Effect (clouding on the screen after intensive usage) and temporary image retention.
Nearly any liquid crystal flat panel display runs the risk of displaying this screen defect. Although common, Cox says it can be nonetheless annoying, especially for a new LCD owner. To mitigate the Mura Effect you can reduce the backlight to the lowest tolerable setting. If the minimum setting does not appreciably affect picture quality then leave it there.
In terms of temporary image retention, it is often recommended that users turn the power on the monitor off for 8 hours after every 24 hours of use. The problem here is obvious: security rooms require 24-hour access to a monitor, so one either has to rotate the use of all monitors or one has to accept that for a period of eight hours every day, a monitor will be offline.
It is true, says Cox that one can use screen savers, vary the type of information that is displayed on the screen, or keep the displays cool by reducing high ambient temperatures and avoiding large differences in lumens. However, it is preferable to select a solution, such as a DLP, that will eliminate burn-in or image retention from the outset.
De Sousa says that the AG Neovo range of monitors includes an anti-burn-in function. The monitor automatically switches off and re-initialises every pixel every 24 hours. This guarantees that the static scenes produced by CCTV cameras do not damage the panel.
"We have had four AG Neovo 42-inch monitors running in our demo room for more than eight years and the picture quality has not changed in that time. When we commission a system that has AG Neovo monitors, our certified technical teams calibrate and synchronise the settings to ensure balanced imaging across all screens as well minimising strain on the control room operator's eyes," she points out."
Cox says that the company is now providing thinner LCDs with bezels of 0.9 up to 5.7 mm. The emphasis is on solutions that are more modular and are therefore easier to repair. "For work-intensive environments we suggest a laser DLP or direct LED with a minimum pixel pitch of 1.25 mm."
Peripheral Vision is the official distributor of Barco solutions which are not only focused on the control room itself, but all the extensions of the control room such as the operator workspaces, and breakout or war rooms. The display technologies that they offer include a RGB laser-lit rear-projection cubes and Unisee bezel-less LCD panels.
ODL is an RGB laser-lit rear-projection video wall that delivers high brightness, low power consumption and guarantees more than 11 years of 24/7 operation. It also has the lowest BTU/hour heat output of any comparable technology and comes standard with SenseX auto-calibration software. Barco's NoGap screen technology in rear projection cube displays allows content to be viewed over multiple monitors without any distracting seams.
Barco's UniSee is the world's first truly bezel-less LCD video wall display. The Unisee mounting structure makes it possible to have the smallest possible gap between the monitors and prevents damage during servicing. The mount also ensures that all panels are always perfectly aligned. Serviceability is optimised by Unisee's modular design with the video input and processing board and the power supply separated from the display module.
Barco's Sense-X software is included in Unisee and keeps the video wall calibrated throughout its lifespan. New monitors that are added to the wall are instantly calibrated to match the rest of the monitors within seconds. Barco has also re-engineered the design of the panels to counter all possible variations in brightness from the centre to the edges. The result is perfect intra-tile and inter-tile uniformity.
Dhevalall says: "The most important aspect for any buyer in choosing the correct technology for use in a control room, is the total cost of ownership over the lifespan of the video wall, which should exceed 10 years as a minimum. Cheap capital expenditure may result in a more expensive long-term outlay when running costs, maintenance and downtime are added to the cost calculation."
For more information contact:
• Pentagon Distribution, +27 11 312 0745/6, www.pentgon.co.za
• Peripheral Vision, +27 11 840 0860, www.peripheralvision.co.za
• Questek Advanced Technologies, +27 11 706 0405, www.questekadvanced.co.za
Credit(s)
Further reading:
FortiGuard labs reports disruptive shift of cyber threats
Issue 1 2021 , Editor's Choice
Threat intelligence from the second half of 2020 demonstrates an unprecedented cyber-threat landscape where cyber adversaries maximised the constantly expanding attack surface to scale threat efforts around the world. Adversaries proved to be highly adaptable, creating waves of disruptive and sophisticated attacks.
Read more...
---
The year resilience paid off
Issue 8 2020 , Editor's Choice, Security Services & Risk Management
Hi-Tech Security Solutions spoke to Michael Davies about business continuity and resilience in a year when everything was put to the test.
Read more...
---
Retail solutions beyond security
Issue 8 2020, Axis Communications SA, Technews Publishing, Hikvision South Africa , Editor's Choice, CCTV, Surveillance & Remote Monitoring
The need for security technology to deliver more than videos of people falling or stealing from retail stores is greater than ever.
Read more...
---
Smart healthcare
Issue 2 2021 , Editor's Choice
In the past year, hospitals, elder care and other healthcare facilities have found themselves overwhelmed with new patients, COVID-19 regulations and other side effects of the pandemic. As efforts focused ...
Read more...
---
Platform-based access management solution
Issue 2 2021, ASSA ABLOY South Africa , Editor's Choice
Available in South Africa and throughout sub-Saharan Africa, new Incedo Business connects all your security software and hardware within one platform. You can easily scale it up or down, based on your needs, to keep your people moving and your business growing.
Read more...
---
FS Systems celebrates 50 years
Issue 2 2021 , Editor's Choice
This year, FS Systems celebrates 50 years in the fire detection and enterprise security market, successfully executing projects in over nine countries in Africa and LATAM.
Read more...
---
Formative AI and distributed cloud among four megatrends revealed at MIPS 2021
Issue 2 2021, Milestone Systems , Editor's Choice
Almost 4000 participants representing end customers, technology partners and media from across the globe attended the first virtual MIPS conference, held over two days in March 2021.
Read more...
---
Kiss passwords G00dby3
Issue 2 2021 , Editor's Choice
Cisco Secure has unveiled infrastructure agnostic, passwordless authentication by Duo which enables enterprise users to skip the password and securely log into cloud applications via security keys or biometrics built into modern laptops and smartphones.
Read more...
---
200 000 daily access transactions
Issue 2 2021, Impro Technologies , Editor's Choice
The University of KwaZulu-Natal's legacy access control system was suffering from increasingly limited support, both in terms of hardware and software, with maintenance becoming a pressing concern as it on-boards approximately 9000 new students each year across five campuses.
Read more...
---
From the editor's desk: Maybe security should STTFS
Issue 2 2021, Technews Publishing , News
The IT industry has an acronym, RTFM, Read the Manual; you'll notice I left the F out. The same can be said for the security industry, but a recent experience has shown me that both industries, even as ...
Read more...
---