printer friendly version
Eagle Canyon installs Boomgate
1 December 2019 Access Control & Identity Management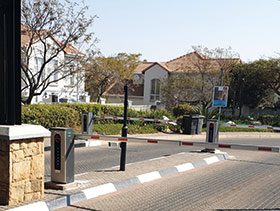 Eagle Canyon Golf and Lifestyle Estate, situated in Honeydew, Gauteng, is one of the most prestigious, well managed and secured estates in South Africa. This was revealed in a survey that was conducted by the Financial Mail in 2015.
Boomgate Systems was asked to inspect all access gates in and around the estate to review what was installed and what it could offer to enhance the visual look as well as improve on the performance of the access barriers.
The requirement to have the barriers interlock was a necessity taking into consideration that this is one of the most secured estates in the Johannesburg area. The stigma around interlock (or venting as most call it) is that this would slow down your traffic through your access points. Boomgate Systems changed the game in this area and introduced a new Genius Rapid Barrier to the market.
The Genius Rapid Barrier boasts a range of features that include:
• Opening time of 1,2 seconds.
• Built-in indicating robot on barrier door.
• Impact detection to prevent any possible damage.
• Automatic slowdown function to take away any strain on the mechanism.
• Virtually maintenance-free barrier.
• 12 V brushless DC motor ensures swift and easy operation.
• Interlinking with any form of access control on the market.
• Easy installation and setup.
A total of 21 barriers were installed at Eagle Canyon's perimeter gates as well as for internal access.
Credit(s)
Further reading:
Paxton opens first experience centre in South Africa
Paxton News Access Control & Identity Management
The new Paxton Experience Centre in Johannesburg is now open and welcoming security installers and end users who want to see Paxton's products in action.
Read more...
---
Securing a luxurious residential estate
Turnstar Systems Residential Estate (Industry) Access Control & Identity Management
Turnstar Systems recently partnered with Balwin Munyaka Residential Estate to secure the entrance to its Crystal Lagoon, ensuring only authorised residents and guests can access the site.
Read more...
---
Visitor management via QR code
ATG Digital Access Control & Identity Management Products
ATG Digital has launched its QR Code Reader to enhance access control's security and efficiency. The new QR Code Reader enables seamless, contactless access control, creating an efficient user journey.
Read more...
---
District secures activity centre
Paxton Access Control & Identity Management Products
Paxton's Net2 access control solution is a user-friendly and flexible networked access control system, which made installing and managing access control security at an activity centre straightforward.
Read more...
---
GardaWorld partners with Gallagher
Gallagher Access Control & Identity Management
Access control via facial recognition was at the top of GardaWorld's wish list, and Gallagher's integration with IDEMIA's VisionPass played a crucial role in delivering a seamless experience.
Read more...
---
ZK-IWB Series
ZKTeco Products Access Control & Identity Management
Experience the ultimate virtual meeting solution with ZKTeco's ZK-IWB system. Featuring a built-in 13-megapixel UHD camera and 6-microphone array, the solution ensures clear audio and video experiences with an 8 metre pickup distance.
Read more...
---
Security for critical industries
ZKTeco Government and Parastatal (Industry) Access Control & Identity Management
The traditional reliance on human observation and physical presence for security is being complemented and, in many cases, replaced by biometric technology to enhance risk management and ensure comprehensive protection.
Read more...
---
Securing access to NKP
BoomGate Systems Government and Parastatal (Industry)
For its latest national key point project, Boomgate had to secure all vehicle access points and used three Glide Master Retractable Speed Gates as well as Warrior Hydraulic Bollards combined with Warrior Static Bollards.
Read more...
---
Access to nuclear plants
Suprema Access Control & Identity Management
Korea Hydro & Nuclear Power was in need of a fully redundant access control system that should provide enhanced performance while still being able to interoperate with existing equipment.
Read more...
---
Secure your site during outages
Paxton Access Control & Identity Management
The PaxLock Pro range is our collection of wireless, battery powered smart door handles. They are efficiently designed to consume minimal energy to operate, and the batteries generally last around two years.
Read more...
---