printer friendly version
The safe city and its need for interoperability
November 2019 Integrated Solutions, CCTV, Surveillance & Remote Monitoring
Most people today who live in cities have become accustomed to a relatively high level of general and public surveillance, whether it is the police patrolling the streets, cameras in shopping malls or intelligent security solutions deployed in public transportation systems. It has become part of the fabric of 21st century life for many.
Many of us value individual safety, especially in cities. Physical security systems are capable of delivering exactly that to citizens, though the management and operation of these systems can be challenging. Cities today often use video management systems or other platforms to view camera footage, protect citizens and property, analyse incidents, evaluate security and to help them determine appropriate responses to events such as natural disasters, disruptions to transportation and other municipal services, and other threats to public safety. They may also use intrusion, access control, building automation and fire detection systems in their management of a city's security, in conjunction with video surveillance.
Cities implementing this connected security approach have been dubbed 'safe cities.' Most safe cities share a common infrastructure and operate using sensors and/or cameras over a shared municipal network. Using these sensors and the data from many different devices synthesised through one interface, government officials and law enforcement are afforded a total, holistic view of a city's security.
Integrating the many parts of a safe city
The integration of all of these systems enables a municipality to manage its security comprehensively and from a single point of view from the command centre. If, for example, there is a leak in a water main, the city's command centre can quickly review video footage from a camera positioned at the leak's physical location, check access control data to see why and how the gate to the water main is open and determine who was the last employee to enter the restricted area. At the same time, the command centre can use cameras on the street to monitor street flooding and assess damage to surrounding areas.
There are operational challenges that accompany the many systems that are included in a safe city deployment. Interoperability continues to present one of the greatest challenges, particularly with video management systems, video recording devices and cameras. The most common scenario is that municipalities have several different management systems for city operations that were created by different manufacturers, each with proprietary interfaces for integration. In order to connect its different systems together, cities often end up employing a 'build once and maintain forever' approach, in which the continuing cost for integration of the city's systems becomes prohibitively expensive.
In a world where technology and features change quickly, the 'build once and maintain forever' scenario is not practical or attractive, as it severely limits an end user's ability to try new technology and/or different vendors' products, and requires a substantial financial commitment to those specific manufacturers and proprietary interfaces.
Standards in safe cities
This is where the need for robust and well-defined standards comes into play, particularly for video surveillance, which is most commonly at the heart of safe city deployments. Standards, such as those from ONVIF, provide the common link between disparate components of safe city systems. Designed specifically to overcome the challenges in multi-vendor environments, ONVIF's common interfaces facilitate communication between technologies from different manufacturers and foster an interoperable system environment where components can be used interchangeably, provided they conform to the ONVIF specification.
ONVIF has published a number of specifications and profiles for effective integration of devices and clients in the physical security industry. For video security systems, ONVIF has released Profile S for video streaming, Profile T for advanced video streaming and Profile G for storage and playback.
A standardised approach for both file format and associated players, which is often a challenge in multi-vendor environments, is also provided by ONVIF, increasing the efficiency of the process and also adding the potential of including metadata in exported materials and reports. ONVIF has also released an export file format specification that outlines a defined format for effective export of recorded material and forensics, which has been adopted by both the US National Institute of Standards and Technology, which makes technology recommendations for US federal law enforcement agencies such as the FBI, and the International Electrotechnical Commission.
In a safe city environment, the playback of video is especially important in responding to event types, but oftentimes incidents are recorded on multiple devices – both private and public. These files are typically exported in different proprietary formats, making it difficult for law enforcement to collect, correlate, and analyse the video data, as demonstrated by the 2013 Boston Marathon bombing, where more than 120 FBI analysts reviewed in excess of 13 000 videos before discovering key evidence in the footage. The ONVIF export file format will enable law enforcement as well as private users to more quickly and efficiently conduct forensic investigations using video of an incident from multiple sources, regardless of what recording system originally captured the video.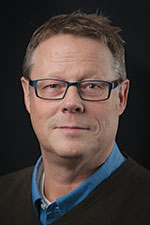 Per Björkdahl.
The ONVIF specification alleviates the disparities typically found in any city, streamlining the playback process of video from different video recording platforms from different vendors. This is especially useful in safe cities, where security professionals need fast and easy access to multiple video files.
These specifications together make it possible not only to integrate devices in multi-vendor video security system deployments in safe city environments but offer an effective common export file format that can streamline post-event investigations where authorities are trying to react as fast as possible.
ONVIF members' safe city solutions
ONVIF member company Meyertech has helped the city of York, UK, to deploy a safe city solution for the city's public spaces and transportation system. Using Meyertech video management software and information management software, the city was able to integrate IP cameras with the many legacy systems for its York Travel and Control Centre command centre. The city's control room monitors more than 150 cameras from different manufacturers in the city and city representatives reported an immediate impact on crime rates. The integration of legacy and new IP cameras with the new VMS, which interfaced with the information management software, was made possible through ONVIF's video specification.
Multi-discipline standards
A multi-discipline physical security standard that specifies parameters for video surveillance, access control and other essential operations of a safe city command centre would likely increase the prevalence of safe cities even further. Many in the broader technology industry see standards as an important component in both safe cities and the Internet of Things (IoT). The IEEE (Institute of Electrical and Electronics Engineers) and other standards groups are already working on IoT standards for technology-based industries, with some experts predicting the introduction of global IoT standards by the end of this year.
As standards and industries collaborate even further and establish minimum interoperability standards together, the need for a multi-discipline physical security standard will become more urgent. ONVIF envisions that all physical security systems will eventually have the same interfaces for interoperability, and the organisation is dedicated to facilitating the work of its members in developing such a multi-discipline standard.
Further reading:
Smart water management
Axis Communications SA CCTV, Surveillance & Remote Monitoring Integrated Solutions
South Africa is currently facing a water crisis, with scarcity and inefficient water management posing significant challenges to sustainable, consistent access to water. Smart technology and powerful partnerships may offer a proactive solution to SA's water crisis.
Read more...
---
Helping retailers optimise monitoring and security
Guardian Eye Retail (Industry) CCTV, Surveillance & Remote Monitoring
From a smart retail perspective, it is crucial to understand that monitoring stock and other assets through camera surveillance and a variety of Internet of Things (IoT) sensors stretches further than the stores themselves.
Read more...
---
Empowering Istanbul's public transportation
Dahua Technology South Africa CCTV, Surveillance & Remote Monitoring Integrated Solutions
Dahua's intelligent transportation solution, using technologies like DSM and AI-based passenger flow counting, has facilitated an intelligent system upgrade for nearly 6 400 minibuses and electric buses in Istanbul.
Read more...
---
Collaboration delivers integrated and holistic security
Guardian Eye CCTV, Surveillance & Remote Monitoring News Integrated Solutions
Guardian Eye and Lytehouse have partnered to integrate their speciality solutions and provide a holistic security offering that overcomes the fragmentation of security systems and services.
Read more...
---
SMART Surveillance Conference 2023
Technews Publishing Editor's Choice CCTV, Surveillance & Remote Monitoring Conferences & Events
Some people think the future is all about cloud technologies, but the SMART Surveillance conference demonstrated that AI is making edge surveillance much more attractive, over distributed sites, than ever before.
Read more...
---
Smart obsession: Cities within security
Business Connexion Integrated Solutions IT infrastructure
Rebatho Madiba, from BCX, explores the security and connectivity considerations that define the development of smart city foundations, naturally, with connectivity and security the most important considerations.
Read more...
---
Project services to best-practice standards
Mustek Security Technologies Integrated Solutions
Mustek Security Technologies is dedicated to providing security solutions and distributing the full spectrum of blue-chip surveillance solution-driven products, primarily for the government and corporate arena.
Read more...
---
Supporting CCTV intelligence with small and big data
Leaderware Editor's Choice CCTV, Surveillance & Remote Monitoring
The increasing development of AI and its role in enhancing investigation-led surveillance, and the increasing capacity of control rooms and local analysts to deliver data in return, can increase the synergy between intelligence and surveillance.
Read more...
---
Rapid deployment video surveillance
Blacklight Group CCTV, Surveillance & Remote Monitoring Integrated Solutions
Kelly McLintock explores the importance of implementing rapid deployment video surveillance systems on construction sites to enhance safety, minimise losses, eliminate downtime, and promote productivity.
Read more...
---
Cultivating safer and smarter cities
CCTV, Surveillance & Remote Monitoring Integrated Solutions
As a provider of video management software (VMS) and physical security information management (PSIM) solutions, AxxonSoft enables cities to anticipate and respond swiftly to security threats through advanced video analytics and intelligent surveillance capabilities.
Read more...
---