printer friendly version
Key management vs. electronic locks
April 2017 Access Control & Identity Management, Asset Management, EAS, RFID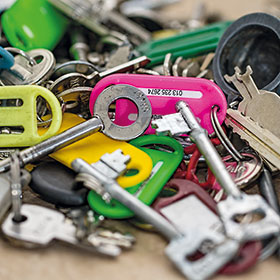 Looking after keys is a tedious task, but ineffective control can literally leave a company's doors open to crime in various forms. Electronic locks offer a high-tech solution, and modern technologies have even infiltrated the domain of physical keys through innovative key management systems.
According to Morse Watchmans' Joe Granitto, the software platforms used for managing physical keys and those managing virtual keys are still separate entities, but integration into an holistic access management system is a hot trend in the industry. "We are fully integrated with Lenel, Honeywell, Software House and Amag," he explains. "Customers are looking for one central point to manage users and not in every system they purchase."
The company offers the KeyWatcher system for physical key management, which he says can receive user, card and access group data from the access control system, and also send back transactions and alarm info to the access control system.
"There is much more to modern key management than simply showing who took which key, and when," says Granitto. "We started with a few basic features and that has grown substantially. Integration is huge now, where in the early days it barely existed, and the software platform has also grown. There are dozens of powerful features and other functions that define the industry leaders. Operations and security managers are looking for complete control of their keys. They want to know when a key goes out and when it comes back. They want to be e-mailed if a key is overdue or if an alarm occurs. They want customised reports predefined and sent to them automatically. They want systems networked and keys to be able to be returned to any KeyWatcher they have."
Johannes Tlhabi from ZKTeco supports Granitto's statement that there is still a divide between software platforms used for managing physical keys and those managing virtual keys. "The reason for this is partly because these two have always existing as two different facets of key management, where the former emanates from the physical security point of key management and the latter more from a logical perspective of key management. The physical security product innovators have never entirely embraced the methods applied by the logical security innovators and the opposite also holds," he says.
Management is crucial
Tlhabi goes on to say that key management has had to adopt a higher-security approach since some of the keys that are managed today provide access to intricate operations that can lead to serious security breaches; breaches that can run into millions of rands in losses, and can seriously endanger productivity or even cause injuries or loss of life if such keys were to fall into the wrong hands. Therefore a lot more now needs to be known about a key, its authorised users, the times that it can be used and the procedures that must be adhered to.
"The markets have started to realise that there is now, more than ever, a greater need to have proper key management systems, as opposed to a traditional cabinet hung behind some door where a person has control of one key that opens a key box to give access to all keys that are inside the cabinet, Tlhabi continues. "RFID card-based, half-decent key management units are increasingly making their début in the market and are quickly being grabbed by those customers who are aware of their benefits. In general, the trend is still such that only high-end customer markets, like mining and manufacturing, are more open to using the technologies, albeit at higher costs as they are perceived to be in a higher risk bracket when it comes to safety of keys.
With an eye on future developments, ZKTeco is partnering with innovators in key management to offer advanced biometric verification technologies to enhance their current methods of using RFID card-based technologies. "We are all at least well aware of the risks that are associated with cards-only based security transactions, and this knowledge leads to a natural progression towards biometric-based integrated key management solutions. We provide modules that can be incorporated into the key management
systems, as well as the software development kits that allow the innovators to customise their own access control solutions around the key management system, both hardware as well as software."
Total cost of ownership
Electronic locks take a modern approach to getting around some of the problems with physical keys, but they also have challenges and constraints, especially when it comes to cost. SALTO Systems makes a number of products that can replace mechanical keys, and although on the surface they are more expensive than a traditional key system, the company's Wouter du Toit says in the long run they are more cost-effective in more cases, and boast better security. "Expensive factors that are never considered include the fact that when a key is lost, you have to replace the lock and not just cut a new key to maintain security," he warns. "This results in lost time that could equate to losses in revenue. Yes, you get high-security keys with master key systems, but this is expensive and still does not solve the problem in managing keys, and you still cannot report on the openings.
In mitigation of these issues, SALTO supplies electronic escutcheons and cylinders that du Toit says take no more than 15 minutes to install on an existing lock, leveraging the existing infrastructure without any expensive cabling and hours of labour. For higher security, the mortise can be replaced with a mechanical lock from SALTO or from another manufacturer.
"It's never been easier – the concept in South Africa is growing and education is key. We want to solve the problem with keys, not mask it, and can do it in a cost-effective standalone solution that can manage up to 64 000 devices and millions of people," he says.
A common concern over electronic locks is what happens when the power goes off or the batteries die. How then can access be gained, and if the powerless lock can be overridden, can someone with malicious intent simply do the same? "At SALTO, a lot of time and effort has gone into ensuring that this does not happen, but it is possible," admits du Toit. "We have two approaches, the first is to supply a small battery pack unit that can give power to our units from the secure side, after which a valid access card can be used to open the door, following which the batteries can be replaced.
"The second approach is a unit called a PPD (portable programming device), which can be used to open a door without a card. It needs to be programmed by a system operator and each time it is used it will also record that it was used. It also has an expiry date that can be set to void any data written to it, and has a secure PIN feature. This can be used as the master key of the system, but with the ability to also power any SALTO device from the secure side in the event the battery has been drained completely. Battery status is also recorded in a database so maintenance staff know when they need to be replaced."
Tlhabi believes electronic locks are the way to go, especially in applications where a high number of doors need to be managed from a central point and traditional ways of manual physical keys become cumbersome to control. While he admits that cost tends to be higher, he also points out that as market penetration increases and more users and vendors get on board, prices are likely to drop. ZKTeco offers an affordable range of electronic locks ranging from those that are predominantly used by the hospitality industry, to locks that can be deployed in the office environment and well as bulk accommodation infrastructure like student accommodation facilities and hostels.
Simpler, faster installation
One of the major benefits of electronic locks is they can be installed with minimal effort, compared to traditional access control systems where intricate cabling and door hardware installation is involved, Tlhabi opines. "The installer of electronic locks is not required to run any cabling, configure network switches, install cable management trays and trunking, etc. Cost and time of installation is highly reduced and a lock can be installed and set up in a matter of minutes if the preparation of the door was done correctly."
Tlhabi says any required mechanical maintenance is simply on account of normal wear and tear replacement of movable components like springs, and some components of the mortices that over time and depending on the frequency of usage, will wear out and need to be replaced. "If it is not broken, do not replace. They are reasonably reliable," he states.
Finally, Tlhabi says applications for managing users vary from fully standalone PC-based applications, where all right to access are
written into MIFARE cards, to fully online solutions using wireless communications between doors and the front-end software. "For our smaller locks we do offer Bluetooth applications that allow the administrator to manage the locks. We also offer a front-desk software application that manages electronic locks for the hospitality industry," he concludes.
For more information contact Lars Jensen, Morse Watchmans, lars@lji.co.za, +27 (0)11 326 1450; Wouter du Toit, SALTO Systems, w.dutoit@saltosystems.com, +27 (0)11 534 8489; Johannes Tlhabi, ZKTeco, johannes@zkteco.co.za, +27 (0)12 259 1047.
Credit(s)
Further reading:
Control from anywhere
Issue 3 2021 , Access Control & Identity Management
From the flexibility of managing security from any location to the convenience of using a smart phone in place of an access card, Gallagher delivers user-friendly technology, underpinned by the strongest security.
Read more...
---
Facial recognition advances
CCTV Handbook 2021, Suprema, IDEMIA , ZKTeco, Technews Publishing , Access Control & Identity Management
Reliable facial biometrics is still in the domain of access control, but integration with surveillance technologies is fast becoming a reality.
Read more...
---
Blockchain used for strong identity and authentication
Issue 3 2021 , Access Control & Identity Management
1Kosmos BlockID digital identity solution approved as NIST 800-63-3 conformant and FIDO2 certified, powered by advanced biometrics and a private blockchain.
Read more...
---
NeoFace Watch Thermal improves health and safety
Issue 3 2021 , Access Control & Identity Management
NeoFace Watch Thermal protects organisations, their customers and employees through contactless monitoring and management of COVID-19 protocols, providing real-time dashboards and process automation in a cost-effective solution that keeps people safe.
Read more...
---
Linking HR and security
Issue 3 2021, iFacts , Access Control & Identity Management
Employee screening is implemented to ensure the risk of the company is managed and fraudsters do not enter the workplace, but the results of the vetting are not often linked to other areas in the business.
Read more...
---
Smart entrance control technologies
Issue 3 2021 , Access Control & Identity Management
An important part of physical security systems, entrance control has gained even greater prominence on the security agenda in the age of the COVID-19 pandemic.
Read more...
---
Multi-credential flexibility
Issue 3 2021, Suprema , Access Control & Identity Management
Suprema CoreStation is an intelligent door controller which provides biometric-enabled security over a centralised access control system and can store up to 500 000 users with a fingerprint-matching speed of up to 400 000 matches per second.
Read more...
---
Manage multiple sites with Paxton10
Issue 3 2021, Paxton , Access Control & Identity Management
Thomas Faith, the Paxton10 product manager, discusses how installers and end-users can now benefit from Multi-site management functionality release in a recent update from Paxton.
Read more...
---
Thwarting data theft
Issue 3 2021, Astra Fasteners , Access Control & Identity Management
Special care must be taken to secure customer data in computer centres in shared facilities with a high level of data and people traffic, where identification, organisation and control are non-negotiable.
Read more...
---
Axis Camera Station Secure Entry
Issue 3 2021, Axis Communications SA , Access Control & Identity Management
Axis Camera Station now includes access control management, allowing users to visually identify visitors or get automatic alerts in case of incidents; and the same operator can monitor the video and the access control.
Read more...
---