printer friendly version
Deepening the value of surveillance
September 2017 Residential Estate (Industry), CCTV, Surveillance & Remote Monitoring, Cyber Security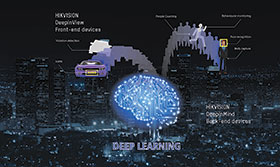 Deep Learning has swept through the IT industry, bringing benefits and better classifications to a number of applications. Inspired by the way the human brain works, the technology uses a layered learning process to enable the computer to classify, store and access data, which it can then refer to for learning.
This means it can use a whole image for recognition, rather than relying on separate elements of that image. This is a cumulative process – the more elements it has to draw on, the better the classification – thus, the better the 'learning'.
The benefits of this technology for face recognition and image classification makes it valuable in the field of security. It touches on every aspect of the security industry – from facial and vehicle detection to behaviour analysis. This, in turn, starts to change the focus of security from being reactive to being able to predict problems before they happen.
Hikvision has used this technology and created a family of products to maximise its use. The DeepInview IP camera range and the DeepInmind NVR range work together to provide all the power and benefits of Deep Learning. While the cameras provide the smart 'eyes' of the system, the NVR represents the analytic and storage capabilities of the brain. The products help to tackle security on two fronts – recognition, monitoring and counting of people, and recognition and detection of vehicles. This uses Deep Learning technology at its most effective, for its ability to classify and recognise thousands of features.
Obviously, this multi-layered approach uses a lot of memory and CPU performance, which is one of the reasons the technology has become more widespread in the past few years. To put this into perspective, in the first stages of the technology, it took 1000 devices with 16 000 CPUs to simulate a neural network. Now, just a few GPUs are needed.
Hikvision is partnering with the largest of the chipset brands – Intel and NVIDIA – to explore the possibilities of Deep Learning for the surveillance industry. Hikvision's innovation also facilitates and improves on this – the H.265+ codec radically reduces transmission bandwidth and data storage capacity requirements. This means there's no loss of quality, even though the data being shared and stored is exponentially higher.
Applications are numerous. The technology could enable the system to provide a black list/white list alarm, for example, which could come in very handy in access control scenarios. It could also be used to recognise unusual behaviour – possibly allowing security staff to prevent an issue if people are found loitering, for example.
The new premium range of products will further extend the quality and capabilities of security systems. They will also allow security professionals to start planning to avoid issues, rather than reacting to them. This could be the next evolution of the whole industry – using AI to change the world.
For more information see How Deep Learning Benefits the Security Industry at www.hikvision.com/en/Press-Release-details_74_i1515.html (short URL: securitysa.com/*hv74).
For more information contact Hikvision South Africa, +27 (0)10 035 1172, support.africa@hikvision.com, www.hikvision.com.
Credit(s)
Further reading:
Advanced integration and performance with NUUO
July 2019, Forbatt SA , CCTV, Surveillance & Remote Monitoring
Established in 2004, NUUO is a global security industry leader specialising in the manufacturing of open architecture video surveillance products, with deployments worldwide and an ever-growing base of professional industry-experienced staff.
Read more...
---
The 4th Industrial Revolution
July 2019, Wolfpack Information Risk , Editor's Choice, Cyber Security, Security Services & Risk Management, Industrial (Industry)
Most major industries have turned to and are reliant on technology to run their operations. This is a time of great promise, but also one of frightening peril.
Read more...
---
Four essential cloud security concepts
July 2019 , Cyber Security, IT infrastructure
Security is a critical a component of any cloud environment, but to be effective, it needs to be as agile and dynamic as the cloud infrastructure being protected.
Read more...
---
Cyber-attacks target operational technology
July 2019 , Editor's Choice, Cyber Security, Industrial (Industry)
Focus on operational technology security increasing as around 74% of OT organisations come under attack in the past year, finds a new Fortinet report.
Read more...
---
Industrial cybersecurity delivers ROI
July 2019, Kaspersky Lab , Industrial (Industry), Cyber Security
Industrial company achieves 368% ROI with Kaspersky Industrial CyberSecurity reveals global research and advisory firm.
Read more...
---
Transom Capital Group Acquires Pelco
July 2019 , News, CCTV, Surveillance & Remote Monitoring
Transom Capital Group (Transom), an operations-focused middle market private equity firm, announced it has acquired Pelco from Schneider Electric.
Read more...
---
Residential Estate Security Conference 2019: Integrating man and machine for effective security and operations
July 2019, Technews Publishing , Editor's Choice, News, Residential Estate (Industry), Conferences & Events
The Residential Estate Security Conference 2019 will delve into how estates and their service providers can better integrate man and machine for more effective security and operations.
Read more...
---
Milestone appoints new VP for research and development
July 2019, Milestone Systems , Editor's Choice, CCTV, Surveillance & Remote Monitoring, News
Milestone Systems has appointed Tom Bjerre as its new VP for research and development. He will oversee planning, development, testing and release of Milestone Systems' video management software.
Read more...
---
NIST recommends ONVIF as new standard for FBI
July 2019 , Editor's Choice, CCTV, Surveillance & Remote Monitoring, News
ONVIF's Export File Format is the new standard recommended by the National Institute of Standards and Technology (NIST) for the exporting and playback of video surveillance recordings.
Read more...
---
SA industrial facilities at risk of cyber attacks
July 2019 , Industrial (Industry), Cyber Security
With international analysts warning of a growing risk of cyber war, sabotage and espionage impacting industrial and mining facilities, South African stakeholders must step up their efforts to mitigate risk.
Read more...
---