printer friendly version
Wireless estate surveillance
Residential Estate Security Handbook 2016 - Vol 1 Residential Estate (Industry), CCTV, Surveillance & Remote Monitoring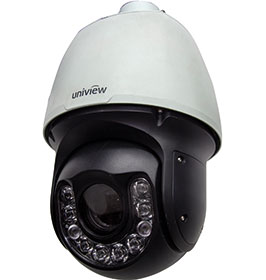 Terra Nova in Trichardt, Mpumalanga, can be described as a private town comprising six residential estates, schools, petrol stations, a hospital, and grocery stores. The concept is centred on green living and energy sufficient solutions, with the safety and security of all residents remaining a top priority.
The developers of Terra Nova – Tronicorp – approached MiRO early in 2015 to discuss a wireless security surveillance system for the private town. The 130 Ha site currently comprises the recently completed Cosmos View, Cosmos Valley and Cosmos Ridge, as well as the three under-development estates of Hibiscus Place, River View and Bushwillow Place. MiRO subsequently discussed a plan of action and outlined suggested solutions with input from preferred MiRO installer, IP Solutions. Tronicorp compiled a security budget and installation commenced in August 2015, with handover achieved in November 2015.
Tronicorp's Tony Petricevic says that the overarching decision with the Terra Nova development was to move away from having a security guard at each entrance and guards patrolling the property, to a more technology-based solution. "We decided to implement a wireless IP surveillance system, linked to an armed reaction team, that can expand with the growth of the town and which eliminates the human guarding element. The initial investment in the cameras and network will be quickly recouped through our savings on manpower."
Security and aesthetics
Noah Mashaba, MD of IP Solutions, explains that due consideration was given to the high levels of security required by the Terra Nova Home Owners Association, combined with the need for an unobtrusive and non-invasive aesthetic element. The resultant package – 23 Uniview speed dome cameras and 10 Uniview bullet cameras, combined with the newly released Ubiquiti airFiber 5X wireless backhaul solution – will provide critical coverage of risk areas.
The speed dome cameras are installed on the perimeter of each new estate and can cover distances of up to 500 m, while the bullet cameras are deployed at the entrance gates to each complex.
Mashaba says that the Uniview cameras, a recent addition to the MiRO product line-up, were selected for a number of reasons. In addition to being a cost-effective solution, Uniview cameras deliver clear live video streaming under challenging conditions due to the many built-in premium features. Uniview offers a speed dome camera with laser infrared ability, providing clear images in pitch-dark condition at distances of almost 500 m.
Uniview deploys patented technology designed to maintain stable video quality even if the full capacity of bandwidth isn't available over the Internet or a wireless link during harsh weather conditions.
Complete solution
Another important consideration in the selection of Uniview, is the built-in surge-protection in all Uniview cameras and NVRs, a big advantage in an area like the Mpumalanga Highveld with its high incidence of electrical storms.
Mashaba adds that Uniview is a complete video surveillance solution allowing all Uniview cameras and NVRs to be integrated into one unified system, with no additional cost when additional channels are required. Uniview Cloud service provides free, instant remote live viewing and alarm notifications to any smart device or PC-based system, providing essential situational awareness to security personnel on the move.
As the cameras are installed around the perimeter of the estates, with limited access to infrastructure, a wireless IP network had to be designed to speed up the installation time and minimise cost and disruption to infrastructure. Ubiquiti airFiber 5X products were selected to deliver a high-speed IP network in the licence-exempt 5 GHz spectrum.
For more information contact MiRO distribution, 086 123 MIRO, riandi@miro.co.za, www.miro.co.za
Credit(s)
Further reading:
Retail solutions beyond security
Issue 8 2020, Axis Communications SA, Technews Publishing, Hikvision South Africa , Editor's Choice, CCTV, Surveillance & Remote Monitoring
The need for security technology to deliver more than videos of people falling or stealing from retail stores is greater than ever.
Read more...
---
AI-powered hardhat detection
Issue 8 2020, Hikvision South Africa , Industrial (Industry), CCTV, Surveillance & Remote Monitoring
Hardhats save lives, but only if people wear them. Intelligent, AI-powered hardhat cameras are helping to ensure workers in dangerous locations stay safe at all times.
Read more...
---
S&ST launches second App Challenge
Issue 2 2021 , Integrated Solutions, CCTV, Surveillance & Remote Monitoring
Security & Safety Things has launched its second App Challenge for the development of creative, specialised video analytic applications for specific use cases in retail, transportation/smart cities, healthcare and entertainment/stadiums.
Read more...
---
Surveillance in remote areas
Issue 2 2021, LD Africa , Products, CCTV, Surveillance & Remote Monitoring
The JH016 4G Solar Powered Outdoor Security Camera is designed to meet the security needs for remotely monitoring off-the-grid locations, without Internet/Wi-Fi or power.
Read more...
---
Continual electric fence monitoring
Issue 2 2021 , Perimeter Security, Alarms & Intruder Detection, Residential Estate (Industry)
In today's security conscious world, one of the top priorities of residential estate living is ensuring that the electric fence is always operational.
Read more...
---
Creating smart homes with the power of security
Issue 2 2021 , Residential Estate (Industry)
The C6N uses a smart IR function that features advanced infrared lighting to capture more details in low light and can cover 360-degrees, while the C1C-B allows for a 108-degree wide-angle view that covers a specific area.
Read more...
---
Introducing Video Storage Solutions
Issue 1 2021 , Integrated Solutions, CCTV, Surveillance & Remote Monitoring, IT infrastructure
Video Storage Solutions (VSS) was formed with the single objective of providing system integrators who are part of the Milestone Community with verified video recording and storage appliances. VSS is distributed in South Africa by First Distribution.
Read more...
---
Visibility beyond cameras
Residential Security Handbook 2021: Smart Estate Living , Illumico Security Consultants , Residential Estate (Industry)
With the SecuVue from Secutel Technologies, your residential estate can be monitored, from any part of the world, as long as it is connected to the Internet. The SecuVue CVR (cloud video recorder) can turn almost any existing CCTV system into an intelligent system, with a very low outlay cost for the client.
Read more...
---
Directory listings
Residential Security Handbook 2021: Smart Estate Living , Residential Estate (Industry)
      Select supplier: AllAll | &value;&value;   
---
&company;
&value;    Distributors: &value;    &value;       &description;    Contact: , &value;    Tel: , &value;    &value;    &url;   
---
Read more...
---
Security integration for smart estates
Residential Security Handbook 2021: Smart Estate Living , ISF SFP , Integrated Solutions, Residential Estate (Industry)
Many complex estates will incorporate multi-layered approaches with responders and technology deployed to cover risks from the perimeter inwards. Ultimately, security is everyone's responsibility and systems should cater for inclusive participation of residents.
Read more...
---