printer friendly version
Hidden person detection
April 2019
Security Services & Risk Management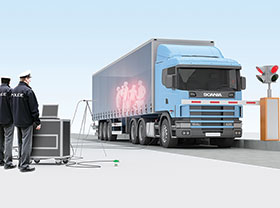 The FSC HPD system detects any movement generated by a hidden person or persons in contact with the interior or cargo of a vehicle. Even signals such as a person's heartbeat can be detected.
Hidden person motion and human heartbeat are detected with the use of sensitive sensors attached to the vehicle either in a horizontal or vertical position. From the sensors, data is sent via cable to a computer, where the measured data is subjected to stringent analysis and subsequent evaluation.
The measurement time is approximately 30 seconds while the total vehicle check time does not exceed two minutes, including application and removal of the sensors. Fare dodgers, illegal immigrants or terrorists may be transported in trucks from one country to another without meeting the legal requirements to enter these countries.
Trucks are often sealed or loaded in such a way that renders standard visual check of the cargo space impossible. Not all methods, for example, the measurement of CO2 concentration or X-raying of cargo spaces of trucks are reliable in all cases and can sometimes be circumvented.
HPD is a simple, non-invasive measurement method. It is passive detection that does not have any side effects for the human organism or equipment in its vicinity. It is the latest generation of a detector of hidden persons that makes it possible to reveal hidden people with almost 100% reliability in less than 1 minute.
Three design versions are available and vehicles can be checked not only in permanent locations such as ports and border crossings and entrance gates of sites, but also in the field where checks may move.
Credit(s)
Further reading:
Communication in any situation
Issue 8 2020, Elvey Security Technologies , Global Communications , Security Services & Risk Management
Global Communications offers an industry-first with five-year warranty on select Kenwood two-way radios.
Read more...
---
The year resilience paid off
Issue 8 2020 , Editor's Choice, Security Services & Risk Management
Hi-Tech Security Solutions spoke to Michael Davies about business continuity and resilience in a year when everything was put to the test.
Read more...
---
mySOS targets neighbourhood safety
Issue 2 2021 , Security Services & Risk Management
Beyond protection for valuables and premises, people are also looking to ensure their personal safety and that of their loved ones as they move around and within community areas.
Read more...
---
Staying safe with tap-and-go
Issue 2 2021 , Security Services & Risk Management
When it comes to tap-and-go functionality, security does not fall within the ambit of only one particular link in the value chain; banks, retailers and users have a part to play in safeguarding these devices and transactions.
Read more...
---
Personal safety at your fingertips
Issue 2 2021, Otto Wireless Solutions , Security Services & Risk Management
The PB7GSM personal tracker is a small, powerful, personal tracking system that enables users to immediately alert up to three pre-selected cellphone numbers in any emergency.
Read more...
---
A new era of digital buildings
Issue 2 2021 , Security Services & Risk Management
The impact of the COVID-19 pandemic has accelerated the need for digitally integrated buildings, as organisations have had to implement strategies to adjust to new ways of working to improve efficiencies, reduce costs, mitigate security risks and implement health and safety measures.
Read more...
---
Free technology to boost future careers
Issue 2 2021 , Cyber Security, Security Services & Risk Management
A global shortage of cybersecurity professionals has become so severe that companies are increasingly at risk from hacking and industrial espionage.
Read more...
---
PoPIA: How the 'Operator' must use personal information
Issue 2 2021 , Security Services & Risk Management
While much focus has been placed on the roles and responsibilities that must be fulfilled to meet the standards of the Protection of Personal Information Act (PoPIA), the role of the Operator must also be highlighted.
Read more...
---
Banking on radio
Issue 2 2021, Global Communications , Security Services & Risk Management
Communicating between built-up and remote areas is often not possible using cellular technology since signals may be poor or non-existent. This is where two-way radios come to the fore.
Read more...
---
Dealing with farm attacks
Issue 2 2021, Technews Publishing , Editor's Choice, Integrated Solutions, Security Services & Risk Management, Agriculture (Industry)
Brutal farm attacks are unfortunately a common event in South Africa. Laurence Palmer suggests a proactive, community-based approach as the optimal way to prevent these heinous crimes from happening in the first place.
Read more...
---