printer friendly version
Hidden person detection
April 2019
Security Services & Risk Management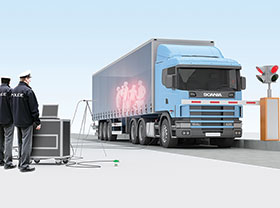 The FSC HPD system detects any movement generated by a hidden person or persons in contact with the interior or cargo of a vehicle. Even signals such as a person's heartbeat can be detected.
Hidden person motion and human heartbeat are detected with the use of sensitive sensors attached to the vehicle either in a horizontal or vertical position. From the sensors, data is sent via cable to a computer, where the measured data is subjected to stringent analysis and subsequent evaluation.
The measurement time is approximately 30 seconds while the total vehicle check time does not exceed two minutes, including application and removal of the sensors. Fare dodgers, illegal immigrants or terrorists may be transported in trucks from one country to another without meeting the legal requirements to enter these countries.
Trucks are often sealed or loaded in such a way that renders standard visual check of the cargo space impossible. Not all methods, for example, the measurement of CO2 concentration or X-raying of cargo spaces of trucks are reliable in all cases and can sometimes be circumvented.
HPD is a simple, non-invasive measurement method. It is passive detection that does not have any side effects for the human organism or equipment in its vicinity. It is the latest generation of a detector of hidden persons that makes it possible to reveal hidden people with almost 100% reliability in less than 1 minute.
Three design versions are available and vehicles can be checked not only in permanent locations such as ports and border crossings and entrance gates of sites, but also in the field where checks may move.
Credit(s)
Further reading:
Why rehearsals and drills for crises and evacuation are so important
August 2019, Leaderware , CCTV, Surveillance & Remote Monitoring, Security Services & Risk Management
The rehearsal of concept (ROC) drill has been used extensively in the military, but is just as important when facing risks in organisations and institutions to protect people on the ground.
Read more...
---
24-hour emergency response for staff
August 2019 , News, Security Services & Risk Management
The FirstRand Group has partnered with PanicGuard to create a 24-hour emergency response programme for staff.
Read more...
---
Keeping our changing environment secure
August 2019 , Editor's Choice, Security Services & Risk Management
For a crime to take place there needs to be a victim and a criminal who sees an opportunity. For a cybercrime to take place we need the same set of circumstances.
Read more...
---
The importance of real security risk assessments
August 2019, Sentinel Risk Management , Editor's Choice, Security Services & Risk Management, Residential Estate (Industry)
Andy Lawler, MD, Sentinel Risk Management, says a security risk assessment is an onerous task, but is not something estates can consider optional or a luxury item anymore.
Read more...
---
Risk assessment or product placement?
August 2019, Technews Publishing, Alwinco, SMC - Security Management Consultants , Editor's Choice, Security Services & Risk Management, Residential Estate (Industry)
Hi-tech security solutions asked a couple of experts to provide estate managers and security managers with some insights into what a 'real' risk assessment includes.
Read more...
---
Residential security – caveat emptor
August 2019, Stafix , Integrated Solutions, Security Services & Risk Management
When it comes to improving your property's security, make sure you take all the options into account as you build a layered approach to keeping people safe and assets secured.
Read more...
---
Ensuring your electric fence is compliant
August 2019, Stafix , Perimeter Security, Alarms & Intruder Detection, Security Services & Risk Management
A challenge facing both existing and potentially new perimeter electric fence installations is how to economically meet the legal requirements required in the SANS 10222-3:2016 standards document.
Read more...
---
Renewable energy for estates and homes
August 2019, Drensky Technologies, Technews Publishing, Specialised Battery Systems , Security Services & Risk Management
While individual homeowners might choose to install solar photovoltaic (PV) systems for when there's load shedding or a power failure, for an entire estate to harness its energy requirements from solar, and particularly their crucial security systems, would require that a large area of the property be dedicated to solar panels.
Read more...
---
Insuring thatched roofs against lightning
August 2019, DEHN Africa , Security Services & Risk Management
Considering South Africa's very high lightning flash density statistics, and the popular trend all over the country to use aesthetically pleasing thatched roofs for residential as well as commercial buildings, a fit-for-purpose offering has been introduced by DEHN Africa.
Read more...
---
Know your enemies (and friends)
August 2019 , Security Services & Risk Management
Hi-Tech Security Solutions spoke to Dave Rampersad to find out about what and how information can be automatically added to number plates to proactively improve the security of an estate.
Read more...
---