printer friendly version
Managing your farm manager
1 March 2019 Asset Management, EAS, RFID, Agriculture (Industry)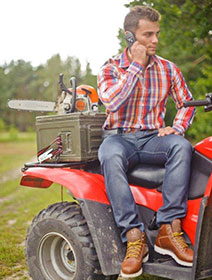 With thousands of hectares of land, and essential aspects to check, maintain and repair on an ongoing basis, the question of whether your farm manager is doing his job is worth examining. The impact of not carrying out duties properly, or at all, can have a devastating effect on cash-flow, crops and livestock, and may hamper the overall success of the farm.
Active Track provides the answer in the form of its personnel monitoring device, the Active Track. The Active Track is a hand-held GPS and GSM-enabled unit, with a built-in RFID reader. Active Track rents the device with RFID tags which can be placed at important check-in points, such as borehole pumps, generators, livestock camps, windmills and reservoirs.
The manager simply needs to scan the RFID tag placed at the relevant point to record his attendance at that particular place. The GSM and GPS functionality allows for the scanning event to be recorded by Active View, Active Track's cloud-based software, in real-time. The farm owner can access the objective scanning events, remotely, at any time, via Active View. The scanning events are available in various reporting formats which can be downloaded at leisure, as are the movements of the manager over any period of time.
If the owner needs to speak to the manager, the device offers a call-in function which allows the owner to contact the manager on the Active Track, and in turn enables the manager to send a call-me to a dedicated number, selected by the owner. This is beneficial if the manager needs to report an urgent incident or request immediate assistance with a farm matter.
Active Track has taken the needs and conditions of the agricultural industry into account and can advise that the device can operate with as little as five per cent network connectivity, offers a battery life of up to 72 hours, and is tamperproof and shockproof.
Credit(s)
Further reading:
More efficient guarding through the effective use of technology
Residential Estate Security Handbook 2020, Technews Publishing, OnGuard, Stallion Security, Active Track , Security Services & Risk Management
Technology in its many forms can be used to optimise the efficiency and performance of on-site guarding.
Read more...
---
IoT security seal
Issue 4 2020 , Asset Management, EAS, RFID
With the current lockdown and ports operating at reduced capacity, the need for automation has been taken to a new level.
Read more...
---
Managing outputs, attendance and time
Issue 5 2020 , Asset Management, EAS, RFID
What started out as a great idea to bring structure, order, measurement and accountability to fieldwork, has virtually overnight turned into an indispensable tool.
Read more...
---
ZKTeco offers touchless access for people and vehicles
Issue 4 2020, ZKTeco , Asset Management, EAS, RFID
ZKTeco sports a range of touchless entrance control solutions from licence plate recognition cameras through to facial recognition and multi-modal access solutions.
Read more...
---
Li-ion UPS battery from Schneider Electric
Issue 2 2020 , Asset Management, EAS, RFID
Schneider Electric has announced the launch of the APC Smart-UPS Lithium-Ion UPS Battery to South Africa, offering double the lifespan of VRLA batteries.
Read more...
---
Taking identity management seriously
Issue 2 2020 , Asset Management, EAS, RFID
The most important and critical part of identity management is the enrolment/registration part of the process. This is where the real-world human being must be linked to the cyber world digital identity with forensic proof.
Read more...
---
Reducing identity fraud with a selfie
Access & Identity Management Handbook 2020, Technews Publishing , Asset Management, EAS, RFID
Authenticating your identity remotely via an app has become a reality with a new solution from South African company iiDENTIFii.
Read more...
---
Schneider Electric launches EcoStruxure Asset Advisor
Issue 2 2020 , Asset Management, EAS, RFID
Vendor-neutral asset risk management via sensors and cloud-based monitoring tools offers 24/7 data-driven predictive service for business continuity.
Read more...
---
Security enhancements at Sharm El-Sheikh
November 2019 , Asset Management, EAS, RFID
ADANI Systems supplied the X-ray screening equipment, including combined high-energy and low-energy systems, for Sharm El-Sheikh.
Read more...
---
Learn from their mistakes
October 2019 , Logistics (Industry), Asset Management, EAS, RFID
One of the cardinal rules of business is to learn from the mistakes you make during your journey, but sometimes another company's error can be just as instructive.
Read more...
---