printer friendly version
Ski Dubai opts for Cathexis
March 2019 Retail (Industry), CCTV, Surveillance & Remote Monitoring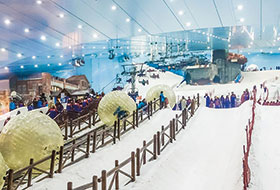 When the operations management team for Ski Dubai were looking for an alternative video management software (VMS) system provider, CathexisVision was able to meet the challenge for this retail client.

Jack Nesgos and Gus Brecher.
"At the core of CathexisVision's successful integration into new markets is the flexibility of this software suite to facilitate tailored solutions that satisfy the needs of each client and provide optimal outcomes," says Gus Brecher, managing director of Cathexis Africa and business development director of Cathexis Technologies. "The adoption rate for CathexisVision in the Middle Eastern security sector continues to grow with this region's reputation as a premium, global shopping and tourist destination."
CathexisVision offers users a trackable and proven return-on-investment, customisation, as well as quick and easy setup that minimises any potential downtime. These benefits made CathexisVision a highly attractive option for the operations management team at Ski Dubai, who were looking for an alternative, more cost-effective and scalable solution.
Ski surveillance
Ski Dubai (which is owned by the retail group Majid Al Futtaim) is located inside the iconic Mall of Emirates in Dubai. Ski Dubai is the first indoor ski resort in the Middle East, covering an impressive 22 500 m2 of snow-covered terrain and with five slopes.
Ski Dubai was very specific about the long and short-term objectives for this installation. It wanted to invest with a vendor that could offer a cost-effective solution with improved functionality and the capacity to allow for future integration with third-party systems such as access control, fire detection and point-of-sale. The customer required central recording via multiple servers, including failover servers, monitoring by central control room with operator management and a multiple server video wall, with 279 IP cameras.
This installation also required integration with specific brands of cameras that would be able to operate reliably in an extremely cold environment. The installation took place with Agility Grid as the distributor, and Elaf Technology Solutions as the installer
The solution
For this installation, Cathexis provided Ski Dubai with a comprehensive solution, which included:
• Seamless integration of all 279 IP cameras, and the capability to upgrade and integrate over 400+ cameras in future.
• A more cost-effective licensing structure with the capability to change or expand from the existing set-up and provide further functionality in future.
• High-speed suspect tracking with the CathexisVision Adjacent Camera Mapping feature, which enables users to easily follow suspects across multiple cameras at the click of a button.
• The Advanced Video Search features that help control room operators to view pre-recorded footage at a significantly faster rate.
• Failover redundancy to provide the customer with complete peace-of-mind.
"The installation completed for Ski Dubai demonstrated the capability of CathexisVision to reliably operate in an environment that would require further upgrades and installations in future and exceptional integration with current third-party systems," says Jack Nesgos, operations manager at Ski Dubai.
Credit(s)
Further reading:
Shift to online driving retail transformation
Retail (Industry) Integrated Solutions
There is a growing demand from retail for an end-to-end solution that helps their digitisation process, integrating finance, procurement, warehouse management, pricing, stock management, point of sale and more.
Read more...
---
Ransomware loves retail
Retail (Industry) Cyber Security
The retail industry was the second most targeted industry by ransomware in 2021, with 77% of retail organisations hit with ransomware, a 75% rise from 2020.
Read more...
---
No supply chain delays from Germany
Dallmeier Electronic Southern Africa News CCTV, Surveillance & Remote Monitoring Products
Dallmeier announces that its complete Domera single-sensor camera family is available without delivery problems for installers and channel partners.
Read more...
---
Axis announces W101 body-worn camera
Products CCTV, Surveillance & Remote Monitoring
Axis Communications has designed a body-worn camera, the Axis W101, that has an operating time of up to 17 hours with over 12 hours at 1080p.
Read more...
---
Cathexis demonstrates its 'effective innovation'
Cathexis Technologies Technews Publishing Editor's Choice CCTV, Surveillance & Remote Monitoring News Integrated Solutions
Cathexis Africa recently held a roadshow with a stop in Johannesburg where Hi-Tech Security Solutions was invited to attend, along with many of the company's partners and users.
Read more...
---
Locally developed explosion-protected network camera
Modular Communications Products CCTV, Surveillance & Remote Monitoring
Modular Communications has designed and developed a locally manufactured camera enclosure which includes a 12 MP ultra-high-resolution IP camera.
Read more...
---
Surveillance solutionism is not a solution
Leaderware Editor's Choice CCTV, Surveillance & Remote Monitoring
The concept of surveillance solutionism has been used more broadly in the context of other types of surveillance, including the monitoring of people using technology, apps, social media, as well as AI-enabled technology.
Read more...
---
Avoiding human error at ports
LD Africa Transport (Industry) CCTV, Surveillance & Remote Monitoring Products Logistics (Industry)
LD Africa introduced a local port to the AxxonSoft Port Security System ,a solution that helps overcome the element of human error and eliminate paperwork.
Read more...
---
Compact, lightweight bullet cameras with support for analytics
Axis Communications SA Products CCTV, Surveillance & Remote Monitoring
Axis Communications announced two new outdoor-ready bullet-style cameras featuring deep-learning processing units for analytics based on deep learning on the edge.
Read more...
---
Numerous challenges for transport and logistics
Transport (Industry) CCTV, Surveillance & Remote Monitoring Security Services & Risk Management Logistics (Industry)
Operators are making significant investments in automation and digitalisation in order to address security concerns, improve loss prevention as well as efficiency, and reduce unit order costs.
Read more...
---