printer friendly version
Centrally managed access
February 2019 Access Control & Identity Management, Integrated Solutions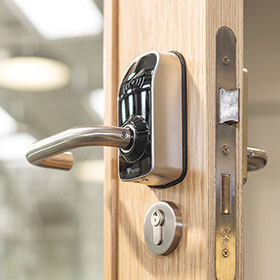 Humberside Fire and Rescue Service is responsible for the fire and rescue service across East Riding of Yorkshire, Kingston upon Hull, and North and North East Lincolnshire, serving a population of almost one million people. Providing a professional and skilled emergency response service 24-hour a day, 365 days a year, Humberside Fire and Rescue Service also offers a range of other services and functions, including assistance with animal rescue, dangerous chemical spillages, local and wide area flooding, road traffic collisions, aircraft and railway incidents.
The Fire and Rescue Service required an access control solution that could secure multiple sites on a single system. The system needed to be robust and reliable to maintain the security of the premises, whilst allowing ease of entry and exit when responding to an emergency. Flexible access permissions across 12 of the fire stations in the region were also essential.
Humberside Fire and Rescue Service worked with Delta Security Systems to recommend an access control solution that could meet their requirements. They recommended Paxton's access control system; Net2, with PaxLock Pro; wireless access control in a door handle, and Net2 Entry, and IP video door entry.

PaxLock Pro is the latest addition to Paxton's wireless access control range, it can be installed in standalone mode or as part of a Net2 networked system, with no extra hardware required. Suitable for a range of sites and extensively tested to meet high industry standards, including EN179 compliancy for fire doors, PaxLock Pro offers versatile, wireless access control with a modern, contemporary design which is built to last.
The PaxLock Pro was installed at the Fire and Rescue Service headquarters. When used in combination with Net2 and Net2 Entry, the networked access control system provides the fire and rescue service with a flexible solution that enables them to easily grant access to crew members, office staff and contractors from a centralised location.
Garry Roscoe, engineering manager at Delta, said: "The Paxton system offers Humberside Fire and Rescue Service the functionality to manage and maintain access to 12 fire stations across the region. They can easily update access permissions, depending on the security clearance of each user, and monitor who is on site at any time, ensuring that all fire stations are secure when the crew are out on an emergency response call. The new PaxLock Pro has been fantastic for managing access through the office doors to ensure only those with correct clearance can enter."
John Mann, facilities manager from Joint Estates Service, Melton, who work with the Fire and Rescue Service said: "What we really like about the Paxton system is the ability to set time zones for all of our stations and headquarters; outside of which the doors lock automatically, removing the need for any individual to manually lock the doors. This really increases site security and provides greater peace of mind. The roll-call report feature is also a valuable tool for us, as it provides a list of last known locations of any user not marked as safe in the event of an emergency. This is incredibly beneficial to an organisation as large as ours."
With the Net2 system in place, Humberside Fire and Rescue Service have a smart, access control solution that provides the flexibility to easily migrate crews of firefighters from site to site, depending on where coverage is required, without having to provide physical keys.
Humberside Fire and Rescue Service and Delta Security plan to expland the Net2 system across a further 21 fire stations in the region, and add more PaxLock Pro wireless door handles to provide a robust solution across the network.
Credit(s)
Further reading:
Suprema ranks first in survey
Issue 2 2021, Suprema, neaMetrics , News, Access Control & Identity Management
In a recent survey conducted in Korea, Suprema was chosen as the top brand for access control management software and mobile access solutions.
Read more...
---
Suprema integrated with Nedap
Issue 2 2021, Suprema , Access Control & Identity Management, News
Suprema recently announced that it has integrated its latest facial recognition devices into Nedap's access control system, AEOS, to enable organisations to manage their access control by making use of Suprema's latest facial recognition technology.
Read more...
---
Geutebrück releases latest management system
Issue 2 2021 , CCTV, Surveillance & Remote Monitoring, Integrated Solutions
G-SIM X Panopticon, the latest release of Geutebrück's management system, integrates additional features designed for more rapid and cost-effective setup, enhanced intuitive operation, and multi-site networking.
Read more...
---
Single bollard stops and destroys simulated bomb truck
Issue 2 2021 , Access Control & Identity Management
Delta Scientific announced the successful testing of its Model DSC635, a single shallow foundation bollard design that stops and destroys a 6804 kg test truck with less than 0.6 m of static penetration and 1.87 m of dynamic penetration.
Read more...
---
Size of OSDP-verified list is underappreciated
Issue 2 2021 , Access Control & Identity Management
Farpointe Data announced that, at first glance, it appears that there are just 25 devices from seven different vendors listed as OSDP Verified. Although that doesn't seem like a lot, it really is.
Read more...
---
Mail.Ru selects HID Global
Issue 2 2021, HID Global , Access Control & Identity Management
HID Global announced that Mail.Ru has chosen its HID Mobile Access solution for secure and convenient access control using smartphones and other mobile devices.
Read more...
---
New Net2 tutorial series available
Issue 2 2021, Paxton , News
Paxton has produced a new series of Net2 tutorials to support installers with the latest features in its access control software. The short informative videos provide guidance on how to make buildings COVID-secure with Net2.
Read more...
---
Choosing the right integrated security solution
Issue 2 2021, ZKTeco , Access Control & Identity Management
A need for comprehensive and well-constructed security strategies for financial institutions is more profound now than it has ever been in the past.
Read more...
---
Harnessing smart expandability
Issue 2 2021, Centurion Systems , Access Control & Identity Management
Centurion Systems designed the D5 SMART gate motor to be a product that is as powerful as a standalone solution as it is as part of a larger security ecosystem.
Read more...
---
Dealing with farm attacks
Issue 2 2021, Technews Publishing , Editor's Choice, Integrated Solutions, Security Services & Risk Management, Agriculture (Industry)
Brutal farm attacks are unfortunately a common event in South Africa. Laurence Palmer suggests a proactive, community-based approach as the optimal way to prevent these heinous crimes from happening in the first place.
Read more...
---