printer friendly version
Biometrics streamlines exams
February 2019 Education (Industry), Access Control & Identity Management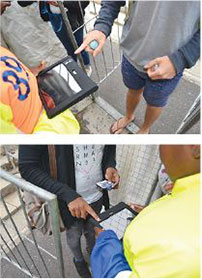 Powell Tronics' in-house-developed time and attendance system, ATOM, enhances security by implementing an effective access control system allowing education institutions to accurately regulate and manage exactly who is accessing the premises or campus and when they are being utilised.
"We focus on client-driven solutions that are tailored to the higher learning facility or educational campuses that improve the learning experience for students and offer valuable management tools to administrators and educators," says John Powell, MD of Powell Tronics. "This, for me, was the clear message that came out of the successful annual CAMPROSA conference held at the Spier Wine Farm in September 2018."
PT-ROLLCALL is a mobile solution for educators to streamline examination attendance. Using the IDEMIA V2 biometric-enabled tablet, education facilities are able to verify student identities in order to reduce exam fraud. The solution can also be used as a mobile access point to eliminate the threat of disruption, which has led to high costs incurred by universities in the past, in some cases rescheduling examinations due to disruptive behaviour.
PT-ROLLCALL optimises portable biometrics using fully integrated software to link all necessary data from various enterprise databases within the institutions. It ensures the correct student is in the right location to take the appropriate examination that is being invigilated by the appropriate invigilator.
PT-ROLLCALL verifies that all the boxes are ticked before student examinations start and eliminates exam fraud in its tracks. The University of Cape Town, which actively uses the solution for examination requirements, also uses the software on the tablet as a form of access control at selected venues. Students were able to get onto campus, but when it comes to seeking access to exam venues, they had to present their fingerprint for verification in order to write their particular exam.
For more information contact Powell Tronics, 0861 784 357, marketing@powelltronics.com, www.p-tron.com
Credit(s)
Further reading:
Cloud surveillance for safer campuses
Issue 2 2021, Secutel Technologies , Education (Industry)
Violence within educational facilities has sadly been increasing over the few past years and includes theft, vandalism, intimidation, and the usual assortment of South African crimes.
Read more...
---
Tracking technology keeps learners safe on school trips
Issue 2 2021 , Education (Industry)
Netstar, a subsidiary of Altron, will provide telematics units worth more than R200 000 for scholar transport vehicles in eThekwini, as part of the 'Safe to School – Safe to Home' school transport project.
Read more...
---
Suprema ranks first in survey
Issue 2 2021, Suprema, neaMetrics , News, Access Control & Identity Management
In a recent survey conducted in Korea, Suprema was chosen as the top brand for access control management software and mobile access solutions.
Read more...
---
Curro adopts hybrid approach to enhanced learning
Issue 2 2021 , Education (Industry)
Curro's technology landscape is made up of a centralised data centre, on-site data centres, and an intricate network fabric that needs to cater for over 70 000 endpoints and supports over 11 terabytes of traffic every day.
Read more...
---
Controlling pedestrian access
Issue 2 2021, Turnstar Systems , Education (Industry)
Turnstiles can be used throughout a site to monitor and protect different areas, for example student residences, dining facilities, computer rooms and libraries – wherever there is a need to allow access only to authorised individuals.
Read more...
---
Paxton hires top talent in South Africa
Issue 1 2021, Paxton , News, Access Control & Identity Management
The international access control and video surveillance manufacturer, Paxton, announced it will continue to invest in new talent to accelerate expansion into the South African market.
Read more...
---
Three key areas for zero-trust access
Issue 1 2021, Cyber Security South Africa , Editor's Choice, Access Control & Identity Management, Cyber Security
Protecting the network with this zero-trust access (ZTA) approach means that all users, all devices and all web applications from the cloud must be trusted, authenticated, and have the correct amount of access privilege (and no more).
Read more...
---
Integrated visitor management
Residential Security Handbook 2021: Smart Estate Living , Powell Tronics, Entry Pro, neaMetrics , Editor's Choice
Hi-Tech Security Solutions finds out what benefits and functionality are available to residential estates today with the current range of integrated visitor management solutions.
Read more...
---
Creating a safe and secure learning environment
Issue 2 2021, Gallagher , Education (Industry), CCTV, Surveillance & Remote Monitoring, Access Control & Identity Management
When securing educational facilities, a scalable, integrated approach offers significant cost savings and flexibility, with the peace of mind that students and staff are safe while on campus.
Read more...
---
Secure access control installations
Access & Identity Management Handbook 2021, Powell Tronics, Technews Publishing , Access Control & Identity Management
What are the key security aspects to consider when installing a new access control system or upgrading to newer technology?
Read more...
---